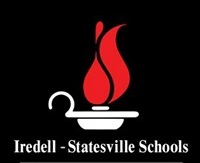 BY KARISSA MILLER
The Iredell-Statesville Schools Board of Education is one step closer to deciding how to proceed with replacing electonic devices for the district's 1:1 laptop program, which allows each student to have a school-owned laptop at all times.
On Monday night, I-SS Chief Technology, Facilities and Maintenance Officer Tim Ivey shared the tech refresh committee's recommendation for the 2022-2023 school year.
The committee recommended the following: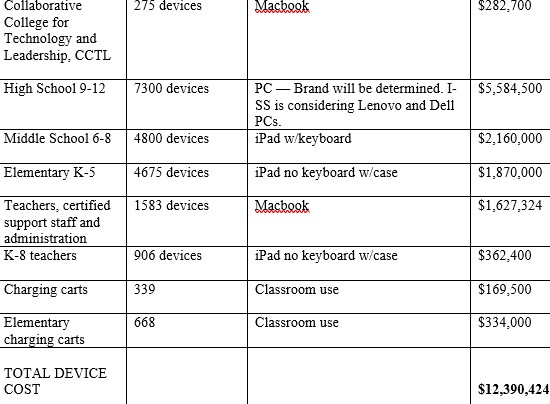 Moving from MacBooks to PCs would be a change for high school students; however, Superintendent Jeff James and school board members are proponents of exposing students to multiple operating systems.
"If we do PCs in the schools, we want to put some Mac labs in the schools, too. So that way students know both platforms. When they enter college, they are way ahead of the game," James said.
Other considerations included the feedback from the teacher survey indicating strong support for sticking with Mac devices.
School board member Charles Kelly questioned whether having a device for each elementary students is a good idea as some of the younger students may need help with their devices and there is only one teacher in a classroom.
Jackie Parker, I-SS director of digital teaching and learning, explained that with the iPads that teachers will have access to a program called Apple Classroom. The program gives the teacher the ability to work with a group of students while simultaneously monitoring what other students who aren't in that group are doing.
Parker called it "a game changer" and explained that a teacher can see if a student is on task or not — and even lock their devices.
School board member Sam Kennington questioned whether or not the district is being fair to all the other students by allowing CCTL students to have MacbBook devices when the other early college and high schools students will have PCs.
CCTL teacher Tony Lellie explained that the switch to PCs would create some challenges with the way CCTL staff has structured their curriculum and negatively affect their students.
Lellie, who is certified in specific MacBook programs, has taught at CCTL since the school started and helped set up its Mac lab before the district's 1:1 initiative.
"At Collaborative College for Leadership and Technology, we take technology very seriously. It's in our name. We integrate it with the teachers as much as we can," Lellie said.
Lellie is also certified in teaching Adobe Suite applications, which run smoothly on MacBooks, officials stated.
He teaches freshman students and explained that the Career Technology Education, or CTE department, purchases their freshman Adobe licenses. Students can earn industry certification in different Adobe applications while at CCTL.
Principal Teri Hutchens uses school funds to purchase Adobe licenses for the upperclassman so that students are able to continue their experience and apply what they learned in their other classes.
"When students ask, 'Why are we learning this, Mr. Lellie?' I can specifically cite certain projects that the other teachers are doing that I'm preparing them for," Lellie said.
"Instead of writing papers for their Mitchell classes, they can do videos, use the graphics and so forth. They have a tool that's very useful to them and know they are getting cross-platform trained," he added.
Lellie said technology is purposefully designed in the student experience at CCTL.
"Technology is the theme of our school and we're able to carry that through all of our classes. I have a lot of satisfaction in contributing to the furthering of their education," he said.
Board members Bill Howell and Charles Kelly expressed support for CCTL continuing with MacBooks.
"If we are going to vote for computers, we need to do it as soon as quick as possible. Everything I hear is that they are way behind," Howell said.
Ivey said that possibly one of the purchases will be on the board's agenda next week, but the PC vendor has not been selected yet. The devices will be on a new four-year lease cycle and deployed during the 2022-2023 school year.
The district is looking at Lenovo and Dell computers, which will have a spill resistant keyboard.