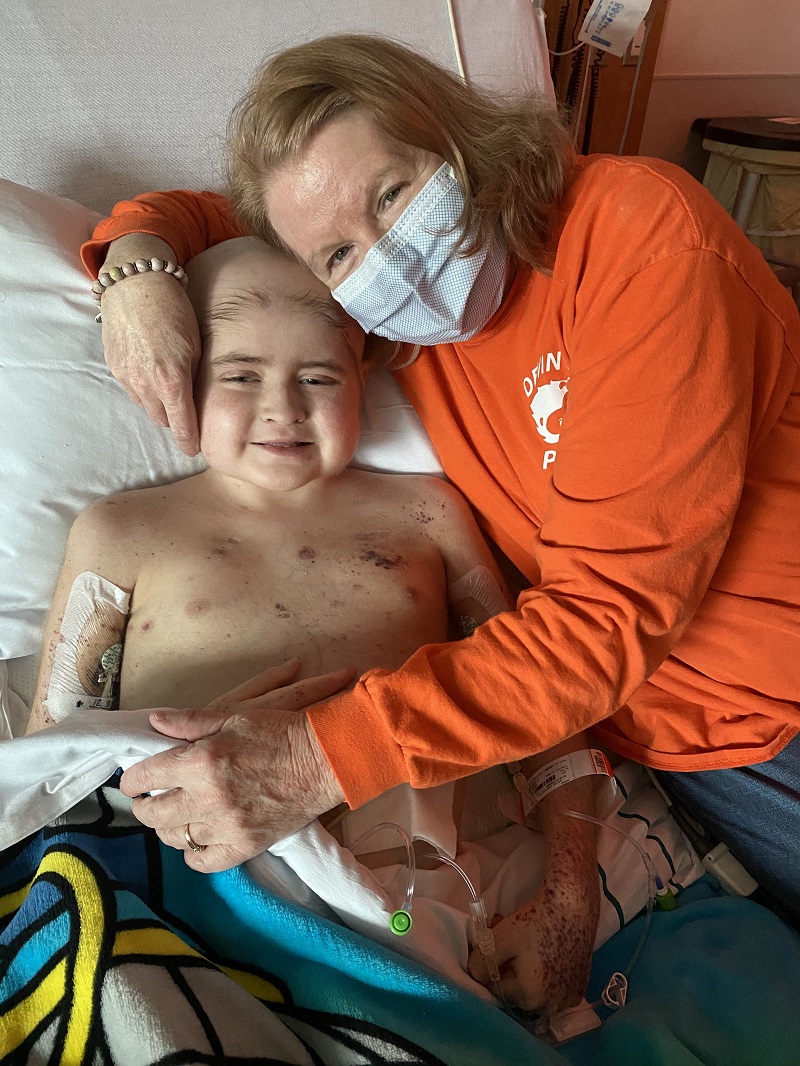 Ten-year-old Devin Kiser was first diagnosed with leukemia in 2016
BY KARISSA MILLER
Devin Kiser smiled and burst into laughter inside his hospital room on Friday as he watched his community show their love to him in a surprise video made by his school resource officer.
The 10-year-old boy, who was first diagnosed with leukemia in 2016, is a fourth-grader at Coddle Creek Elementary. He has fought through years of chemotherapy and radiation with positivity.
"By meeting Devin, you would never know what he's been through," said his mother, Allison Kiser. "He's resilient, humble and strong, and he's given us a different perspective on life."
Devin's cancer returned for the fourth time in September 2021, and he has been at Levine Children's Hospital in Charlotte for nearly 100 days. Following the devastating news that the cancer had returned, Devin has endured complications with gut bleeds and difficulty fighting off infection.
"He has no immune system. Once he builds up his immune system, he will get to go home and start preparing for immunotherapy," his mom explained.
He has spent Halloween, Thanksgiving and his birthday in the hospital. However, in the dark moments there have been glimpses of light.
After School Resource Officer Robert Lee, who is assigned to Coddle Creek Elementary, heard about Devin's story, he wanted to help.
"I'm not only there for the children's safety, but for their protection. I'm there to make sure they are happy. I'm there to make sure they have a good time, but that they feel comfortable being in school," the Iredell County Sheriff's Office deputy said.
"I have a young daughter myself, and she has a favorite toy. I thought I could apply that principle since these are young kids," he added.
Lee's effort to comfort and encourage Devin began with the purchase of a stuffed animal lion, which he learned is Devin's favorite animal.
Then he turned his attention to making a special Leo the Lion video for him.
WATCH THE VIDEO: HERE
Leo the Lion video
"This is Leo the Lion. He is a newly sworn-in deputy with the Iredell County Sheriff's Office. Because I'm at the school every day, I want to send a deputy in my place to always have your back," Lee told Devin.
What the Kiser family didn't know is that Deputy Lee had another surprise in store.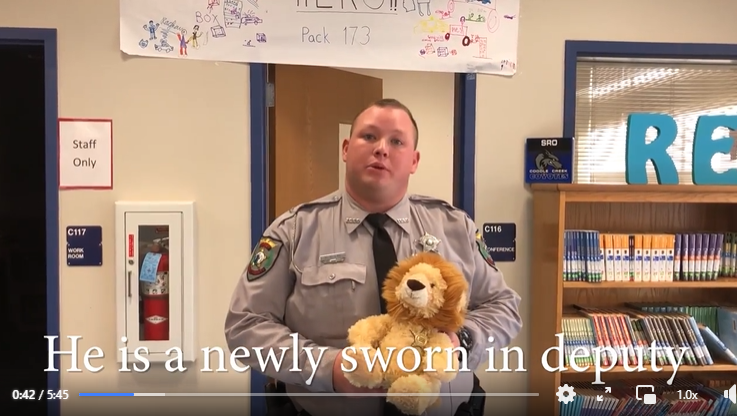 "The lion you received is no ordinary lion. He can talk. Go ahead! Give his stomach a slight squeeze. Doing so, you'll hear your classmates say, 'Let's Go Devin! Hear our roar!" Lee said in a letter to Devin.
Lee's wife sewed in the voice activation box and Lee recorded his classmates cheering for him.
In the video, Leo the Lion is sworn in by Iredell County Sheriff Darren Campbell, who tells Devin to never lose "your inner lion."
After that, Leo undergoes training to perform his duties as a deputy. He visits many different divisions and agencies in Iredell County Sheriff's Office and throughout the county.
The next day Leo learns how to serve paperwork with deputies 'civil division. He also receives medical training from EMS and helps dispatch calls for Emergency Communications.
Leo then embarks on many adventures visiting volunteer fire departments across the county, the court, detention center and he even takes part in lake patrol. He is spotted in the county's Bearcat, riding on a motorcycle and also learns how to use a two-way portable radio.
Leo also visits Coddle Creek Elementary, where he is spotted playing around campus and learning in the classroom. He is able to join Devin's sister, Brielle, on the playground during recess. They went down the slide together.
At the end of the video that Devin received, Deputy Lee reads "The Wonky Donkey."
When others in the county learned of Devin's journey, they contributed gifts of all kinds, including coloring books, bags, shirts and other toys to accompany Lee's letter, Leo and the video. The letter that Lee wrote is titled "a word to the strongest student I know."
"He was amazed at what the school and Deputy Lee did for him," Allison said.
She said the school has been amazing.
"We get cards from parents and students all the time. Kids send him cards. He laughs. Kids say the funniest things, and he loves it," she said.
Deputy Lee said his goal was to provide a bright spot in Devin's day as he battles leukemia.
"He's going through a battle I can't comprehend. I have heard countless parents say how strong Devin is. Devin is giving the community strength. He's an inspiration to the community," he said.