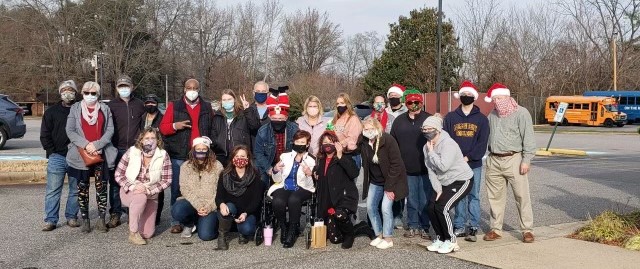 BY BRYAN STARRETTE
Last year my wife Gina was sitting in a wheelchair, watching TV and seeing communities all over the country setting up food drives. She wondered if Statesville had anything of the sort, and searched but found nothing. She mentioned her vision of starting a food drive to me and her friends. It was only three weeks until Christmas, but we were instantly on board! We rallied friends and neighbors and quickly got enough food donated to feed 226 families. Our goal was 200. Operation Christmas Food Drive 2020 was a success!
This year we are determined to make it happen again, but we need your help! We hope to help 250 families this year.
To donate food or sign up as a volunteer, follow the link to our Sign Up Genius page: https://www.signupgenius.com/go/30e0b45adaa2aa1f49-operation.
If you wish to make a monetary donation, you may do so online at https://ymcanwnc.org/give/give-online. Please be sure to choose Statesville Family YMCA in the drop down and write Operation Christmas in the comment section.
Checks made out to Statesville Family YMCA may also be sent to the YMCA at 828 Wesley Drive, Statesville, NC 28677. With a $1,000 donation, you will be a sponsor, entitling you to a banner in the YMCA gym.
Operation Christmas Food Drive takes place at the Statesville Family YMCA on Saturday, December 18, from 1 until 3 p.m. It is a first-come, first-served event.
Volunteers need to be there at 11:30 to pack meal bags and distribute them to the families.
Please share this information with anyone who needs a little Christmas cheer!
We hope you'll join us to make Operation Christmas Food Drive 2021 a success. We can't do it without you, the Statesville Family YMCA, or our sponsors like Animal Hospital of Statesville and generous businesses like Publix, Ingles & Food Lion.