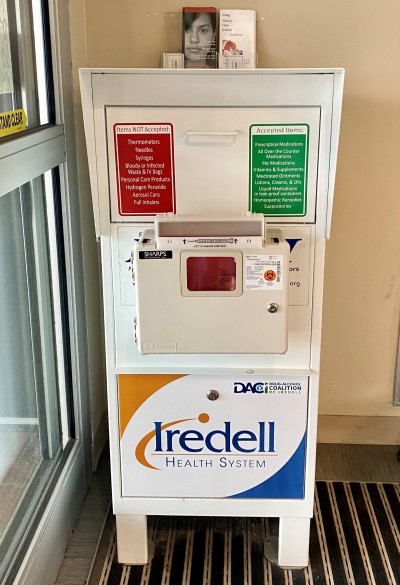 National Prescription Drug Take Back Day is Saturday, April 24
Special to Iredell Free News
Medicines make us feel better. They prevent and treat diseases that would have otherwise affected our health and wellbeing. When medicines aren't disposed of properly, however, they can cause potential harm to you, your friends, or your family.
According to the Centers for Disease Control and Prevention, 2 million people each year are hospitalized due to drug-related injuries.
As part of National Prescription Drug Take Back Day, April 24, the Drug Enforcement Administration (DEA) encourages you to responsibly dispose of your prescription medications to prevent drug misuse and abuse. To do this, you can deposit your unused, unwanted, or outdated prescription drugs in a designated medication drop box.
Why is safely disposing of your prescription medications important?
According to Dr. Joseph Mazzola, vice president of Medical Affairs for Iredell Health System, safely disposing of your medication protects others around you, your environment, and yourself.
"People typically take prescription medications from a friend or family member's medicine cabinet or bedroom," said Mazzola. "We always encourage people to store their controlled substances or prescription medications in a secure lockbox to avoid accidental poisonings or overdoses by friends, family, and especially adolescents or children."
If you are in need of a medicine lockbox, the Drug-Alcohol Coalition of Iredell (DACI) can provide you with one, free of charge. Additionally, improper disposal of medication, like flushing, washing it down the drain, or throwing it in the trash, can harm the environment by getting into the water supply. While water treatment systems are designed to remove foreign substances from water, most medicines typically pass through water treatment without being processed.
Taking your medicines to a medication drop box can dramatically reduce the amount of medicines in your drinking water, protecting you, your community, and the wildlife around you.
Disposing of your medication can also protect you in other ways. With multiple medications in your cabinet, it's easy to get confused as prescription names are often complex. Getting rid of what you no longer need can prevent confusion that could lead to accidental overdoses or potential drug interactions.
"Keeping only the medications you have to take and getting rid of the ones you do not have to take could prevent inadvertently taking the wrong medicine or doubling up on one," said Mazzola. "It's easy to get confused. It is no longer just a blue pill or a white pill. The same medications can be different colors based on where you got it."
Furthermore, safely disposing of your prescription medications can protect you from accidentally taking expired medications.
According to the Food and Drug Administration, expired drugs can be less effective or risky and can lead to more serious illnesses and antibiotic resistance.
In accordance with National Prescription Drug Take Back Day, Iredell Health System urges you to rid your medicine cabinet of unused and unwanted medications and safely dispose of them in your local medication drop box.
"Iredell Health System has been involved in community efforts to position drop boxes around the county, and our physicians and medical staff are very attuned to limiting the number of controlled substances they prescribe in order to reduce the amount of these substances in the community," said Mazzola.
Local Medication Drop Box Locations
Iredell Memorial Hospital has a 24-hour medication drop box located just inside the emergency department entrance. Since installed, the drop box has collected nearly 500 pounds of medication.
According to DACI, you can find additional medication drop box locations at the following locations:
• Banner Drug, 3478 East Broad Street, Statesville
• Cannon Pharmacy, 521 E. Plaza Drive, Mooresville
• Iredell County Sheriff's Office, 230 North Tradd Street, Statesville
• Mooresville Police Department, 750 West Iredell Avenue, Mooresville
• Statesville Police Department, 330 South Tradd Street, Statesville
• Troutman Town Hall. 400 North Eastway Drive, Troutman
Items accepted in the drop box include prescription medications, over-the-counter medications, pet medications, vitamins & supplements, medicated ointments, lotions, creams & oils, liquid medications in leak-proof containers, homeopathic remedies, and suppositories. If disposing of liquids, ensure the lid is secure.
Items not accepted in the drop box include thermometers, bloody or infected waste, intravenous therapy (IV) bags, personal care products, hydrogen peroxide, aerosol cans, and full inhalers.
The drop box at Iredell Memorial includes a Sharp Safety box connected to the drop box if you need to dispose of syringes or needles.
Before disposing of your medicines, make sure to mark out any personal information and keep the medication in the original prescription container if you have it. If not, you can safely package your medicine in a Ziploc or sealable bag.
About Iredell Health System
Iredell Health System includes Iredell Memorial Hospital; Iredell Home Health; Iredell Wound Care & Hyperbaric Center; Community and Corporate Wellness; Occupational Medicine; the Iredell Physician Network and more. Iredell Memorial Hospital is the largest and only nonprofit hospital in Iredell County. The comprehensive healthcare facility has 247 beds; more than 1,700 employees; and has 260 physicians representing various specialties. Centers of excellence include Women's and Children's; Cardiovascular; Cancer; Surgical Services and Wellness & Prevention. The mission of Iredell Health System is to inspire wellbeing. For a comprehensive list of services and programs, visit www.iredellhealth.org.