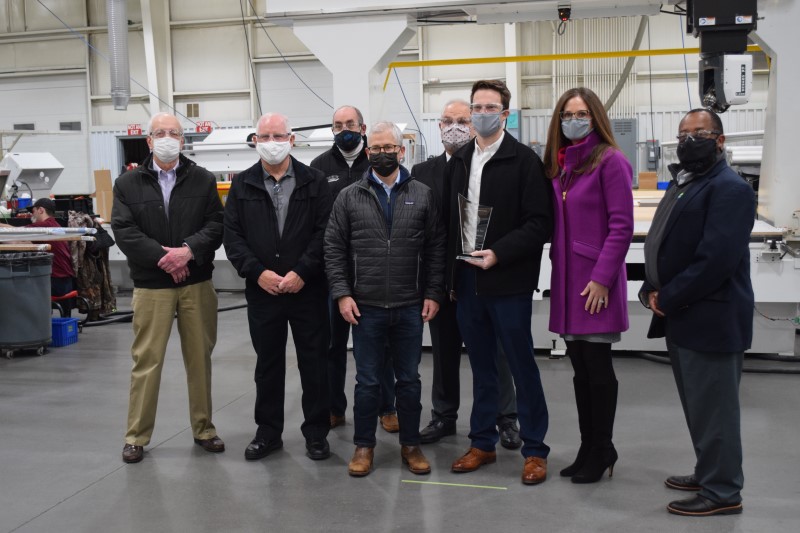 BY DEBBIE PAGE
debbiepage.iredellfreenews@gmail.com
Rep. Patrick McHenry visited Troutman and Mooresville on Wednesday to catch up on the changes and progress in these towns since he last represented the area ten years ago.
Recent redistricting brought Iredell County back once again under McHenry's representation. He has represented the 10th Congressional District in Washington, D.C., since 2005.
To start the day, Mayor Teross Young, Town Manager Ron Wyatt, Mayor Pro Tem Paul Henkel and council members George Harris and Eddie Nau greeted McHenry and Regional Manager Will Bowen at Troutman Town Hall before embarking on a tour of two points of town pride.
CATS
The first stop was at the Career Academy and Technical School (CATS) to meet Iredell-Statesville Schools Superintendent Jeff James, School Board Chairman Martin Page, and Principal Larry Rogers for a tour of the facility.
In the nursing program area, McHenry watched students practicing skills in simulated hospital rooms as they prepare to complete clinical hours at Iredell Memorial Hospital and Hospice and Palliative Care of Iredell County in two weeks.
Wyatt bragged that CATS nursing students have a 100 percent pass rate on their CNA exams when the state pass rate is only 20 percent.
The group also visited the nail technology classroom. These students win the state Skills USA competition every year and finished 10th at the last national contest in Nashville. These students also leave the program with state licensure so they can gain employment immediately after high school.
McHenry also admired the school's state-of-the-art film/television production and animation studio. Though many of today's students think that creating videos is second nature, McHenry noted how hard it is to master.
"The average 15-year-old can do so much more than the average 45-year-old with this stuff, and they don't think it's a special skill. It's a 50-step process, but they don't think it's a big deal," he said.
Wyatt said the town hopes to partner with Rogers and the production classes to produce videos featuring town officials and departments to feature on the town's Facebook page.
The group also visited the Vocational and Transition School (VATS) program, which provides exceptional students with job skills and training opportunities that help them gain and keep employment after high school.
Page pointed to a wall of student pictures showcasing graduates who now are out working and leading productive lives with the skills gained through the program. "They would not be out in the workforce if not for this program. I could cry just about every time I look at this," the chairman said.
"This program is the most amazing program here with what it's accomplished. It should be replicated all over the world."
The tour concluded at the Fire Technology and EMT program, where EMT instructor Leigh Dison was teaching her students. Dison said that six students already have their National Registry EMT certification, which allows them to work as EMTs in almost any state.
"It's a higher standard, doesn't mean they are better than someone with an EMT certification, but it speaks volumes as to how much they have actually learned from this program," she said. "I have very few kids who are not already employed as a firefighter, an EMT, or are already in a paramedic program somewhere."
These students go to school five or six days per week to complete the coursework.
Former Troutman Fire Chief Gerald Clodfelter teaches the fire technology program in the afternoon. Rogers said the students suit up and take the fire truck to the front of the building during fire drills and have also also done so for Troutman Elementary and Middle Schools.
C.R. ONSRUD
The next stop was a tour of C.R. Onsrud, a company that makes specialty computer numerical control (CNC) machines for international clients in the aeronautics, furniture, and many other industries.
The company's design, engineering and production teams create, build, and refine each tailor-made machine to cut a variety of materials to meet the specific manufacturing needs of the customer's industry.
The company recently received one of 13 2020 Governor's Export Awards.
Gov. Roy Cooper lauded the 100-year-old, family-owned company which "serves diverse industries ranging from furniture-making to aerospace and automotive, and has exported to Canadian, Mexican, and European markets."
After being welcomed by Allison Onsrud, the group went on a tour led by Jeff Onsrud around the facility, starting with the fabrication area and moving through the ovens, assembly, painting, inspection, and shipping areas.
Onsrud explained the work done in each section of the plant, from design to finished product. He can even monitor production machines through his phone.
McHenry thanked the Onsruds for their time and for sharing their company's work. "It's your great-grandfather and grandfather who shaped the company. It's interesting to see the legacy of furniture and textiles in different ways," he said.
The congressman noted the "very different mindset" in today's itineration of the industry with the addition of high-tech and computers into the equation.
McHenry said creating "this type of production capacity is pretty special" with the CNC machines that C.R. Onsrud builds for the world's manufacturers.
FEEDNC
In the afternoon, McHenry toured FeedNC, formerly the Mooresville Soup Kitchen, to learn about their programs to assist the community.
The group provides free breakfast (8:00 a.m. to 9:00 a.m.) and lunch (noon to 1:00 p.m.) meal service to anyone in the community Monday through Friday at its 275 S. Broad Street dining room in Mooresville.
The group serves 150 guests each day (now take-out since the dining room is closed with COVID-19 restrictions) and provides food for another 1000 families through its various programs.
The FeedNC Pantry provides supplementary food assistance to community families in need. Every week eligible members receive $150 to $200 in groceries, including fresh fruits and vegetables, meats, frozen meals, prepared deli foods, canned goods, snacks, and toiletries.
The Pantry is open Tuesday through Thursday from 10 a.m. to noon and 1 to 3 p.m. and on Friday from 10 a.m. to noon by appointment only.
FeedNC also offers a 12-week culinary job training program for the unemployed or underemployed, providing life-skill classes, hands-on field training, and real-life experience in the culinary world.
Twenty students have graduated from the program, with 90 percent getting job placements. Eighty-five percent of graduates increased their income in 2020 with their new job opportunities.
Students receive 50 hours of formal education and 150 hours of field training through catering and cooking guest meals. In this program, students complete weekly readings and journal entries and must pass five tests and a final exam.
After program completion, graduates are then linked to local restaurant and business partners for employment.
All classes are held Monday through Thursday from 11 a.m. to 3 p.m. Upcoming class cycles include Summer 2021 from May 17 through August 10 and Fall 2021 from September 13 through December 15.
Applications are available online at https://www.feednc.org/feednc-culinaryjobtrainingprogram.
The Food Mover Program is for home-bound individuals in the community that experience food insecurity. Program volunteers deliver weekly food assistance to eligible families. Recipients also complete regular surveys with designated volunteers to assess their health and well-being.
FeedNC also has three Mobile Pantry locations to distribute food assistance to community families who cannot access the FeedNC pantry during normal operating hours.
Frozen individual meals are also served at three mobile pantry sites: every Tuesday, 5 to 7 p.m. at Watermark Church (321 Clontz Hill Road, Troutman, 980-217-4240) or from 5 to 6 p.m. at East Huntersville Community Outreach (6501 Gilead Road, Huntersville) and on the first and third Thursday from 5 to 6 p.m at Triplett United Methodist Church (838 Mazeppa Road).
Individuals can apply to receive food assistance upon their first visit at the mobile pantry site. Members may only use one pantry site (either FeedNC Pantry or one FeedNC Mobile Pantry) to pick up fresh produce, meats, frozen meals, prepared deli foods, canned goods, breads, pastries, and snacks.
During the last quarter of 2020, 92 individuals and 36 new households were served through the mobile pantry program.
Another program, Community Connections, bridges the gap between families in need and essential community resources so they can gain stability. The programs helps guests with housing, employment, transportation, mental health/substance abuse counseling, career planning, and domestic violence assistance.
Feed NC made over 200 referrals for assistance, helped 50 guests with housing referrals, and provided resources to 80 guests in the community in 2019.
Guests needing help can request a one-on-one in-person Community Connections meeting with a FeedNC Program staff member by emailing Brittany Holbert at bholbert@feednc.org.
The organization's Homelessness Assistance Program also operates Monday through Thursday from 9 a.m. to 2 p.m. and Friday from 9 a.m. to 1 p.m. at its 275 South Broad Street location. For more information, call 704-660-9010 (ext: 104).
Immediate assistance includes 2 to 4 person tents, sleeping bags, and backpacks. The program also provides shower and laundry services, non-perishable groceries, emergency boxes, clothing necessities, and help to create a housing plan or connect to community resources.
FeedNC also has the "Food Rescuer" program to decrease local food waste. The organization partners with local restaurants, wholesalers, distributers, co-ops and farms to collect good, fresh food to feed the hungry that would otherwise be wasted.
Twenty-six local restaurants and food distributers in Iredell and Mecklenburg Counties donate food through this program.
Those interested in volunteering with FeedNC can get information online at https://www.feednc.org/msk-volunteerinformation. FeedNC's volunteers contributed over 50,000 hours of manpower to keep the hungry fed and services flowing to those in need.
Volunteers cook, sort and distribute food, and pick up donations from grocery stores and other partners. Both morning and afternoon volunteer opportunities are available.
To learn more, contact Volunteer Coordinator Paul Mihelich by email at pmihelich@feednc.org or by phone at 704-660-9010.
Community members can also donate to the nonprofit 501(c)(3) organization in a number of ways, including monetary gifts, "Blessing Bags" of toiletries, signing up for Amazon Smile donations to FeedNC, buying needed items on FeedNC's Amazon wishlist, or checking the frequently updated "Immediate Needs" list at https://www.feednc.org/How-Can-I-Support-FeedNC.
Current needs include cereal, fruit and applesauce cups, granola bars, disposable masks and nitrile gloves, printer paper, chips, extra virgin olive oil, trail mix, clothes washing pods, and parmesan cheese.
Donations can be dropped off from 8 a.m. to 2 p.m. Monday through Friday at 275 S. Broad Street in Mooresville.
The group recently bought land at 2456 Charlotte Highway in Mooresville on which it plans to build a larger space to house its rapidly expanding operations. The planned facility will include classroom space, a garden, in-house event space, a cafe, and other amenities for those in need.
A capital campaign is planned for this year to begin fundraising for the new facility.
SHEPHERDS VOLUNTEER FIRE DEPARTMENT GRANTS
On Thursday afternoon, McHenry also presented two FEMA grant checks to the Shepherds Rescue-Fire Department to improve staffing and better protect the community and for the safety for firefighters within the facility.
The department was awarded a $963,000 Staffing for Adequate Fire and Emergency Response (SAFER) Grant, which will be used to fund six new full-time positions. In addition, a $114,285 Assistance to Firefighters (AFG) Grant funded a Plima Vent vehicle exhaust filtering system for the station's bay.
DISTRICT OFFICE NOW OPEN
McHenry also opened his new Mooresville district office on the second floor of the Iredell County Government Center (610 E Center Avenue) on Wednesday morning.
The office will be open to the public on Tuesdays from 8:30 a.m. to 5 p.m. and on Thursdays from 12 noon to 5 p.m. as well as by appointment.
Constituents can contact McHenry's office at 1-800-477-2576.
Photo Gallery