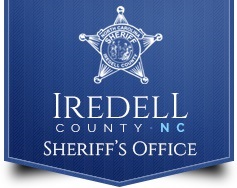 FROM STAFF REPORTS
Iredell County Sheriff's Office deputies saved the life of a man who overdosed on Tuesday and then crashed a vehicle at the rest area off Interstate 77 in northern Iredell County.
Members of the ICSO Interstate Criminal Enforcement Team were working in the area of I-77 near Exit 59 on Tuesday when they were approached by individuals who reported that a silver SUV was being operated in a very erratic manner by a person who was most likely impaired, Sheriff Darren Campbell said in a news release.
The deputies searched the area for the vehicle and found it in the rest area, Campbell said. The vehicle had struck the guardrail while entering the rest area, along with trash cans and other items, and was facing south in the northbound entrance lane of the rest area.
Deputies approached the vehicle and saw the driver, who was unresponsive, slumped over the steering wheel, Campbell said. The deputies pried the driver's door open and then noticed the driver was not breathing, he added.
While determining if the driver had any additional injuries, the deputies noticed items of drug paraphernalia and a substance they believed to be heroin inside the SUV, according to the news release.
The deputies removed the driver from the vehicle, placed him on the ground and administered Narcan, Campbell said. Using a bag valve mask from their first aid kit, deputies provided rescue breathing to the driver and then administered a second dose of Narcan, he added.
Iredell County EMS personnel and first responders from Ebenezer Fire and Resuce arrived on scene to assist with medical care.
The driver began breathing on his own and eventually gained consciousness.
The N.C. Highway Patrol responded to investigate the accident.