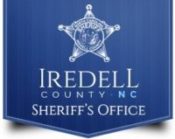 FROM STAFF REPORTS
A 33-year-old man suffering from a self-inflicted stab wound was charged with assaulting a first responder following his arrest in the Fort Dobbs neighborhood near Statesville.
Iredell County Sheriff Darren Campbell announced the arrest of Dustin Jay Tilley, 33, in a news release Monday.
ICSO personnel and first-responders were dispatched to a wooded area between Zurich Lane and Fort Dobbs Road on September 28 in response to a report of a victim with a possible stab wound, Campbell said.
A medical first responder was the first person to locate the victim, who was later identified as Tilley, according to the news release. While the responder was attempting to speak with Tilley and evaluate the victim's injury, Tilley threated to kill the responder if he did not stop talking on the radio and then walked off, the sheriff said.
The first responder followed Tilley while notifying the responding deputies of the direction the man was walking when Tilley turned and lunged with a knife at the responder, according to the news release.
Tilley then turned and began running through the woods towards his residence on Fort Dobbs Road, Campbell said.
Deputies and detectives arrived on the scene and established a perimeter, and Deputy Hodges and his canine partner "Levi" tracked Tilley to his residence in the 100 block of Fort Dobbs Road.
A witness contacted the deputies to notify them of his location. When Tilley heard this, he threatened to kill her because he did not want to go back to jail, according to the news release.
When Tilley entered his residence, a family member tried unsuccessfully to detain him, Campbell said.
A deputy then deployed his Taser on Tilley and he was taken into custody.
Iredell County EMS personnel assessed Tilley for his stab wound, which he stated was self-inflicted, before he was transported to Iredell Memorial Hospital to be treated for his injuries, according to the news release.
Tilley was released from medical care and arrested on October 7. He was then taken to the Iredell County Detention Center, where he was served with warrants for felony assault on emergency personnel, two counts of misdemeanor assault with a deadly weapon and misdemeanor communicating threats.
Magistrate Imes set a $45,000 secured bond on these charges.