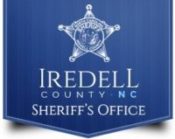 FROM STAFF REPORTS
A Salisbury man was charged with sexually assaulting a child in 2007 following investigations by the Iredell County Sheriff's Office and the Statesville Police Department.
Sheriff Darren Campbell announced the arrest of Charles Irvin Wiles, 30, in a news release on Friday morning.
The ICSO began investigating on March 16 after receiving a report that a child had been assaulted between January and August of 2007, Campbell said. The case was assigned to Detective Jena Wabel of the ICSO Special Victims Unit.
Detective Wabel conducted several interviews and collected additional evidence. Based on the evidence gathered, the sexual assaults occurred at several locations throughout Iredell County, including in the City of Statesville. The SPD was notified and also began an investigation into the allegations.
As a result of the ICSO investigation, Wabel obtained warrants for Wiles' arrest.
Wiles was arrested on Tuesday, May 18, in Rowan County and charged with two counts of felony first-degree sexual offense and one count of felony indecent liberties with a child. He was given a $50,000 secured bond on these charges.
In addition, Wiles was served with four additional counts of first-degree sexual offense stemming from the SPD investigation. He received a $150,000 secured bond on these charges.