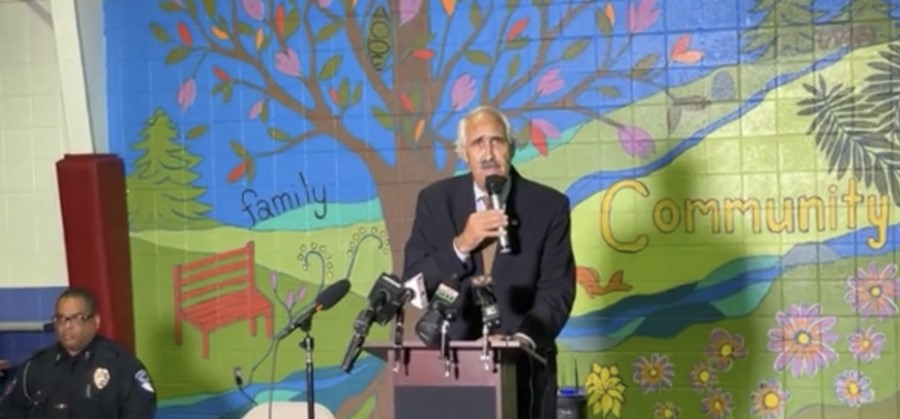 BY MIKE FUHRMAN
Calling a pair of drive-by shootings that left one child dead and two others injured "one of the greatest tragedies in our city's history," Statesville Mayor Costi Kutteh encouraged all city residents to help police solve the crimes and work to make the city safer for all.
"Enough is enough," Kutteh said Tuesday, less than 24 hours after a 9-year-old girl was killed and 7- and 10-year-old boys were wounded by gunfire. "We need to honor the life of the dead young lady and turn our sadness and prayers — and even our anger — into action and make our community a better place."
The mayor's comments came at a press conference at the Bentley Community Center attended by Charlotte TV stations, local media and concerned residents.
"I can only imagine the profound sadness that the family feels, as a father and grandfather," Kutteh said, pledging his support and the support of the city council to the families of the shooting victims.
"This is not only changing their lives for today but changing their lives forever," he said.
Residents can help turn the tide against crime, the mayor said, by supporting the efforts of the Boys & Girls Club, I-Care Inc., and Statesville Police Department community policing officers. The city must commit to providing more job opportunities, more youth engagement programs and more protection for residents, he added.
Kutteh also urged residents to help bring the shooter or shooters to justice and to share their ideas for making the community better.
"Together we'll solve these heinous crimes, together we'll quell the violence that pervades many communities in our country, together we'll help Statesville heal and come closer and move forward," he said.
Statesville Police Chief David Addison joined Kutteh at the press conference, and provided some new information on the investigation.
He said the fatal drive-by shooting on Wilson Lee Boulevard and a second one on New Bern Avenue were related. Two vehicles involved in the shootings — which witnesses described as possibly a Mercedes and a Honda — were working together.
Iredell County Sheriff's Office deputies stopped a Mercedes in Mooresville. The driver was questioned but was not charged because there was not sufficient evidence for charges, Addison said.
Acting on a tip, Statesville police also arrested two convicted felons on weapons charges. Those men have not been charged in connection with the shooting, Addison said.
Echoing the mayor, the chief urged residents who have information about the shooting to contact the SPD or Iredell Crimestoppers.
"I can't begin to tell you the frustration and sadness I have because I know there are people out there who knew who the shooters are," Addison said.