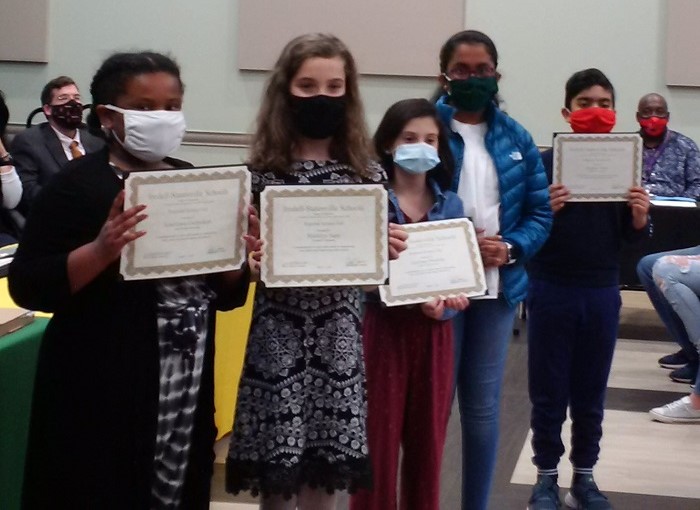 BY KARISSA MILLER
Hundreds of students participate in the Iredell-Statesville Schools elementary, middle and high school science fair each year.
Winning projects from the I-SS science fair advanced to the regional level of competition. The regional competition, which was a virtual event this year, was held on February 13.
According to Kelly Hinson, director of Gifted Learning, International Baccalaureate and Online program, students participated in online ZOOM interviews with a panel of judges. Students had to answer multiple questions from the judges regarding their research and present their scientific findings through both presentation and a Quad Chart.
Four I-SS elementary school students who participated in the regional competition will advance to the state level virtual science fair competition in April:
• Third place – Elementary Chemistry: Araoluwa Osimokun, Lake Norman Elementary, "Got Milk? Get Plastic?"
• First Place – Elementary Earth and Environmental: Madelyn Sapp, Lakeshore Elementary, "Is Lake Norman Clean?"
• Second Place – Elementary Physics and Math: Giuliana Pendola and Serah Ann Mobin, Coddle Creek Elementary, "The Projectile Project"
Other recognitions at the elementary level include:
• Honorable Mention – Elementary Physics and Math: Raghav Garg, Coddle Creek Elementary, "Magnets with Different Temps"
• Special Awards Presented by the American Chemical Society – Third Place: Max Anderson, Lakeshore Elementary, "Hot Dog Mummies"
Junior level winners who will advance to the state virtual level competition include:
• Second place – Junior Chemistry: Nicholas Moore, The Brawley School, "Masks and Oxygen."
• Third place – Junior Biological Sciences: Brody McBride, The Brawley School, "Perceptions and Behaviors Affecting Climate Change."
• First place – Junior Biological Sciences: Aashvi Shah, The Brawley School, "Pulmonary Response and Hyperglycemia."
• Second place – Junior Physics and Math: Maira Siddiqui,The Brawley School, "Heat Transfer, what is the fastest method?"
• Third place – Junior Engineering: Elijah Palmeter, The Brawley School, "Which mask masks most?"
Senior level winners who will advance to the state virtual level include:
• Second place – Senior Chemistry: Sutharsika Kumar Kalaiselvi, South Iredell High, "Is your toothpaste best?"