BY DEBBIE PAGE
debbiepage.iredellfreenews@gmail.com
Jim Troutman, known to most in Troutman as "Jimmy," passed away on Tuesday after a period of declining health. The longtime Town of Troutman employee who later served on Town Council leaves a lasting legacy in the community.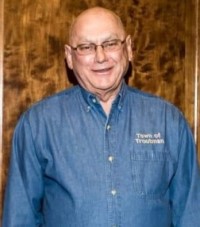 Mayor Teross Young remembered Troutman as a leading light who "served the Town of Troutman in many roles for more than 28 years. He served as a servant leader while on staff and eventually as a Town Council member."
"He selflessly served with zeal and focus. He provided guidance on transportation, public works and many town improvement projects. He took pride in serving the Town of Troutman and our community. He shared his historical knowledge and experience with the Town Council and staff."
"His leadership, service and wit will certainly be missed."
Town Manager Ron Wyatt also fondly remembered his friend. "Even though his last name was Troutman, Jimmy truly was Troutman in a lot of ways. He saw us transition from the 1970s of being a very small town and then watching it grow into a vibrant community."
"He went from being the town's only employee to seeing it staffed by many employees. He fulfilled many different roles, titles, and positions. Jimmy watched the town grow as both an employee and elected official. He raised his family here.
"He recently told me that while some people did not want the growth, he enjoyed watching us grow but wanted us to grow in the right ways, but who can define what that was?" Wyatt added. "We just had to be careful. There's a lot of impact in that statement, and that truly was Jimmy."
"I will always thank him for his guidance, friendship, and the help he gave me in my various roles and responsibilities."
Former council member Sally Wiliams has known Troutman her whole life, with both growing up in the town and living across the road from each other. When they served on the council together, Williams appreciated Jimmy's quick wit and his knowledge of the town's infrastructure and operation, which helped her understand the complex issues facing it better.
"I saw how much he loved the town and appreciated it because of the years of service he gave to the town and the many jobs he performed working for the town."
Williams said people like Jimmy, who knew the town's history and inner workings firsthand, helped new generations of employees understand infrastructure details and background as well as to get this information recorded for future reference.
In April of this year, council member Sally Williams nominated Jimmy and his wife Betty Jean as Citizens of the Year for their many years of service to the town and community. Jimmy served the town in various capacities as for nearly three decades, including town clerk, treasurer/finance manager, zoning administrator, and Public Works director.
Wyatt said that Troutman's many contributions over the years included his determination to get the deteriorating sewer system replaced in Mill Village, his and Betty Jean's fight to get the Inglewood community's substandard roads fixed and sidewalks installed, and getting Stark Street repaved.
He also pushed for sidewalks to be built on Talley Street, a project slowly making progress after NCDOT delays.
Troutman was also a champion of ESC Park, supporting continual improvements during his four years on Town Council.
Troutman also assisted in the implementation of the rewrite of the town's Unified Development Ordinance and the development of the Strategic Master Plan. He also approved incentives to bring economic development to Troutman, worked to spur more development downtown, and helped to expand the Troutman Fire Department.
Troutman also served for 30 years as a firefighter with the department and was an active member of Holy Trinity Lutheran Church
In addition to Betty Jean, he is survived by his son, Keith Anthony Troutman, and his wife Sherry McCoy Troutman. Also surviving are his granddaughter, Kayleigh Troutman Roberts, and grandson-in-law, Sean Roberts, along with his nephew, Stephen Troutman.
Funeral services, along with the receiving of friends, will be held Monday, December 27, at 3 p.m. at the Holy Trinity Lutheran Church in Troutman.