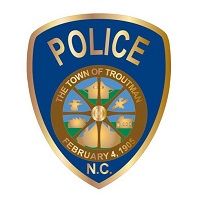 FROM STAFF REPORTS
A Charlotte man who had more than three dozen outstanding warrants for his arrest was apprehended following a high-speed pursuit on Interstate 77 by a Troutman police officer on Monday night.
TPD Sgt. J. Benge was on routine patrol doing a security check of Lowe's Home Improvement when he noticed a suspicious vehicle in the parking lot about 9 p.m. Monday.
Sgt. Benge then observed a man, later identified as Ryan Adams, 30, throw several items in the vehicle and abruptly flee the area in a careless and reckless manner, according to a TPD news release.
When Benge attempted to stop the vehicle, Adams did not pull over, and Benge pursued Adams onto Interstate Interstate 77 south. Several miles into the pursuit, Adams began throwing items that were reportedly stolen from Lowe's out of the vehicle, police said.
Officer Madison Sharpe who was responding to assist picked up several saws with a value of more than $450, according to the news release.
The chase continued into Mecklenburg County to about mile marker 17. During the pursuit, Adams' vehicle struck several of the plastic lane dividers between the toll lanes and normal lanes while attempting to change lanes and nearly spun out while traveling at high rates of speed, police said.
The chase ended when the vehicle Adams was operating ran out of fuel. Adams then jumped and ran away on foot, according to the news release.
Charlotte-Mecklenburg police officers responded to assist, and Adams was located hiding behind a business, police said.
Adams was returned to Iredell County to face felony flee to elude arrest, failure to stop for blue light and siren, speeding over 100 mph in a 65, felony possession of a schedule I controlled substance (ecstasy), injury to personal property, resisting public officer, driving while license revoked, and possession of drug paraphernalia.
He was also served with 38 outstanding warrants/summons, including 15 counts of misdemeanor larceny in Mecklenburg County; three counts of felony larceny and two counts of conspiracy to commit felony larceny in Union County; felony larceny in Gaston County; two counts of felony larceny in Guilford County; felony larceny in Davidson County; common law robbery in Guilford County; and eight counts of felony larceny and four counts of felony conspiracy in Mecklenburg County.
Adams requested to be taken to the hospital following his arrest after he digested narcotics, according to the news release. He was taken before an Iredell County magistrate, who set his total bond at $120,500