BY DEBBIE PAGE
debbiepage.iredellfreenews@gmail.com
After strong neighbor protests during the Troutman Planning and Zoning Board meeting last month and again at Wednesday night's Troutman Town Council meeting, council members followed the planning board's recommendation and denied a developers' request to rezone property on Wagner Street for a revised 60 townhome project.
Developers wanted the 13.6-acre site, currently zoned as county residential which allows two homes per acre, to be conditionally zoned to mixed residential at 4.4 units per acre, which exceeded the RM zoning designation of 4 per acre.
Developers lowered the number of the upper $200,000 to low $300,000 units from 72 to 60, moved the outer units to be front-facing to Wagner Street, and added a dog park and playground to improve the project after the Planning and Zoning Board recommended denial to make it more attractive to neighbors and council.
Neighbors objected to the townhomes in the midst of the predominately single-family home area. Michelle Stewart, who lives across the street from the property, noted that the project did not fit in with the current zoning or Future Land Use Plan and complained that the council seems to be changing zoning "on a whim."
Nearby residents also expressed concerns about adding more traffic with several other nearby projects already approved or now under construction. They also objected to stormwater runoff affecting their neighborhood's stocked fishing pond and the noise and smell from the dog park.
Eric Williams felt that approving the project would be "a breach of trust" since he bought his property and built his home knowing the adjacent land was zoned for single-family homes. To change the zoning would be "spitting in my face," he said.
Newcomer Rick Torrance moved to Troutman in 2019 because of the small town feel and large home lots. "This deviates from it" and "sets a dangerous precedent. It erodes things we said we wanted to stand behind," he said.
After the public hearing ended, council member George Harris agreed that the project did not follow the Future Land Use Plan for the area. Saying thousands of approved homes are yet to be built and citing already difficult traffic in the area, Harris opposed the zoning change.
Upon Harris's motion, council members voted to deny the request 4-1, with Sally Williams dissenting.
CR ONSRUD ECONOMIC INCENTIVE APPROVED
After a presentation by Iredell County Economic Development Corporation President Jenn Bosser, council members unanimously approved "Project LF," a five-year economic incentive package for CR Onsrud that could reach $334,421.
This incentive is based on the company's $17.2 million investment and its plan to expand its facilities that produce quality routers and CMC machines.
The planned $4.2 million expansion will include an addition to the existing building to accommodate new equipment as well as a new building and additional equipment.
The company also expects to add 25 jobs at or above the Iredell County average of $51,130.
The grant is performance-based, meaning that the investments and added jobs come before the incentives are paid.
The council also approved a resolution supporting a state Rural Building Reuse Grant of $125,000 to help support the expansion project.
WATSON WELCOMED AS CHIEF
Troutman resident Josh Watson, a sergeant with the Iredell County Sheriff's Office, was formerly introduced to the council as the town's new police chief. A third generation police chief, Watson comes from a family in which many chose careers in law enforcement.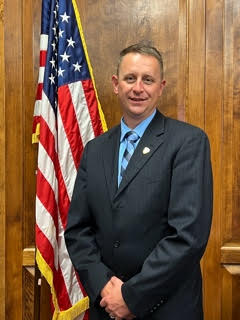 In his 20 years of experience, Watson acquired extensive knowledge of community policing and has held a supervisory position for eight years.
Town Manager Ron Wyatt said Watson "distinguished himself in the hiring process. He showed passion for the community as a citizen and law enforcement officer." As a coach for youth sports, Watson also is an important role model for the community's youth, added Wyatt.
After thanking the council, Watson said that because he lives in town, his goal is to better the town both for community members and his own family. Moving forward, Watson wants to create strong community partnerships and welcomes contacts from citizens expressing their ideas or concerns.
Mayor Pro Ten Paul Henkel, substituting for the absent Mayor Teross Young, called Watson an outstanding officer who "will take the department to new heights."
SRO BAKER RECOGNIZED FOR DOMESTIC VIOLENCE MONTH EVENT
Council members expressed appreciation to CATS School Resource Officer Kerry Baker for his leadership of the annual Domestic Violence Month event at the school.
Students and community members donated clothes, food, toiletries, bedding, household goods, and other items for the women to "shop" as part of a day of pampering and kindness.
The ladies had mani-pedis courtesy of the nail technology students, learned CPR from EMT students, and learned how to operate a fire extinguisher from Fire Technology students. Nursing students organized donated goods and operated two classroom "stores" for shopping.
Culinary students prepared lunch, and Transitional Vocational Academy students made homemade desserts for the guests to take with them. Mi Pueblo restaurant also donated a 30 person meal for My Sister's House residents to enjoy that evening.
"Every single kid buys in to make this a remarkable experience," said Baker.
OTHER BUSINESS
The council also:
♦ Approved purchase of an $15,800 radar trailer and $18,000 for roof replacement on the town's Wagner Street building.
♦ Accepted donation of two lots totaling about two acres in the Troutman Crossing subdivision.
♦ Reappointed Layton Getsinger for another term on the Troutman ABC Board.
♦ Declared November as National Diabetes Month in Troutman.