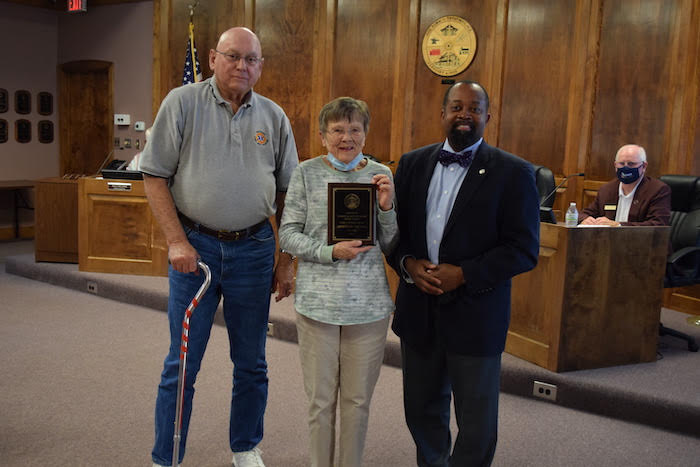 BY DEBBIE PAGE
debbiepage.iredellfreenews@gmail.com
The Troutman Town Council honored Jimmy and Betty Jean Troutman as Co-Citizens of the Year and Troutman Fire and Rescue as Organization of the Year during Thursday's night's meeting.
TROUTMANS
The Troutmans were both born and raised in Troutman and demonstrated their passion for the community throughout their lives with their service to the town.
Jimmy started his career as a town employee in 1975, serving as town clerk, treasurer/finance officer, and zoning officer over the next 20 years. He returned to work as Public Works Director in 2000, serving until his retirement in 2007.
He ran for the Town Council in 2015 and served until his resignation in December of 2018 due to health problems. During his time on council, Jimmy was an invaluable resource because of his knowledge of town streets and infrastructure.
His dedication to fixing persistent sewer issues in the Mill Village area finally came to fruition this past year.
Jimmy also served with the Troutman Fire Department for 30 years.
Betty Jean joined the then Troutman Town Board after being elected in 1999. She was a huge proponent of building the town's greenway, support that lost her re-election. However, after residents saw the beauty and benefits of the greenway, Betty Jean was later appointed to fill an unexpired term in 2006 and won re-election in 2007, serving two more terms.
Betty Jean was a Council of Government delegate and alternate, a CDBG-Scattered Site Housing Steering Committee member, and a CONNECT delegate during her time on council.
Mayor Teross Young lauded the couple, who both served their community in a variety of ways.
Betty Jean called the award "a true honor" and thanked the council for the recognition.
TROUTMAN FIRE AND RESCUE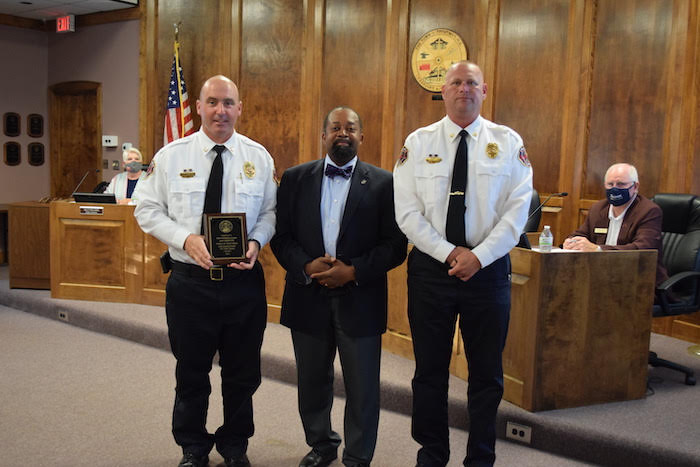 Troutman Fire and Rescue, represented by Chief Wesley Morris and Deputy Chief Jimmy Kistler, received the Organization of the Year plaque from Mayor Young.
Young noted that the department "exemplifies true support, collaboration, integrity, and professionalism" for the community. The department's commitment "to provide fire suppression and prevention, emergency medical services, and minimalization of loss of life and property" helps ensure the community's safety.
The department was also praised for sharing its resources and facilities, its enthusiastic participation in local community events, and for its employees' dedication to maintaining personal relationships with residents and professional collaborations with partners throughout Iredell County and beyond.
"This organization edifies the entirety of our community by never hesitating to serve as a resource or offer a helping hand in any feasible capacity. We appreciate their leadership and commitment to the Town of Troutman," concluded Young.
Speaking for TF&R, Morris said the department was honored to receive the recognition. "Thank you always for your support and for our relationship with the Town of Troutman," he said.
NEW SRO
The council approved adding funding for a new school resource officer position at Troutman Elementary School after the Iredell-Statesville School Board approved the position on Monday night.
I-SS will pay for 10 months of the SRO's salary, with the town picking up the other two month's of salary as well as equipment costs.
Young expressed his appreciation to the I-SS board for their "support of the children in our town."
LAW ENFORCEMENT APPRECIATION WEEK
Council members praised Troutman Police Department officers in their recognition of Law Enforcement Appreciation Week.
Council member Eddie Nau thanked Interim Police Chief Darrin Payne for the great job he was doing leading the department. He cited improved morale and excellent policing under Payne's supervision.
Council member Sally Williams told Payne that the great job that the officers are doing is "a reflection of your leadership."
Town Manager Ron Wyatt also relayed I-SS Board Chairman Martin Page's appreciation for the professional and responsive work of Officers Bentley, Baker, and Sharpe during Monday night's board meeting.
Young expressed his condolences to the family of Mooresville Officer Jordan Sheldon on the recent anniversary of his 2019 line of duty death during a traffic stop.
Wyatt said the town staff is planning a remembrance for Troutman Officer William John Pettit Sr., who died in an automobile accident in 1990 at the age of 29 while attempting during a pursuit on Interstate 77.
Wyatt also said a new detective started in the TPD this week and several new officers will be on duty soon.
ABC STORE REPORT
Troutman ABC Board Chairman Layton Getsinger reported on continued robust liquor sales but noted that they are tapering off slightly with more people returning to work.
The board voted to approve its 2021-2022 budget at its meeting Wednesday night, projecting about $2.3 million in sales next year, about $200,000 less than the $2.51 million expected by the end of this fiscal year.
Though the pandemic impacted sales increases this past year, Getsinger feels strong sales will continue, though he said they are still in "uncharted waters" in the pandemic but "keeping steady as she goes."
The store's working capital, or savings, stands at $393,109 of its $414,071 maximum allowed by the ABC Commission. Getsinger noted that the board paid cash for its recent addition from this working capital.
The board also voted Wednesday night to pay an additional $1,000 each month against the principal of the store's original $625,000 building loan, which now stands at $540,000.
Young asked Getsinger to relay his regards to the store's team, which is "working hard to do a great job for the town."
LUPUS AWARENESS MONTH
Pammy Davenport thanked council for its continued recognition of May's Lupus Awareness Month. She stood in for Myrah Lykes, who just got out of the hospital.
Davenport explained that lupus is an autoimmune disease that can cause severe damage to cells in all parts of the body, including organs. The disease creates autoantibodies that attack healthy tissue, causing inflammation and pain.
She said that diet, using sunscreen in warm months, and using anti-inflammatory medications and steroids help prevent lupus "flares." No cure currently exists.
Davenport noted that masks were already a way of life for lupus patients before the pandemic. Even a common cold could cause a lupus patient to become dangerously sick.
The support group, which meets on the second Tuesday of every month, is currently gathering on Zoom during the pandemic. For more information, visit the group's Facebook page at https://www.facebook.com/iredellcountylupussupportgroup.
IREDELL COUNTY ECONOMIC DEVELOPMENT CORPORATION
Iredell County Economic Development Corporation President and CEO Jen Bosser appeared before the council to advocate for a resolution to support the continuation of natural gas as sustainable, reliable, and clean energy source that supports local economic growth.
Bosser noted that some communities had passed resolutions opposing natural gas and that the ICEDC asked that local governments voice support for this important energy source. The council unanimously passed the resolution.
Bosser also presented the organization's Business Resource Guide, which is available online at https://www.iredelledc.com. The guide provides 90 resources to assist small businesses, startups, and entrepreneurs.
She thanked Director of Business Retention and Expansion Matthew Pierce for leading the creation of the guide and asked the council to publicize the resource in Troutman.
Young applauded the resource as a great aid to the many small businesses in Troutman. Copies of the guide were also available in the Town Hall lobby.
OTHER COUNCIL BUSINESS
♦ The council passed updates to the town's Unified Development Ordinances to satisfy requirements of the state's Section 160D legislation. Town Planner Jonathan Wells said the revisions would "not change the way we do business" since most changes were updating terminology or grammar issues.
♦ The council set a June 7 pre-agenda meeting hearing date to hold a public hearing on borrowing $300,000 from Truist Bank. The council is considering the 10-year loan at 2.60 percent to purchase three parcels of land on North Eastway Drive.
♦ Council member Paul Henkel asked Wyatt to prioritize information technology security once the new IT employee comes on board.
The recent Colonial Pipeline ransomware attack and the continuing problems in Charlotte-Mecklenburg government after a similar attack underscore the urgency of ensuring the town's systems are safe.
Henkel noted all organizations, large or small, are vulnerable. "It's amazing they are not more vigilant. They're leaving themselves wide open," he said.
Town Attorney Gary Thomas noted several N.C. towns also had significant damage from phishing scams that allowed criminals to steal significant amounts of money from the municipalities.
♦ Council member George Harris expressed community members' concerns about speeding at Thomas and Wagner streets and the failure of some drivers to stop at the crosswalk. He also urged all unvaccinated citizens to get the vaccine to help speed the return to normality.
♦ Wyatt reported that the Town Hall parking lot repaving project should be complete in the next few days. The pavement, which was full of "alligator cracks," was unsightly and becoming unstable.
♦ Wells was praised by Mayor Young for his participation in the "Bikes for Neighbors" program in Mecklenburg County. Wells and a few others are repairing 200 retired Bikeshare bikes and distributing them through the Roof Above organization that assists the homeless.
They delivered the first 10 refurbished bikes to a shelter on Statesville Road to an appreciative shelter manager. Wells said anyone interested in helping repair the bikes is welcome to join the effort.
♦ Wells noted that "sandwich boards" outside businesses must be brought in each night and that they are prohibited by the UDO on town sidewalks and right-of-ways. Warning letters will be sent to those not complying.
♦ The council approved the town's Local Water Supply Plan required by the state.