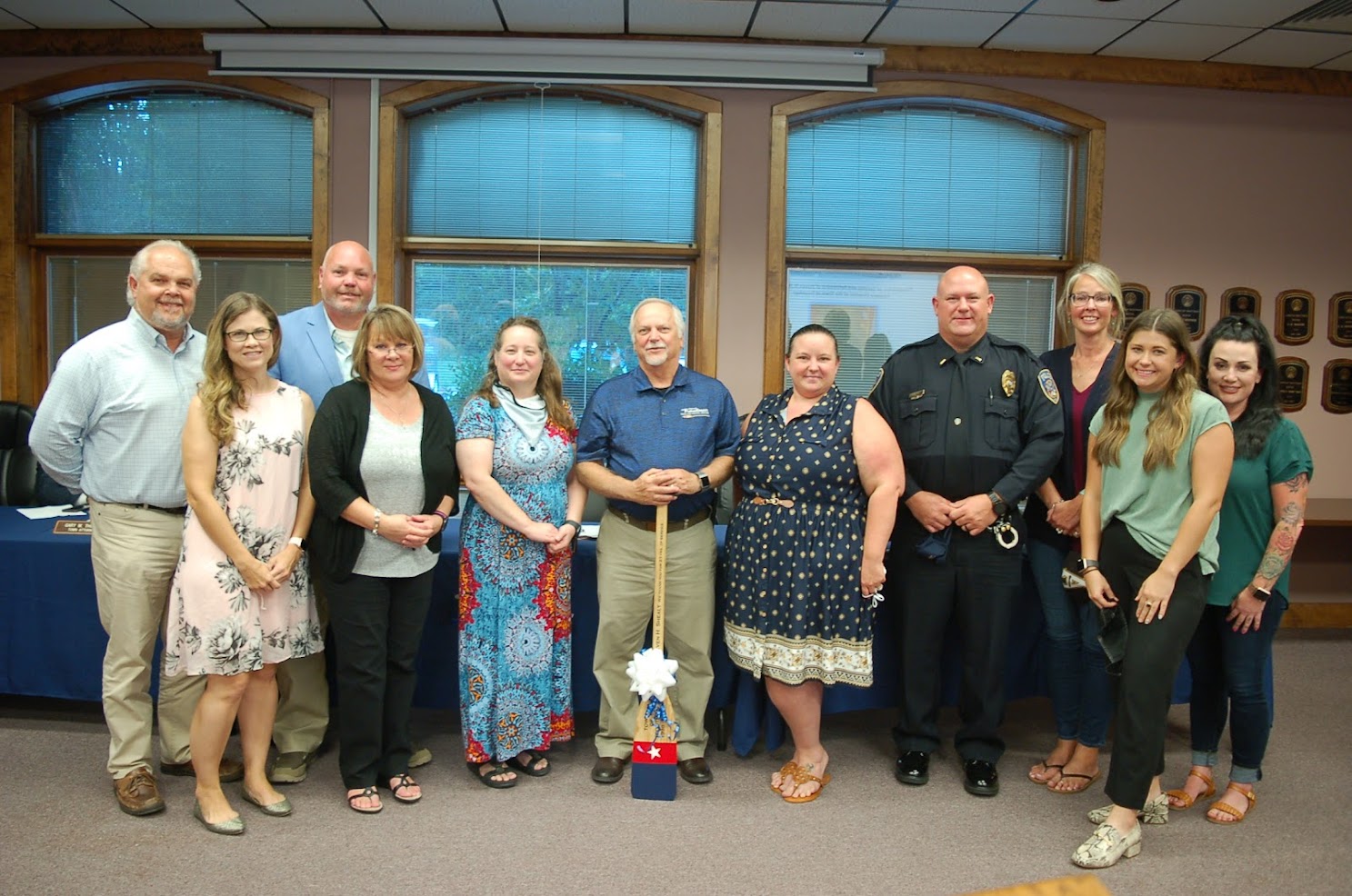 BY DEBBIE PAGE
debbiepage.iredellfreenews@gmail.com
The Troutman Town Council honored Finance Director Steve Shealy for his 23 years of service to the town last Thursday night, presenting him with a plaque and a special gift from the staff, a Troutman paddle replica signed by staff members. His last day was August 31.
Mayor Pro Tem Paul Henkel read a resolution recognizing Shealy's "dedicated and distinguished contributions." Throughout his career, Shealy "has exemplified what it means to be a public servant, putting the welfare of the Town of Troutman and its citizens foremost in all his actions."
The resolution also lauded Shealy as a "model steward" of the town's resources and praised his management style, which includes stepping in to help fellow staff wherever needed throughout the years, including supervising the Utilities Department, helping citizens with payments in the front office, and serving as interim town manager on several occasions.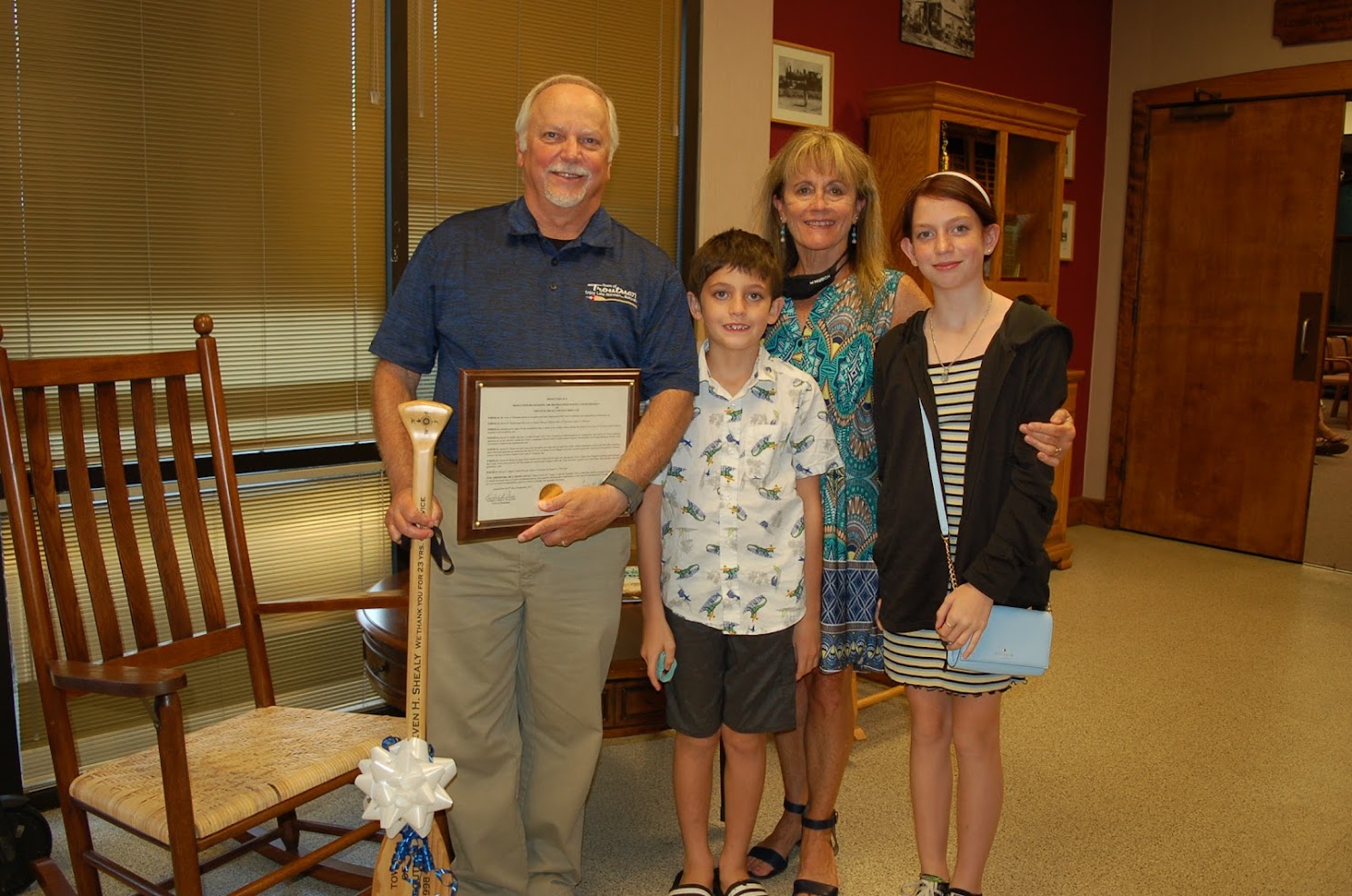 As an Eagle Scout and former Scout leader, Shealy also served as supervisor of Eagle Scout projects completed with the town. He has also "preserved, honored and overseen" North Carolina and U.S. flag etiquette, rules, and guidelines for Town Hall.
In the resolution, Mayor Teross Young and the council commended his positive contributions to the town and community while also conveying "sincere congratulations and best wishes in a healthy and enjoyable retirement."
In an interview this week, Shealy recounted his journey to Troutman from his native Taylorsville. After working as an accountant for Alexander County for 10 years and a stint at Mom and Pops in Claremont, Shealy decided to return to government service after seeing an opening in Troutman, which had a population of about 1,400 when he began work for the town.
When Shealy arrived on July 27, 1998, he was one of three Town Hall staff members, with the rest of the employees in the police or public works departments. In addition to his accounting duties, Shealy handled human resources, purchasing, and grant-writing over the years.
Troutman had few amenities when Shealy arrived so he worked with council members to leverage grants to fund the greenway. SUbsequent grants, low-interest loans, and fundraisers also lead to the construction of the J.Hoyt Hayes Memorial Troutman Library and ESC Park.
Though some pushback occurred for these projects at first, Shealy said citizens came to enjoy and take pride in these amenities. The expanding greenway is a source of town pride, and the library is always bustling and serves as a center of children's programming and literacy, added Shealy.
The Town Hall staff has also increased in the last decade as the town grew. Today there are nine or ten staff filling Planning and Zoning, Parks and Recreation, and other roles that did not exist when Shealy arrived.
All this was possible, according to Shealy, because the town managed money well and identified other funding sources for these major projects, which have promoted growth and attracted new people to the town.
Shealy will miss the special people he worked with and the citizens he came to know over his decades of service. His plans now include spending lots of time with his grandchildren in Charleston, catching up with home projects, and some travel adventures, especially after his wife retires.
He also plans to continue with part-time accounting work and plans to volunteer on church committees now that his schedule allows.
"I appreciate the opportunity to work in Troutman. I was treated extremely well, and it was a great experience. I'm glad it lasted as long as it has."
NEW STAFF INTRODUCTIONS
Justin Munday, who will be stepping into Shealy's shoes, was introduced to council members after Shealy's recognition. Munday has auditing experience and is currently completing his Certified Public Accounting (CPA) credentials.
Town Manager Ron Wyatt said that among the quality candidates for the position, Munday stood out with a great interview.
Munday said he was excited to work for the town. "I look forward to working here and am grateful for the opportunity," he said. He looks forward to the challenges of the job and his coming "learning curve."
"I feel I am the right man for the job, and I look forward to proving that," added Munday. "Following Steve will be tough."
Other new employees introduced were Megan Edmiston, who Wyatt said had already improved office business practices and streamlined operations in her short time on board, and Ashley Lambeth, who filled the Police Evidence and Records specialist position recently approved by the Town Council.
Lambeth has evidence handling experience with the disbanded Mocksville Police Department. She is instituting uniform procedures for evidence keeping and going through the procedures to destroy evidence from previously adjudicated cases.
Lambeth also retrieves accident reports for citizens and will also take passport applications for local citizens in the near future.
Wyatt praised Lambeth's immediate impact as she is quickly organizing and cleaning the evidence area, with Interim Police Chief Darrin Payne joking that Lambeth is "whipping them into shape."
OTHER DISCUSSION
Henkel expressed his excitement over the 500 well-paying jobs arriving in Troutman with the Walmart Distribution Center on Murdock Road. "I hope it will attract more jobs to help pay the bills and keep property taxes low" for the community, he said.
Wyatt noted that the Talley Street sidewalk and greenway extension projects have moved to the next phase. After one more step with NCDOT, the projects can start bidding. Wyatt hopes that both will start moving forward in the next six to nine months.
COVID-19 NUMBERS FORCE EVENT CANCELLATIONS
Wyatt said three October and November town events, Trails and Treats, the Wicked Fast 5K, and the Fall Craft Fair, have been canceled because of rising COVID-19 cases, especially among children and young people.
Wyatt said a "horrendous" report that day from Iredell County Health Director Jane Hinson indicated that children 17 and under are being heavily impacted by COVID-19 infection and quarantine requirements. The numbers are worse for all age groups than last year, he said.
He also admitted confusion about the differences from last year in COVID-19 requirements and advisories in light of these worsening numbers. Wyatt said if they canceled these events last year with lower infection rates, it only makes sense to do the same this year.
Council members expressed support for the decision. "Your reasoning makes good sense. We don't need to set ourselves up for failure, especially since a lot of these events involve children, with one in four positive cases in children," said Henkel.
Wyatt also noted the Town Hall mask mandate and COVID-19 protocols were to "help us stay open for business.
"It'a not a political stance. We have to believe in science and protect our employees and the public," he explained. "Citizens are welcome in Town Hall. If you don't want to wear a mask, I respect that, so you can use the drive-thru."
OTHER BUSINESS
In other business, council members voted 4-0 to:
* Approve a budget amendment for $340,000 to purchase property at 334 North Avenue.
* Set October 14 annexation hearing dates for 3 acres on Charlotte Highway and for 1.3 acres on Winecoff Street for The Meadows project.
In addition, the Winecoff Village annexation and rezoning requests were again delayed to October 14.