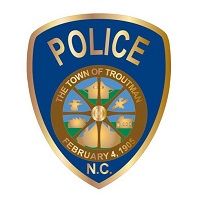 BY MIKE FUHRMAN
At least two people involved in disrupting an Iredell-Statesville Schools Board of Education meeting on Monday night — and possibly several others — will face criminal charges for their role in the incident.
Troutman Town Manager Ron Wyatt said on Tuesday that the Troutman Police Department is reviewing video evidence and evaluating witness statements taken in the aftermath of the incident at the Career Academy & Technical School to determine who will be charged and the severity of the charges they face.
The most likely charges are misdemeanor injury to public property, misdemeanor communicating threats and inciting a riot, Wyatt said. The incitement charge could be a felony or misdemeanor.
More than 200 people gathered outside the boardroom where the I-SS board and staff were meeting after they were prevented from entering because all of the seats were occupied. Fewer members of the public than normal were allowed inside the boardroom because officials made sure all of the seats were six feet apart in compliance with CDC protocols for indoor public meetings.
Wyatt, who handled a media inquiry on Tuesday because the acting police chief was unavailable, said the two individuals who broke a window — using their hands and a Bible — have been identified.
The ruckus caused outside by the shouting and chanting of the crowd — which was comprised of people who were for face masks requirements and people who opposed masking mandates — disrupted the meeting and caused some I-SS staff members to become concerned about their personal safety, Wyatt said.
"Many of them seemed to be very fearful because they had n idea what was happening on the outside," Wyatt said. "Some thought they were under attack."
Meanwhile, the sound of the breaking glass seemed to embolden some members of the crowd. At that point, TPD officers told the crowd to disband and disperse.
There were four Troutman officers present at the meeting and one Iredell County Sheriff's Offic deputy. Additional TPD personnel were also called to the scene.
Wyatt, who went to the scene to ensure he did not need to allocate more town resources or ask other agencies for help, praised the officers' handling of the situation. In hindsight, the town manager said, officers could have required people to move away from the window that was broken. "But I am not faulting them or saying they did anything wrong," he said.
The officers' priority was preventing members of the crowd who were "jawjacking" from becoming assaulting each other and keeping emotions from further boiling over, Wyatt said. No injuries were reported.
Some of the protesters threatend to sue officers and the town. Others also complained that TPD officers were involved with mask compliance.
Wyatt said the TPD will provide additional officers for future I-SS board meetings if the school district requests.