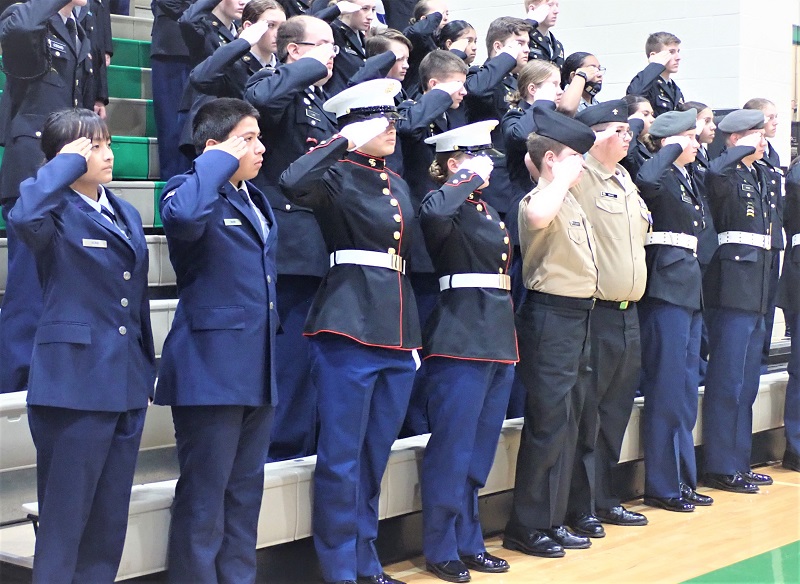 BY KARISSA MILLER
West Iredell High School's Junior ROTC cadets held an in-person Veteran's Day ceremony to honor military veterans and their families for the sacrifices they've made for our country.
An estimated 210 veterans and 140 family members filled seats inside the school gym on Wednesday morning as the Warrior band performed patriotic music.
"Today's ceremony is for you! The men and women, who have served or are serving our country so that we can keep the freedoms that we have today," said Jacob Stewart, the battalion commander for West's JROTC program.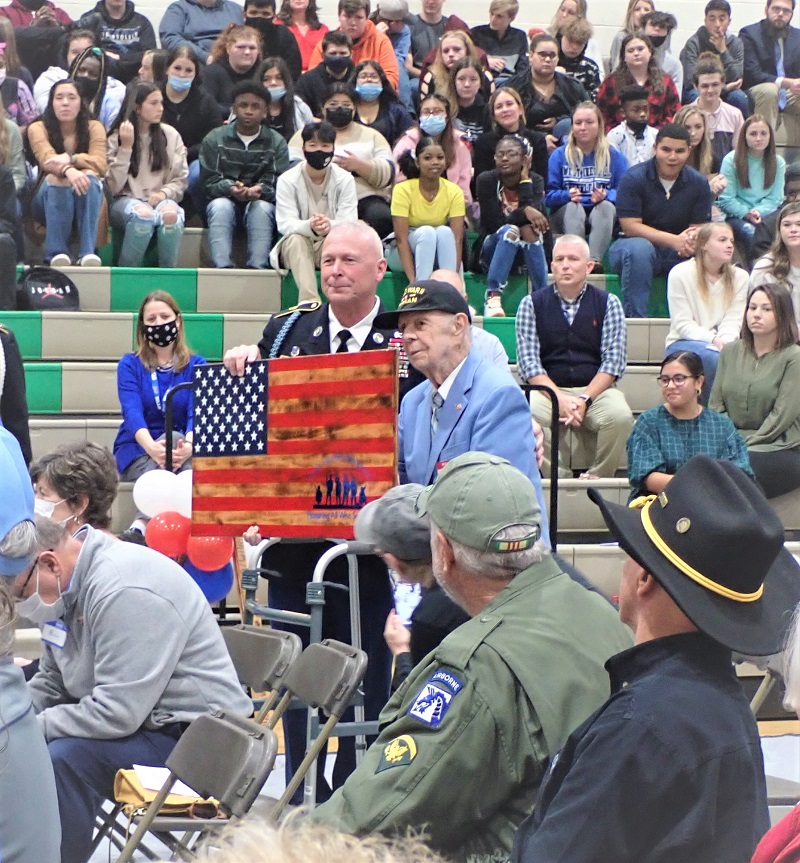 Stewart welcomed and introduced the other JROTC high school cadet programs that helped with the program:
♦ South Iredell High School-Marines;
♦ North Iredell High School-Army;
♦ Bunker Hill-Air Force; and
♦ Mooresville High School-Navy.
After the presentation of the flag, the marching band performed the anthems of the U.S. Army, Marine Corps, Navy, Air Force and Coast Guard.
Principal Ellyn Gaither told veterans that the cadets are "a great example of what our future is ahead of us. They are doing this to honor you guys."
Iredell-Statesville Schools Superintendent Jeff James said that 42 years after graduating from West Iredell he would have never had guessed he would be back to speak at the Veterans Day event.
He spoke about an Afghani guest speaker at Rotary that had an impact on him. At a young age, the speaker witnessed the brutality of the Taliban. James spoke of his courage to stand up to Taliban. He worked with U.S. service agents and is now an American citizen.
"Cadets, don't take the freedom you have for granted. There is blood, sweat, families who have paid a price to give us the great nation we live in," James said.
He also said that it has been confirmed that the highest number of national guardsmen came out of West Iredell High School.
"When things get rough always think back to some of the things that Colonel (VanVliet) and Sgt. Hooker have told you," James said to cadets.
Following the Superintendent's remarks, JROTC instructor Lt. Col. Eric VanVliet and Sgt. Reggie Hooker lightened up the mood by getting the crowd to sing happy birthday to the U.S. Marine Corps, which celebrated 246 years of service to the country Wednesday.
Cadets David Webb and Cecilia Mena read poems that commemorated veterans and described some of their experiences either in war or at home.
Karen VanVliet, the wife of JROTC instructor Eric VanVliet, read a poem called "Silent Rank." It described what a spouse goes through when a loved one is away and left many in the crowd teary-eyed.
Cadets also kept with the tradition of recognizing the oldest veteran. This year, Tom Poston, who is 100 years old, was presented with a handcrafted wooden flag.
Poston gave the second oldest veteran, 94-year-old Henry Grier Bustle, an American flag that he received for being the oldest.
Another tradition is the cadet art poster contest. Cadets make patriotic posters each year which are displayed around the school for the Veterans Day event.
Poster winners this year are:
♦ First Place: Anai Romero, Melissa Ulloa and Yadier Pedraza
♦ Second Place: Alex Bills
♦ Third Place: Shyanne Daniels
Veterans concluded the program by exchanging stories over a barbecue luncheon, which was donated and prepared by Cooking for Christ.
Photo Gallery