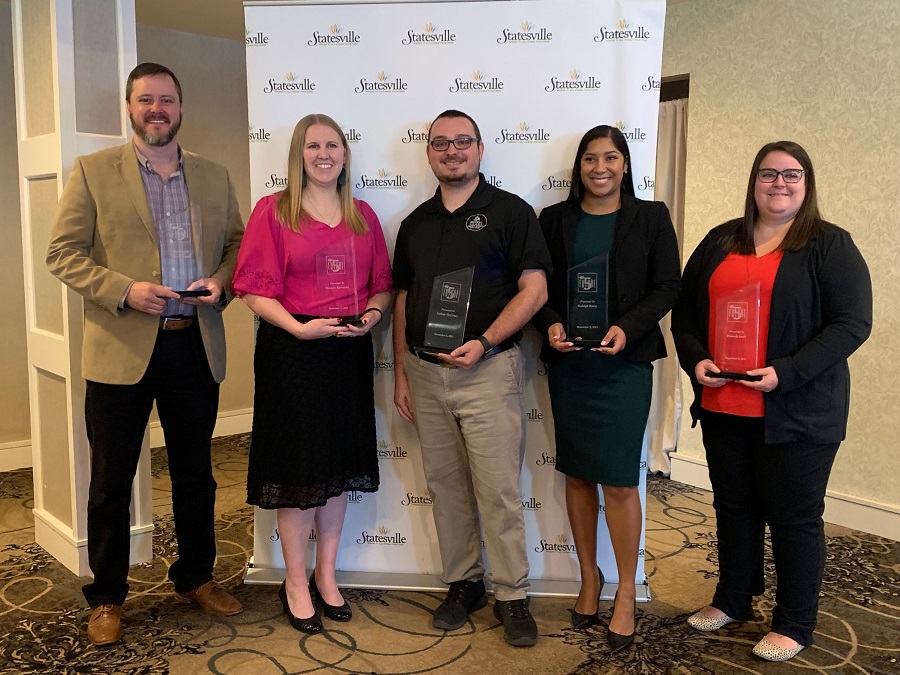 BY BRANDY TEMPLETON
The Greater Statesville Chamber of Commerce recognized Kaleigh Darty, Joshua McCrary, Kevin Angell, Hannah Scott, and Meagan Kowalski on Friday as the 2022 Iredell Health System Future 5 honorees.
These young professionals were chosen for this award because of their commitment to the Greater Statesville area through civic and business involvement.
All five honorees are committed to helping the Statesville area reach its potential.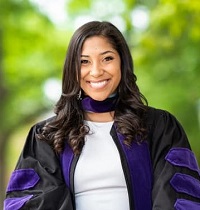 Kaleigh Darty, an attorney at The Darty Law Firm, is a 2012 graduate of Statesville High School. After earning her law degree from The University of North Carolina at Chapel Hill in 2019, she returned to Statesville to practice criminal and juvenile defense, and family law.
Her passion is serving the county's underprivileged and fighting for racial equality. She believes that you can learn a lot about people by how they treat the poor, the unfortunate and the incarcerated.
Darty's advice is to "stay encouraged and be confident enough to ruffle a little bit of feathers."
Her vision is to bring more diversity to Statesville by bringing more young people back to serve the community.
"I plan to live here, work here, and spend the rest of my life here," Darty said. "I'm going to join local organizations and be an asset by volunteering."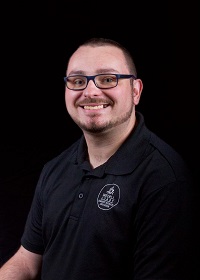 Joshua McCrary is the director of Iredell Community Outreach Association. He started serving the community in 2010 as a high school junior. He started the Iredell Choral Society with his chorus teacher, and they, along with other students, started singing and giving back.
That effort evolved into Iredell COAST during the pandemic, and the nonprofit has been growing ever since.
Along with being the executive director, he drives a school bus for Iredell-Statesville Schools, substitute teaches, and is a single dad to his 6-year-old son Brayden. He also serves as a worship leader at his church.
"My vision is to bring Statesville out of our ways, our traditions, and our outdated thinking," McCrary said. "It will take doing things differently, our younger generation stepping up and providing input and help, and those in charge to being willing to listen."
McCrary said he will help by being actively engaged in the community and by providing input.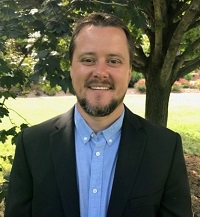 Kevin Angell is the executive director of the Children's Homes of Iredell County. He has 15 years of experience working in behavioral health and child welfare. He is involved at his church, Grace Baptist, is also a family man to wife Marsha, daughters Naomi and Ruby, and wants to see change.
"I want Statesville to be a place where people that are closest to the problem are closest to the power and resources necessary to solve the problem," he said. "This is achieved when a diverse team of individuals create a culture of belonging where reasonable people can disagree in a civil way while working towards shared goals."
He intends to help by "building coalitions of fair-minded people who are committed in a disciplined way of getting work done in our community."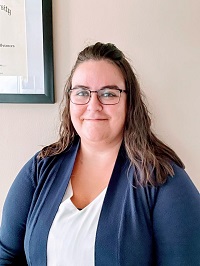 Hannah Scott works as the Career and College Coordinator at Mitchell Community College and is an adjunct faculty member. She assists high school juniors and seniors who are ready to get started in their college career.
She's volunteered as project manager for Leadership Statesville, helped the Boys & Girls Club of the Piedmont, worked with the chamber's Workforce Development Committee, and assisted at Friday After 5, and the Statesville Pumpkin Festival.
She sees herself as a life-long learner and is currently furthering her education. Her vision for Statesville is seeing growth and meeting the needs of the business community.
"It will take hard work and teamwork to achieve it," Scott said.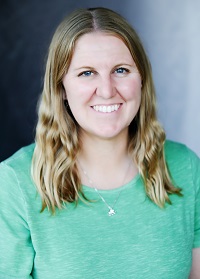 Meagan Kowalski is the director of Marketing and Public Relations for Iredell Health System. She also serves as a board member and the marketing chair for Center Stage Alliance, a local non-profit visual and performing arts organization.
She is a "woman of faith," who serves as a Sunday School teacher, as well as co-leading a youth group for girls aged 7-10. She is wife to Jeremy and mother to daughter Aubrey, 10.
Kowalski's heart is with Statesville, and she loves her community.
"If you're passionate about something, chances are you can find somewhere to pursue that passion in Statesville," she said.
Kowalski encourages everyone to find out "what matters to you and do something about it."
She believes that Statesville is on its way to reaching its potential.
"I'll do my part by being an example and continuing to pursue my passions while supporting others while they're still on their journey," Kowalski said.
She plans to encourage younger generations and be there when things don't go as planned.
"My hope is that in all I do, the people that I interact with know that I truly care about their success and that even if they fail, I'll be right there to help them stand back up and try again."
Most importantly, Kowalski believes, "we're all in this together."