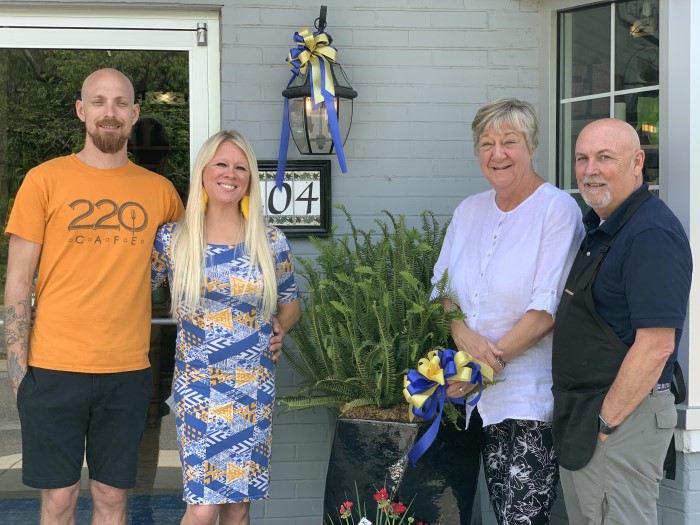 BY BRANDY TEMPLETON
Two Statesville businesses, Johnson Greenhouses and 220 Cafe, recently teamed up to raise money to help the World Central Kitchen feed Ukrainian people.
The organization has served nearly 300,000 fresh and hot meals daily to liberated Ukrainian cities.
220 Cafe owners Kelli Simko Walker and John Walker created a special way to help. From mid-March through the end of April, their customers could support the project by purchasing a special Lemon – Blueberry Creme Brûlée.
"The colors were representative of the Ukrainian flag," she said. "It was one of the more popular Creme Brûlées. People loved it and the cause."
Several customers also donated money to the effort. Two customers who wanted to remain anonymous we're so moved that they donated $1,000 to the cause.
One customer from Cornelius also expressed gratitude towards 220 for helping.
"He said he had wanted to help out, but wasn't sure how," Kelli Simko Walker said. "This was his way."
Total donations from Cafe 220 customers totaled $4,000 and owners donated $1,000, bringing their total to $5,000.
Johnson Greenhouses owners Ron and Cheryl Matthews joined Cafe 220 in the effort.
"It was the perfect partnership together," Cheryl Matthews said.
She teared up as she spoke about the Ukrainian people.
"It was really, really, really tugging at my heart strings bad," Cheryl said. "I thought what can we do?"
Among priorities, she knew people have to be fed.
"The World Kitchen does a good job feeding people," Cheryl said.
Ron and Cheryl Matthews decided to make Ukrainian bows for customers, asking only for donations.
"We made blue and yellow bows that people could take home and put on their porch, rail, light post, or wherever," Cheryl said.
Johnson Greenhouses is donating $1,000 to the cause.