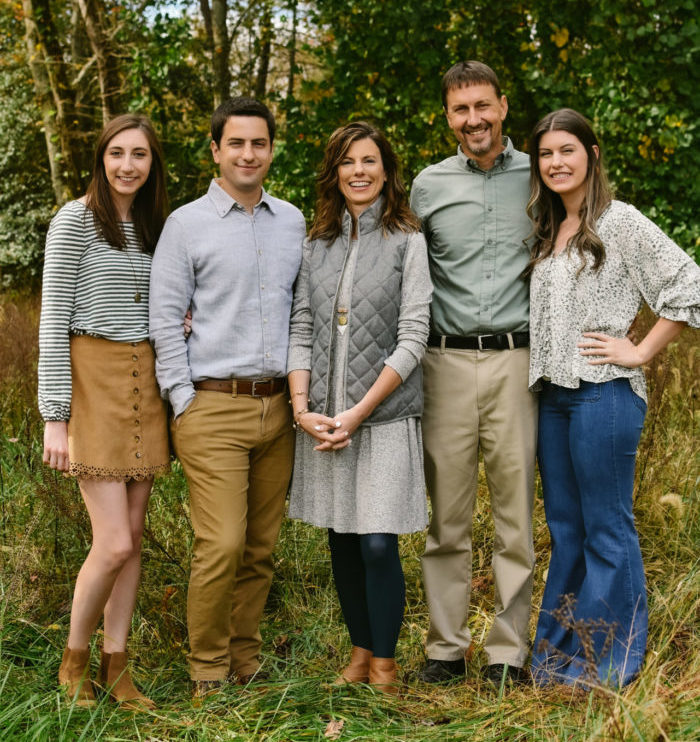 Special to Iredell Free News
After teaching for more than 31 years, Kae Treadway was ready to enjoy the next stage of her life — retirement. But less than a month after she stopped teaching, she received some unexpected news.
It turns out that the next stage of her life wasn't just retirement — it was a battle with breast cancer.
In March of this year the Taylorsville resident went to Hickory for her routine mammogram.
Treadway, 53, was not entirely surprised when they found a suspicious lump and needed to take a biopsy. She has had three biopsies before, all of which were benign (noncancerous).
However, on March 23, after a phone call about her biopsy results, she knew something was wrong.
"The Hickory office called my house and said I needed to come see them. I told them, 'I've done this three times, and you have always told me that the biopsy was benign over the phone, so I
know I have cancer.' They told me to come in and asked if I could be there in an hour. I knew the whole way there what was going on," said Treadway.
Luckily, Treadway's husband was off of work that day and could accompany her to the office, where they explained that she had double-positive breast cancer.
After receiving this devastating news, Treadway set up several appointments and visited many different facilities in hopes of finding an oncologist that made her feel comfortable.
When she found an oncologist and facility that aligned with her needs, her first step in treatment was surgery. On April 28, Treadway underwent surgery to remove the cancerous lump and several lymph nodes.
"They said it looked like they had gotten all of the cancer from surgery. All my labs from the tissues they removed came back good. There was no evidence that the cancer had spread to the lymph nodes. That was a very happy, thankful day," said Treadway.
After surgery, Treadway was told her next step in treatment would be radiation.
Though surgery is done to remove the cancer, radiation is done to destroy any remaining cancer cells and reduce the risk that the cancer will come back.
"It was important to do radiation therapy fairly soon after surgery to make sure it killed all the cancer cells. Being 53, I was a lot stronger and healthier to fight cancer than I would be if I were diagnosed in my 70s or 80s. But I have more years ahead of me, so we wanted to do everything right so I didn't have a recurrence in 10 or 15 years," she explained.
Understandably, Treadway had some nervous feelings about beginning radiation therapy.
After finding out you have cancer and immediately starting treatment involves so many life changes, it's normal to feel anxious.
"Initially, I was in denial. I thought I didn't really need radiation. I had a lot of anxiety and was nervous about the side effects, both short-term and long-term. It took a lot of my mental space to really commit to radiation emotionally," she said.
Feeling a little uneasy about the idea of radiation, Treadway consulted with her radiation oncologist about which facility would be best for her.
"Iredell Radiation Therapy Center was more convenient for me distance-wise, but I was willing to drive if that meant better care. I can remember that moment exactly because my radiation oncologist stopped, made really strong eye contact with me, and let me know that I would get great care at Iredell. She reassured me that Iredell's radiation center would exceed my needs," she said.
"I had no control over cancer, but I had some control as to where I sought my treatment. So, it was important for me to get this right, and Iredell's radiation therapy center did that for me."
J. Allen Knox Radiation Therapy Center
In June, Treadway went to her first appointment at Iredell Health System's J. Allen Knox Radiation Therapy Center, where she met with her radiation oncologist to discuss her treatment plan. At her second appointment, Treadway met her care team and began the imaging and planning stages of radiation.
"The second appointment was when we were getting serious about radiation and getting ready for treatment. I started meeting the folks that would be working with me at Iredell, and that's when I knew I was at the right place. They knew when to be humorous, but they also knew when to be serious," she said.
On June 21, Treadway started the first of 23 treatments. She had radiation therapy five days a week, and each appointment lasted about 15 minutes.
"I loved that each appointment was very organized and not drawn out. It was routine, and you knew what to do every time. You didn't have to check-in like you do at a regular doctor's appointment. You would have a seat, and they would call you back a few seconds after you sat down. There was no question about what to do, and that took a lot of the stress away," said Treadway.
To help her stay calm and comforted, Treadway often used the 15 minutes while she received radiation as a time for prayer. She also said the music playing in the radiation room helped her stay calm and relaxed.
"They had a really great playlist. Just that music playing all the time could take you away from what you were experiencing," she explained.
Throughout her time at Iredell's radiation therapy center, Treadway was especially thankful for those that cared for her. She was pleasantly surprised they remembered the little details of her life, even the small things she mentioned previously, like going to dinner with her daughter. She recalled that these conversations meant a lot to her and made her feel they really listened.
"Staff members treated me well every single time. They gave me tips and answered all my questions. They were also really great about explaining things," she said.
"When they left the room, they would say, 'Nothing will touch you,' or 'It's going to take a little longer this time, but it's going to be OK,' or 'the table might jiggle when we leave.' But all those things I needed to know because if the table jiggles and you weren't expecting it, your brain is thinking 'Oh no, is something wrong?'" she added.
In a time when her life felt unpredictable and overwhelming, Treadway was appreciative that her radiation team was intentional in ensuring she knew what to expect at every treatment.
On July 21, Treadway finished her last treatment and got to partake in a long-awaited tradition many of her radiation friends did on their final day at the center — ringing the bell.
"The staff made a big deal of my last day. I got a certificate that all my healthcare providers at Iredell signed. Several of the radiation therapists came out in the lobby with me and announced I was at the end of my treatment. Then I rang the bell. It actually made me cry," said Treadway.
Treadway explained that ringing the bell that signified the end of her treatments felt both exhilarating and relieving.
"I knew I had a good support system with my family, friends, and church family. But the people I met at Iredell became part of my support system too. They were some of the most important people in my life for those 23 days. They were my routine and consistency when things felt out of control. That was unexpected but also a blessing," she said.
Looking back on her time at the radiation center, Treadway realizes she should not have spent her time worrying and fighting that initial sense of dread. She is using this lesson as she embarks on her next stage of treatment, which is medication.
"As I approach this next step, I'm trying to remember my radiation lesson — just take one day at a time, don't dread what hasn't happened yet, and know you have people who are going to help you," she said. "Lying awake at night, dreading something that hasn't happened yet is not a productive way to spend energy."
And this lesson is the same advice she would give to others who are worried about radiation.
"Don't assume it's going to be worse than it is. Take it one step at a time, and don't try to deal with problems before they even arise," she said.
From her experience, Treadway has a newfound admiration for people going through radiation.
"I met people in the lobby, who I still pray for, who were in worse situations than me. I guess, in a way, it made me even more thankful and appreciative," she said.
Although the road hasn't always been easy, Treadway is keeping a positive outlook for the future. She is grateful for her time at the radiation therapy center and feels every challenging experience makes you rise above what you thought was possible and helps you grow as a person.
"Any experience you have in your life's journey—whether it's hard or exhilarating—changes how you think and view things. Each life experience makes you a more complete human. Having breast cancer and doing radiation is something I never thought I would do, but it's part of my journey," said Treadway.
LEARN MORE
For more information about the J. Allen Knox Radiation Therapy Center and other cancer treatments, talk to your provider or call the center at 704-878-4615.
About Iredell Health System
Iredell Health System includes Iredell Memorial Hospital; Iredell Mooresville; Iredell Home Health; Iredell Wound Care & Hyperbaric Center; Community and Corporate Wellness; Occupational Medicine; the Iredell Physician Network and more. Iredell Memorial Hospital is the largest and only nonprofit hospital in Iredell County. The comprehensive healthcare facility has 247 beds; more than 1,700 employees; and has 260 physicians representing various specialties. Centers of excellence include Women's and Children's; Cardiovascular; Cancer; Surgical Services and Wellness & Prevention. The Health System's newest campus, Iredell Mooresville, is home to the area's only 24-hour urgent care facility, as well as an ambulatory surgery center, imaging center, rehabilitation services, and physician practices. The mission of Iredell Health System is to inspire wellbeing. For a comprehensive list of services and programs, visit www.iredellhealth.org