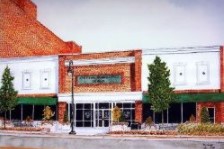 Special to Iredell Free News
American Renaissance School is now accepting enrollment applications for the 2022-2023 school year.
The application is available online at https://www.arsnc.org/enrollment/
The application deadline is March 4.
American Renaissance School is a tuition-free, public, charter school serving grades K-8 in historic downtown Statesville. ARS participates in the National School Lunch Program, offers a wide variety of clubs and athletics, and transportation is available.
Since 1998 ARS has worked to educate our young people as students and citizens. ARS provides a welcoming environment where the arts are integrated into the curriculum. This school's philosophy is that learning extends beyond the classroom, and students are often seen about town with their teachers during the school day.
The cornerstones of an ARS education are Academic Excellence, Respect, Safety, Integrity and Support.
American Renaissance currently has 635 students in grades K-8. Over the next two years enrollment will be gradually expanding to accommodate up to 900 students in grades K-8.
This creates a unique opportunity for local families. Most years there are very few openings outside of kindergarten, but for the 2022-2023 year there will be limited openings in all grades.
American Renaissance officials are in the final stages of development of an exciting, downtown campus that will include multiple buildings and a new gym and multi-purpose space.