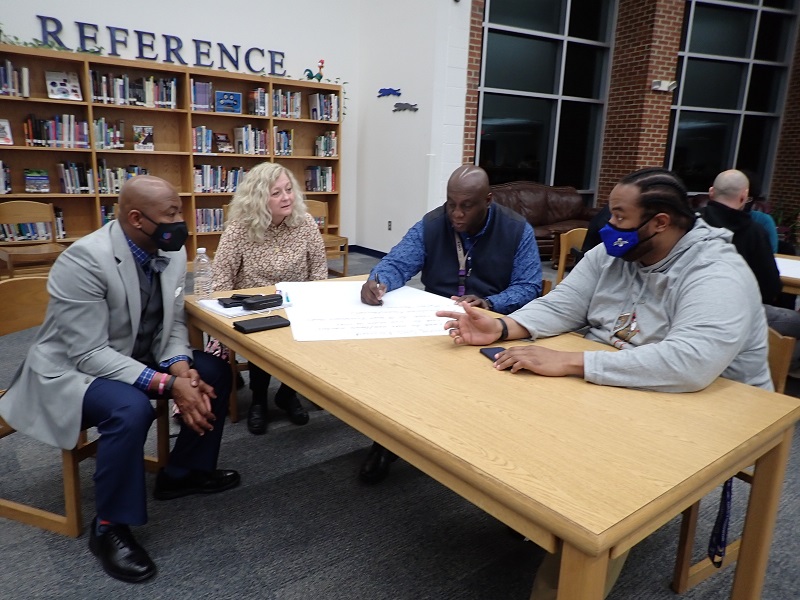 BY KARISSA MILLER
There are many reasons why students get discouraged or bogged down with the stress and pressure of school.
Statesville High School administrators and teachers believe community support can be the difference between students reaching their potential and giving up.
After numerous principals and different initiatives in the past 10 years, Statesville High remains a "low-performing" school by state standards. But students are continuing to show academic growth, and school officials are working to change the public's perception of the school, its students and teachers.
"How can we partner together to solve the riddle that's been Statesville High School over the past decade?" Principal Chad Parker asked recently during a Community Partnership Planning Day.
During the February 17 meeting, visitors worked together in small groups to devise strategies to help move the school forward during the coming months.
"All of us need to be recruiters for Statesville High School. We need to recruit teachers and parents to get involved," said I-SS Assistant Superintendent of Operations Richard Armstrong.
During his tenure as a principal, Armstrong challenged parents to be at the school at least one time that year. It's critical for students to know that their parents are invested in their education, he said.
Armstrong also went off script to talk about the need to lift up every teacher at the school.
"Our teachers are flying out of here because it's the hardest thing that they've ever done," he explained.
Armstrong told school administrators to remember to say, "You're doing a great job."
He said that it helps motivate teachers, adding "they don't need to hear from you just when they did something wrong."
Educators "are beaten down. We're tired. We need to challenge the community at the least to say, 'Teachers we care about you period,' " he said.
Participants encouraged school staff to display student achievement awards in the hallways so that students can see their accomplishments every day and know that their school is proud of them.
Other suggestions to increase parental involvement included providing incentives, babysitting services for parents to attend meetings at the school, and fun-themed family events.
The Mission
Parker shared with a group of about 25 educators, community members and school board members his mission to help all students succeed in school and life after high school.
"I see a lot of faces that I normally get to see at athletic events," Parker said. "I'm very thankful we're here to talk about the academics and the wellbeing of the students inside the building, and not just athletically."
Parker had his counselors and Student Assistant Program coordinators introduce themselves. They include:
• Ketwan Graham;
• Lindsey Lowtharpe;
• Michaell Ratchford;
• Leslie Rucker; and
• Tonisha White.
The school's administrative team, which brings a wealth of leadership experience to the school, includes:
• Assistant Principal Bernadette Thomas;
• Assistant Principal Christopher Scholl;
• Assistant Principal Lisa Tucker; and
• International Baccalaureate Coordinator Jill Hartle.
"We're an IB candidate school," Parker said. "We're in the process to bring a different perspective and a different view in every classroom very soon."
IB implementation is part of the school's approach to improve student performance.
"I know," Parker continued, "every kid that walks through the doors will get a robust educational experience — that is all of our passions."
A Data-Driven Approach
Parker is hyper-focused on data and numbers. His team is crunching numbers to track every opportunity for improvement, from maximizing Biology test scores to minimizing out-of-school suspensions.
One of the areas SHS staff has worked on is to help every student choose a career pathway. Parker said that students then progress to the ACT Work Keys test, which will open doors for students after high school.
The school's four-year cohort graduation rate went up from 84 percent in 2020 to 84.9-percent in 2021. Parker credited counselors and nonprofit Speak Life & Live for helping get some seniors across the finish line.
Statesville High's fall data test scores on End of Course tests:

Parker said that these gains are a testament to his teachers' hard work. The school did not meet growth targets, but it's a marked improvement over recens years, he said.
Parker believes that it's important to challenge students of all abilities and not accept misinformed opinions that some students cannot do the work.
"Our kids are doing things that no one in the community thought that they were doing," he said. "It shows that they can do it. Together we've got to push it along — continue to hold that expectation high and support them while they stumble so they will finally reach it."
Parker also shared the school's core values. The list included challenging students to be the best version of themselves, setting ambitious goals and listing other targeted expectations.
Discipline Referrals
Assistant Principal Lisa Tucker shared school referral data and the types of referrals, including:
There were 112 referrals that resulted in criminal charges, which carries an automatic 10 days out of school suspension.
Some common risk factors for students included lack of parental involvement, mental health crisis and losing high qualified teachers to other careers.
Tucker said that school staff holds students accountable for their actions.
The staff has built strong relationships with many students, Tucker explained, which has helped de-escalate some issues between students.
Rebranding
Assistant Principal Bernadette Thomas played a video of Apple's rebranding efforts. In the video, Apple's leaders learned that they needed positive exposure to market their brand effectively. In order to do that, they needed to get back to their core values and convey a compelling message that instilled confidence in their targeted audience.
They ditched talk about the core processors in their computer and launched a campaign that was people focused. They challenged people to think differently and change the world.
"In your role, as a community member, it's very important for us," Thomas said. "We want to change our image and you guys can help us."
The school's leadership team has reached out to community leaders, who said in the past they wanted to help. No one is being turned away.
School officials encourage parents and the community who may not have been able to attend the meeting to come tour the school and find a way to make a difference.
Photos