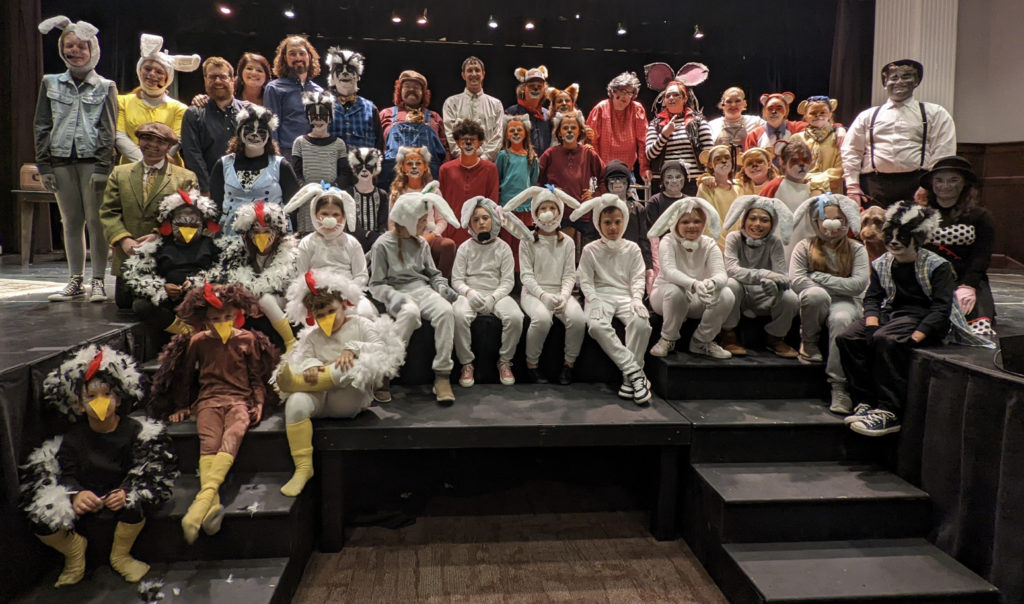 BY BRANDY TEMPLETON
Center Stage Alliance's production of Roald Dahl's "Fantastic Mr. Fox" is bringing excitement and smiles to theatre-goers and filling Statesville's Mac Gray Auditorium with cheers.
The play, directed by Josh Myers, has a large cast of 45 and includes string band Third Wheel.
Myers admitted that he felt a little overwhelmed at first.
"Being my first time as a director, I thought, 'Oh, no, what have I done'," he said, laughing.
After getting to know everyone on the cast and crews, Myers felt the tension melt away.
"It's been surprisingly easy," he shared, nothing the large amount of child actors. "We've had lots of cooperative parents helping us wrangle the small children.
"They've been great. We're a great team."
Myers also said that he picked the right people for the parts, and he's been especially surprised with some new talent.
City Manager Ron Smith, who plays Farmer Bean, came off as quiet and reserved during his audition.
However, Myers spotted his talent right away.
"At our audition, I saw that there was more in there," he said. "I just had to be patient with him to get it out. He's just phenomenal. I get excited just watching him break our guitar every night."
Myers believes everyone is performing well, and he especially excited about the three farmers played by Smith, Echo Myers and Maggie Armstrong, and Mr. Fox, who is played by his son, Cru.
Cru has practiced off-book, working hard on his script at home.
"He earned his lead role," Myers said. "He truly deserves 'most improved' because he has more lines than the rest of the cast combined."
Working with positive people has been a great experience..
"We can do whatever we want," he shared. "We're more than just a rag-tag group. When you get enough people with the right attitude, we can all leave here with a smile."
The first-time director said he's really been surprised by how well the play is going.
"On Thursday, opening night, it just worked," he said. "We'd had a pretty tough tech week , but all the moving parts just lined up. We did the show start to finish with no hiccups. I was just beside myself— my heart was full."
And Myers' heart has been in it since day one. Not only is he directing, but he also wrote "Come Now Children," the a cappella opening for the play. He sings and plays the bass in Third Wheel.
When the idea popped up for "Fantastic Mr. Fox," Myers agreed that it would be a good program that involved children. It came on the heels of Center Stage's summer camp which attracted 75 children.
"When my wife Mykel and I heard it was a play, our eyes lit up," he said. "Our family loves the movie."
Myers' hope is that everyone who sees the production leaves with a smile on their face.
"I'm so thrilled we can all finally get together," he said. "I want people to take away a sense of just … fun."
Additional Performances
Center Stage Alliance will present "Fantastic Mr. Fox" at 7:30 p.m. on October 6, 7 and 8 at Mac Gray Auditorium. For tickets, visit https://events.humanitix.com/fantastic-mr-fox