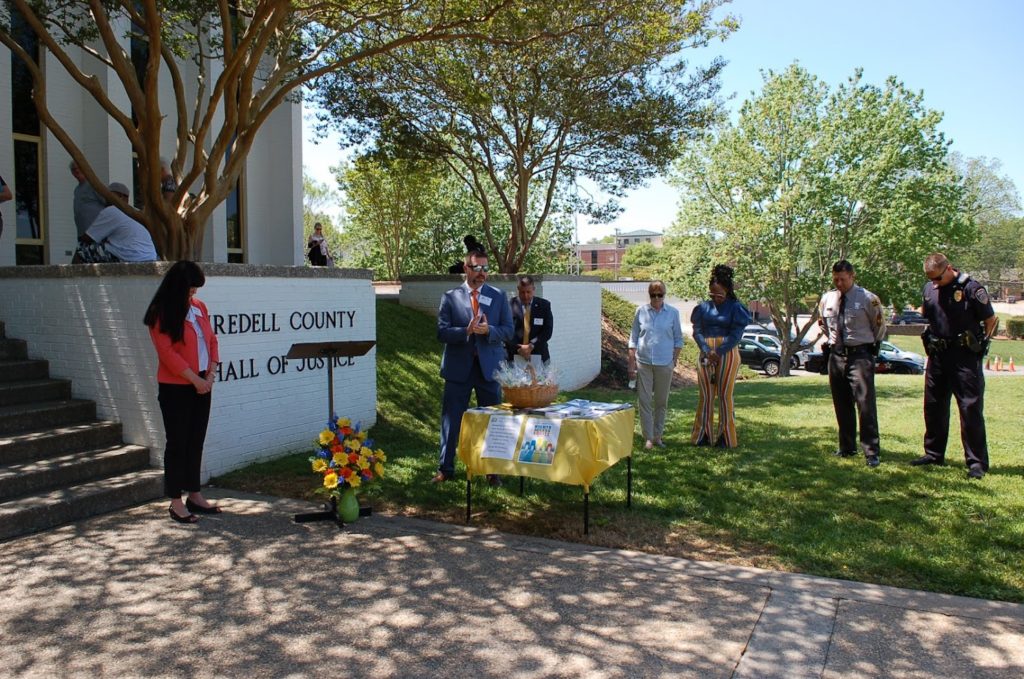 BY DEBBIE PAGE
debbiepage.iredellfreenews@gmail.com
During a ceremony commemorating National Crime Victims Week on Monday, District Attorney Sarah Kirkman pledged to fight for justice for local victims and their families.
"Nearly every one of us is close to someone who has been a victim of crime. We have seen how crime has affected people's lives. We have seen just how much people have to overcome to be survivors," Kirkman said at the ceremony at the Iredell County Courthouse in Statesville.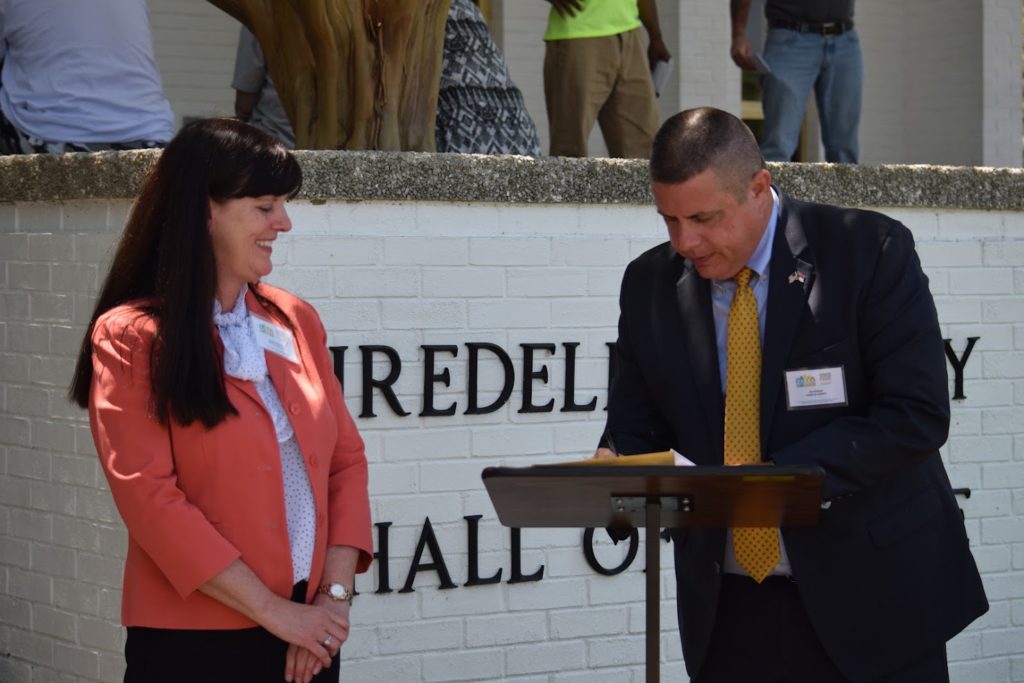 "This week, we commit to help those victims. This week and every week, we commit to helping victims find their justice," she vowed.
This week-long recognition is a time to raise awareness of victims' rights and celebrate the progress made in improving victim services.
This year's theme is "Rights, Access, Equity for all victims," which succinctly defines the mission of Kirkman's office as her staff cares for victims, assists them through court processes, and ultimately secures justice for the offenses the victims suffered.
"Our community partners join in this mission, from the law enforcement officers, who are the first people they come into contact with and assist victims, to the staffs of the Clerk's office, Guardian ad Litem, Department of Social Services, Dove House, and others," she said.
"All of these partners work to assist our victims," added Kirkman, who asked agencies' staff representatives to raise their hands for recognition. These agencies stand with and support victims, provide or connect them with services, and "let them know they are not alone."
Iredell County Clerk of Superior Court Jim Mixson also addressed the crowd, asserting that the American values of freedom, justice, and equality provide the foundation for crime victims' rights and services.
"Countless crimes against innocent individuals, community crises, and terrorist acts have taught us that a victim is not simply 'somebody else,' but somebody we know and love, and that we are all vulnerable to increasing threats of violence," he said.
"It has also raised our awareness of our shared values of justice and our right to be free from violence."
Mixson noted that this recognition allows all citizens to "share in the opportunity to engage in dialogue about what it means to be a victim of crime and what it means to effectively identify and address victims' needs."
"The dialogue begins with the voices of victims and survivors. The power of their personal stories, which tell us of pain and suffering and inequality, but also of heroism, healing, and inspiring journeys toward justice, and they drive us to new heights in our efforts to provide comprehensive, supportive services," declared Mixson.
Crime victims need respect and essentials to get through a devastating period, including safe housing, food, support for their children, transportation, counseling, and medical services. They need to understand their rights, participate in judicial processes that profoundly affect their futures, and achieve accountability from those who harmed them.
"Yet, they can only tell us these things if we take the time to listen, to value their input, and value their role, not merely created as an obligation required by law, but as an opportunity to listen and learn from their experiences," added Mixson.
Courts are moving away from the previous viewpoint of victims and survivors as merely criminal evidence to modern views of victims serving as "an integral role in our collective efforts to pursue justice."
"Their role is one in which we value victims' suffering, struggles, and loss, and we value them as our family members and friends, neighbors and co-workers, who have been harmed by crime."
Mixson went on to thank Iredell's state representatives for securing a domestic violence deputy clerk position for the county. He thanked Emily Solis for her efforts to help domestic violence victims and the many other deputy and assistant clerks who help all crime victims each day.
The voices of community members are vital in stopping the "domino effect" of crime on all its members and the economy. "Each of us can contribute with a kind word and offer to listen and help with a compassion and concern that assists victims not only in the immediate aftermath of crime but far into the future to support their efforts to heal," he said.
Mixson added "what is needed is the echo of our collective voices that stand up for our shared values of safety in our homes. peace in our communities, and justice in our nation that includes and involves crime victims."
"This will require the commitment of people like all of you here today, who share the common value of victim justice. This also requires a commitment to care and be there for victims and survivors of crime."
In closing, Mixson quoted James Rowland, the "the father of the victim impact statement," who said, "Justice will not be served until victims' rights are not just observed annually but practiced daily."
At the conclusion of the ceremony, Kirkman, Mixson, and representatives from other agencies signed the official 2022 Crime Victims Right Week proclamation, which recognized the plight of victims and the importance of the N.C. Crime Victims' Rights Act to ensure victims can choose the level of their case notification during the court process.
The proclamation also stated the need for continually expanding victim services, committing to equal dignified and respectful treatment of victims, and improving access to services which provide safety and security to victims and empower them to move beyond the harm inflicted by the crime.
The District Attorney's Office provided a table of victims' rights information and support agencies, as well a gift basket of Kind bars and Hershey kisses to thank the supportive crowd of around 40 in attendance, most representing area law enforcement and helping agencies.
Kirkman's Pastor Jason Whitley, who is also a major at the Wilkes County Sheriff's Office, offered the invocation for the ceremony.
Photos