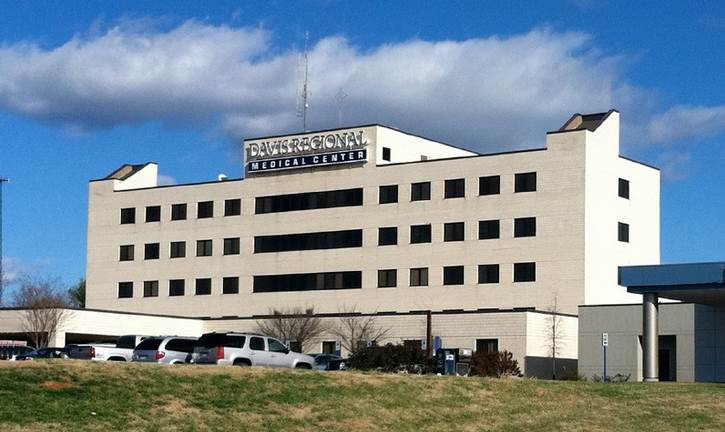 FROM STAFF REPORTS
The Emergency Department at Davis Regional Medical Center will close for good at 7 a.m. on Wednesday, August 24.
The closure was moved up by a week as parent company Community Health Systems forges ahead with its plan to convert the 146-bed hospital into an inpatient behavioral health services facility, hospital officials confirmed Friday.
Matthew Littlejohn, network CEO for Davis Regional and Lake Norman Regional Medical Center, notified the medical staff, employees and volunteers at Davis Regional of the Emergency Department's closure in a memo dated August 19.
Davis Regional officials announced on July 19 that the hospital, which has served Iredell County residents for more than 100 years, would cease operating as a full-service hospital by the end of 2022.
Emergency room, acute inpatient, cardiac cath, obstetrics and surgical services will be maintained at Lake Norman Regional Medical Center.
Staff are being reassigned between the two hospitals as part of the operational change, according to Lake Norman Regional Network Director Leigh Whitfield.
"We have experienced a very successful merging of our services, and it's exciting to see our culture of team based care working well," Littlejohn said in the August 19 memo.
Dozens of Davis Regional employees have been hired by Iredell Memorial Hospital in the month since the announcement of Davis Regional's impending transition. Iredell Memorial held three career fairs in an effort to recruit Davis employees who wanted to continue working in Statesville. Piedmont HealthCare also held recruitment events.
Davis Regional Medical Center was acquired by Tennessee-based Community Health Systems (CHS) from Health Management Associates in 2019 as part of a deal for 71 hospitals in 15 states. Lake Norman Regional Medical Center in Mooresville is also owned by CHS.
In the July announcement, Davis Regional officials said the transition to an inpatient behavioral health services facility would help meet the need for behavioral health services in North Carolina, which it said was at an "all-time high."