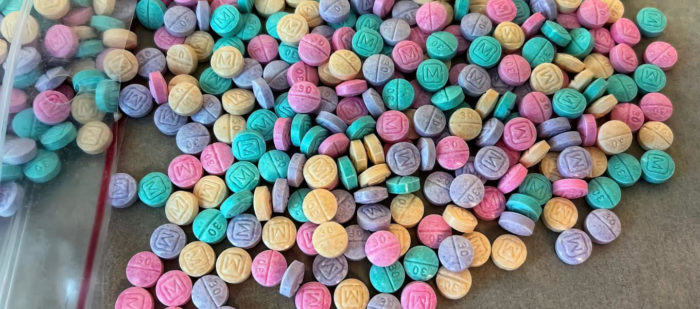 BY DEBBIE PAGE
debbiepage.iredellfreenews@gmail.com
The Drug Enforcement Agency is warning law enforcement, parents, teachers, and community members about the influx of "rainbow fentanyl" — made by Mexican drug cartels to look like candy — that has been found recently in 18 states, including North Carolina.
The Cherokee Indian Police Department seized just over 18 grams of rainbow fentanyl on August 17, just the latest bust in the region over the last few weeks.
Parents need to have honest, tough conversations with their children to never take pills or even pill-like candy (i.e. Sweet Tarts) from friends or schoolmates because they do not know what they are taking.
Even marijuana has been laced with fentanyl or methamphetamine to make it more addictive — and possibly deadly.
Counterfeit pills are more lethal than ever before. The DEA said two out of every five pills containing fentanyl contain a potentially lethal dose.
DEA Administrator Ann Milgram warned that rainbow fentanyl, either in pills or powder in a variety of bright colors, shapes, and sizes "is a deliberate effort by drug traffickers to drive addiction amongst kids and young adults."
Some rainbow fentanyl even looks like sidewalk chalk, again appealing to young children.
"The men and women of the DEA are relentlessly working to stop the trafficking of rainbow fentanyl and defeat the Mexican drug cartels that are responsible for the vast majority of the fentanyl that is being trafficked in the United States," she said.
Milgram cautioned that every color, shape, and size of fentanyl should be considered extremely dangerous. This synthetic opioid is 50 times more potent than heroin and 100 times more potent than morphine.
The DEA said only two milligrams of fentanyl, about the size of 10-15 grains of salt, is a lethal dose.
The agency has launched a "One Pill Can Kill" campaign to warn teens about taking even one pill that could be a counterfeit drug. Cartels mass-produce realistic looking fake pills, including oxycodone, Percocet, Vicodin, Xanax, and Adderall, and falsely market them as prescription.
These fake and deadly pills are easy to purchase on social media and e-commerce sites, making them easily accessible to anyone with a smartphone. The DEA warns that the fakes are virtually indistinguishable from the real thing.
"The only safe medications are ones prescribed by a trusted medical professional and dispensed by a licensed pharmacist," Milgram said.
The Centers for Disease Control noted that of the 107,622 Americans who died of drug overdoses in 2021, 66 percent (71,238) were the result of ingesting synthetic opioids like fentanyl. Drug poisonings are the leading killer of people between 18 to 45 in the United States.
The DEA warns that anyone encountering suspected fentanyl in any form to refrain from touching it and to call 911 immediately.