BY DEBBIE PAGE
debbiepage.iredellfreenews@gmail.com
By a 3-2 vote, the Troutman Town Council approved the rezoning for the Wakefield at Barium mixed-use development, clearing the way for the construction of as many as 2,800 residential units. Council members also voted unanimously to annex the 774-acre site into the town limits.
Mayor Teross Young expressed his appreciation for the passion and concern expressed by community members during the months-long process that preceded Thursday's votes.
Council members Paul Henkel, George Harris, and Eddie Nau voted in support of the rezoning request. Council members Jerry Oxsher and Adelina Harris voted against it.
Town staff and council have worked diligently, the mayor said, to ensure the best possible development and expressed his faith in Prestige Development.
Young acknowledged the town will undergo a dynamic change over the next decade, explaining that growth is both the best and worst thing to experience. He also expressed his appreciation for the civility displayed throughout the difficult conversations about this development.
Mayor Pro Tem Paul Henkel agreed, saying that all community and council members can disagree without being disagreeable. "We all have different reasons for what we do, but we all love our town."
Town Manager Ron Wyatt also thanked the staff for its meticulous work during the process and for listening to those on all sides of the issue.
The development has helped revived interest in the history of Barium Springs, and Wyatt thanked the developers for honoring its history in its plans for the community.
Only two speakers and two individuals who submitted written comments spoke against the project, citing traffic congestion, utility strains, and school crowding. One person spoke in favor of the development but requested several changes.
Barium at Wakefield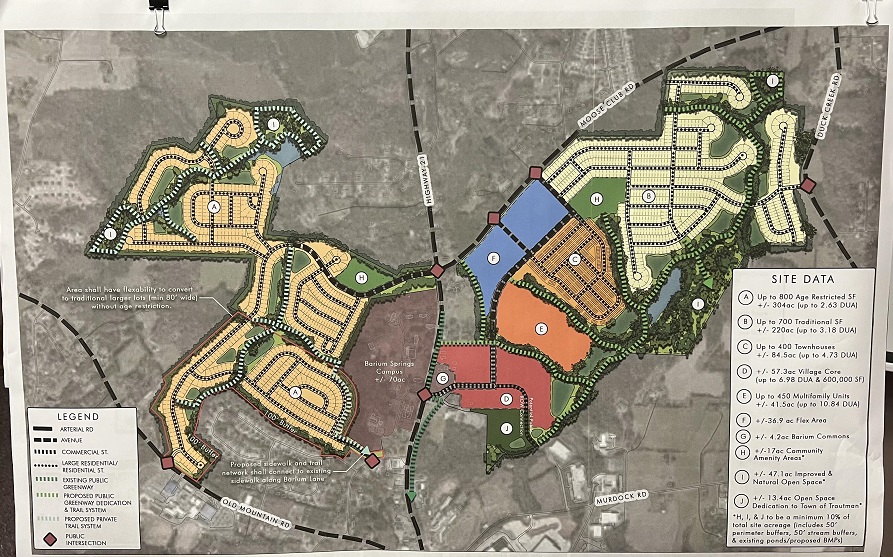 ECONOMIC IMPACT
Prestige Development President Steve Bailey said an economic impact study by Zonda, the leading national data provider for the residential homebuilding industry, revealed that the total 20-year revenue projection resulting from the development will reach $142.7 million, with costs to the town for infrastructure maintenance and general and emergency services only reaching $39.8 million, a $102.9 million financial gain for the community.
Bailey said the residents of Wakefield are projected to inject $336 million in spending in the area, benefitting businesses in both Troutman and surrounding areas. The project is also expected to create 1,500 jobs through the new businesses located in the commercial sections of Wakefield.
DETAILS
The development plans include 750 homes in an over 55 age-restricted Trilogy-type community, including luxury amenities, on the west side of Highway 21, and 650 single-family homes, 400 townhomes, 250 age-restricted apartments, and 750 apartments on the east side.
The number of apartments could be reduced by up to 300 if the flex area, once reserved for a school, becomes an additional commercial/office-institutional area. Bailey hopes the market will support commercial development because it is more profitable than residential development to Prestige.
The Iredell-Statesville School system had already purchased land next to South Iredell High School for a future middle school, so it rejected the offered 17-acre flex area, which was also not large enough to build an elementary school.
The flex area later increased to nearly 37 acres in the developer's updated plan. In an agreement brokered during the meeting with Town Planer Lynne Hair and council members, the area was designated for commercial or mixed-use, of which at least five acres must be commercial if developed as mixed-use and limited to no more than 300 apartments in the residential portion.
Developers also committed to use historical names for parks, streets and other elements. They promised to mimic the architectural elements of the historic Heartstrings building in the commercial section.
Developers will also include markers throughout the area recognizing Barium Springs Home for Children's history and add a memorial near the springs. They are also moving the Barium Springs Home for Children museum and the memorial/honor bricks out front across to the remaining 70-acre Children's Hope Alliance campus.
RECREATIONAL LAND DONATIONS COULD INCREASE
The Town of Troutman will receive 13 acres near the fairgrounds area to build a community amenity of its choice. After council member Jerry Oxsher expressed interest in the pond area, Bailey made a new proposal, agreeing to turn over to the town, if it desires, the approximately 25-acre park area around the pond and dam area on the property.
Prestige will clear and improve the area with trails, picnic areas, bird watching platforms, benches around the pond, and other amenities, working with the town to design the area and amenities if it wishes to take over the area.
Wyatt and council members expressed interest in the idea but wanted to carefully look at costs, community access points and easements, and staffing ramifications before agreeing to the proposal. Bailey agreed to a three-year decision period to give town officials time to consider the offer and to make budget and staffing considerations.
DEVELOPER CONCESSIONS
In a nearly two-hour period of negotiations and line-by-line examination of the development's conditions with Bailey, the council members garnered a number of concessions.
Since the Unified Development Ordinance (UDO) clearly forbids duplexes in single-family home community, Bailey agreed to remove all duplexes from all sections of the development. He also added language that allows larger lots and homes in the age-restricted area if the market prefers larger homes at that point.
In the single-family section near Moose Club and Duck Creek Roads, Bailey agreed to raise the minimum lot width from 44 to 54 feet and the minimum lot size to 5,000 from 4,400 square feet, with no more than 50 percent of lots to be at the minimum 5,000 square foot size.
In the townhome section, Bailey agreed to language that would set the same single-family home standards if any or all of the proposed townhome area converts to single-family residences because of market demand. He also agreed that no duplexes could be built in this area.
Bailey also agreed that each townhome would have at least a one-car garage, and additional guest on and off-street parking would be created. He said the end units would be designed with two-car garages and interior units with one, with buildings containing from three to six units. No fewer than 30 percent of townhomes would have two-car garages.
In the 57-acre commercial section, Bailey agreed to a limit of 250 age-restricted apartments in a separate building that will not count against the developer's commitment to 600,000 square feet of commercial space.
Bailey told council members that apartments over retail have fallen out of favor for a variety of reasons, including increased insurance costs, having to build apartments to commercial building standards, and the nuisances of cooking odors, noise and increased fire danger for residents.
Bailey said he cannot even find a commercial builder willing to build above-retail apartments at this time but noted the market demand could shift again in the coming decade as Wakefield is built out.
Bailey said the idea of 250 over 55 age-restricted, independent living apartments in the commercial area, along with the 750 over 55 age-restricted single family homes, is drawing interest from area healthcare organizations, who are considering building adjoining medical facilities and offices, which would be a huge benefit for the entire community.
Bailey also committed to saving Little Joe's Chapel if it is structurally sound. He said that initial evaluations of the building with engineers have been favorable, so barring a major discovery of termites or other serious flaws, he expects the building will remain.
He also agreed to an expansion to the amenities area from three to eight acres in the joint single-family and townhome amenities area and committed to a cabana, pool, fields or courts, playground equipment, walking trails, landscaping, a dog park, and parking. Any changes in amenities must be approved by the town.
The over-55 neighborhood's amenities area was raised from seven to eight acres, including the same amenities, excluding playground equipment.
Bailey also committed to doing all Traffic Impact Analysis recommendations (TIA is still incomplete) and a phasing agreement to determine when required road/intersection improvements are to be constructed.
He agreed that the Old Mountain Road improvements must be complete before any road connection is established.
Though Bailey refused to contribute 50 percent of a possible bridge needed to connect the east side of the development to Murdock Road, he did agree to stub out a road to edge of the stream crossing the area. Wyatt said some kind of financial sharing and joint grant requests could pay for the necessary culvert or bridge and Murdock Road side road connection.
Bailey also agreed to pave the 10-foot greenway section along Highway 21 that will join the town's greenway system. Other pedestrian pathways within the development and maintained by the HOA will be a mixture of paved, pea gravel, and soft surface trails, depending on the surroundings.
Bailey wants to create unpaved trails through the natural sections through the pond area because he does not want to disturb the natural beauty and environment. The HOA covenants will also state that all 4.5 miles of trails and greenways through the east side of the project will be considered public access and open for all of the Troutman community to enjoy.
The three miles of trails in the 55 age-restricted neighborhood on the west side of Highway 21 will be considered private neighborhood use because of safety and security desires for this area.
Because of citizens' concerns about clearcutting and mass grading occurring in some Troutman developments now under construction, Bailey agreed to grade in phases connected to final plat approval. Town staff will have access to the site to assist with the phasing decisions.
Bailey also committed to only disturbing up to 25 feet of the 100 foot buffer with Barium Seasons Village and to replant any disturbed areas with like kinds of trees.
Bailey also agreed that any changes in building materials that might come with new products being introduced to the market must be presented to the Design Review Board. No vinyl is allowed except in trim. Front facades must differ so that no two units beside each other are the same.
Because front porches have a special place in Troutman's heart, indicated in its past Front Porch Fests prior to the pandemic, Town Planner Lynn Hair had requested that Bailey agree that front porches with three steps be required on every single-family home except on over 55 age-restricted areas.
Bailey refused to legally commit to requiring porches in the conditions, but he did make a verbal pledge to speak to builders to encourage front porches as much as possible.
OTHER BUSINESS
The Council also:
* Approved a rezoning request for Your Coffee Place from office/institutional to central business.
* Set the annexation hearing dates for October 13 for just over one acre at 778 South Main Street for the Rocky Creek Commercial Project and for just over 28 acres at 970 Perth Road for 106 townhome/triplex units, which will also require rezoning for conditional mixed residential zoning.
* Denied an annexation request for just over one acre by Touche Troutman Townhomes.
* Approved an ordinance to add language to address chronic property nuisance violators.
* Approved a facade approval for Troutman Logistics Center Building 1
* Approved an amendment to a lease agreement for a Verizon antenna on Old Murdock Road water tower.
* Delayed selection of Citizen and Organization of the Year until December because of only one nomination for each. Council member Eddie Nau encouraged community members to send in more nominations for this honor to recognize the many deserving people and organizations/businesses in Troutman.
* Appointed Sally Williams to the Design and Review Board.