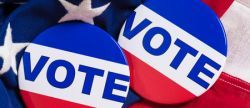 Special to Iredell Free News
RALEIGH — North Carolina elections officials continue to receive complaints and questions about mass mailings and text messages to voters about the November 8 general election. The state and county boards of elections are not sending these. They come from private political groups.
Such communications have become a common get-out-the-vote tool for political organizations. They use the state's public voter records and perhaps purchase additional private data like phone numbers from a vendor, and then reach out to voters to encourage them to vote. Sometimes their data is incorrect or outdated. For example, a text message may claim that you haven't voted when, in fact, you voted a day before receiving the text.
"While we know these communications can be annoying and confusing, the purpose of most of them is to encourage voters to exercise their right to vote," said Karen Brinson Bell, executive director of the State Board of Elections. "Elections officials share that goal and encourage voters to seek out trusted sources of elections information, including the State Board and county boards of elections."
The State Board offers the following tips and information on how to navigate these voting-related communications:
♦ Get accurate information about elections from state and county election officials. The State Board's website is NCSBE.gov.
♦ In-person early voting is available now statewide. You can also register to vote at any early voting site.
♦ For locations and hours in your county, see the One-Stop Early Voting Sites Search.
♦ If a text message claims you have not yet voted, but you have, you can see that your vote counted through the State Board's Voter Search tool. For details, see How to Know Your Vote Counted in NC.
♦ Do not vote twice if you get a text message saying you have not yet voted. Groups sending these texts may not be using up-to-date information about your vote. Voting twice in an election is a crime.
♦ If you receive a text message or mailer that you believe includes false or misleading information, send a photo or screenshot, along with any other pertinent information, to misinformation@ncsbe.gov.
♦ For guidance regarding political texts and robotexts, see the Federal Communications Commission's "Rules for Political Campaign Calls and Texts."