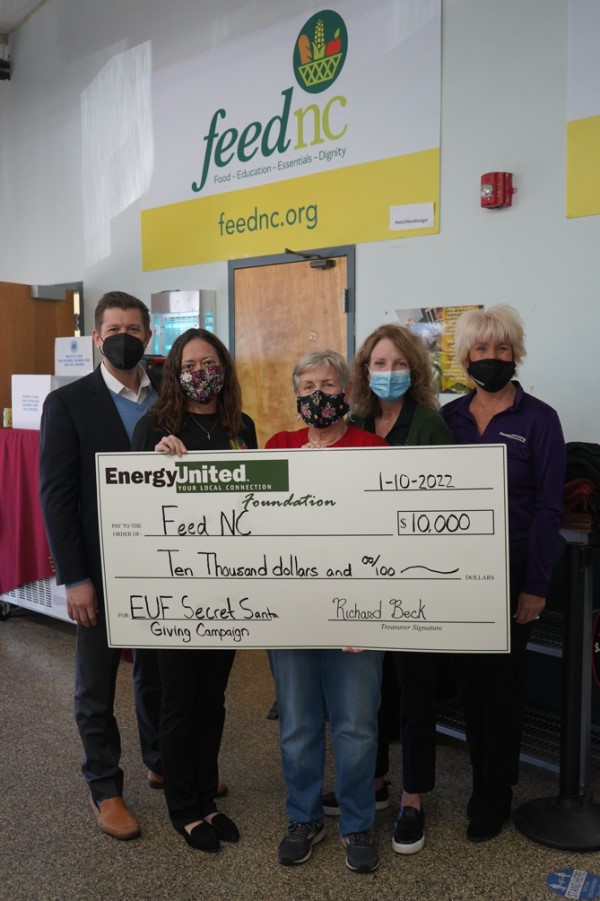 Special to Iredell Free News
The EnergyUnited Foundation has concluded its 25-Year Anniversary Secret Santa Giving Campaign and tallied votes from all donors to determine which of six nonprofit organizations would receive a $10,000 donation from the Foundation.
The winner of the Foundation's Secret Santa Giving Campaign is FeedNC, a nonprofit organization located in Mooresville that focuses on providing nutritious meals, supportive programming, and helpful resources to help those in need.
"We are incredibly grateful to receive this donation from the EnergyUnited Foundation," said Lara Ingram, executive director of FeedNC. "It was truly an honor to hear that our organization received the most votes from all donors who participated in the Secret Santa Giving Campaign."
The EnergyUnited Foundation celebrated its 25-year anniversary in 2021, and its Secret Santa campaign marked the conclusion of a four-month giving campaign that encouraged members and community members to show their support for the Foundation by making a one-time donation of $25 or more and casting a vote for one of six nonprofits to receive a one-time donation from the Foundation.
"In the past two years, the EnergyUnited Foundation has given nearly $1 million to offer support for communities and individuals within the cooperative's 19-county service area," said Maureen Moore, communications manager for EnergyUnited. "These donations simply wouldn't have been possible without the support of EnergyUnited members and community leaders who believe in the mission of our organization."
The EnergyUnited Foundation is a voluntary, member-funded nonprofit organization supported by EnergyUnited's Operation Round-Up program. Nearly 90,000 EnergyUnited members choose to participate in the program by 'rounding up' their electric bills each month. The maximum monthly contribution for an individual member with one account is 99 cents. Each of these small contributions are pooled together in a single fund managed by the EnergyUnited Foundation to support needy individuals, families, and essential nonprofit organizations that complete an application explaining the reason and purpose for their requested grant.
About EnergyUnited
EnergyUnited Electric Membership Corporation is the largest electric cooperative in North Carolina serving more than 131,000 metering points. Headquartered in Statesville, EnergyUnited provides electric service in portions of nineteen counties in west central North Carolina which include Alexander, Cabarrus, Caldwell, Catawba, Davidson, Davie, Forsyth, Gaston, Guilford, Iredell, Lincoln, Mecklenburg, Montgomery, Randolph, Rockingham, Rowan, Stokes, Wilkes and Yadkin. To learn more about the EnergyUnited Foundation, visit www.energyunited.com/givingback.