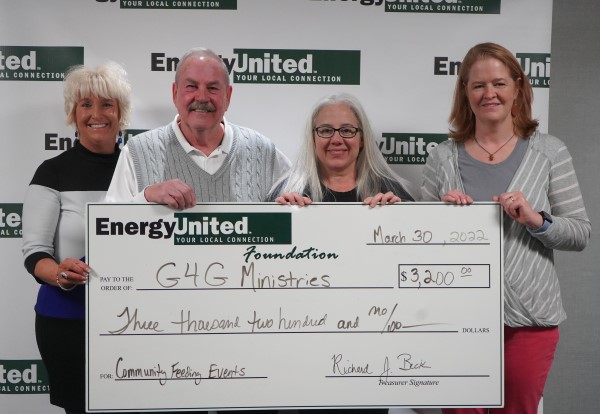 Special to Iredell Free News
The EnergyUnited Foundation has awarded a grant for $3,200 to G4G (Grill for God) Ministries, a faith-based, non-profit organization that helps combat food insecurity with its mobile grilling unit and spiritual ministry.
G4G was founded in 2008 by a group of employees from Holland Transfer Company. The organization's story started when employees volunteered to cook and serve food at a local shelter. Holland employees realized then how important their service was to the community and eventually decided to form G4G Ministries.
"G4G is equipped to cook and serve everything on the go so we can provide delicious meals at no cost to the homeless, low-income families and children," said Brad Bullock, executive director of G4G Ministries. "Our events are held in communities where the average income is less than $26,000. So we truly appreciate the support of organizations like the EnergyUnited Foundation so that we can help provide more meals in these communities."
"G4G Ministries is a key community partner that helps address food insecurity in low-income communities," said Debra Citta, administrator of the EnergyUnited Foundation. "We are proud to support G4G and their mobile grilling events."
The EnergyUnited Foundation is a member-funded nonprofit organization supported by EnergyUnited's Operation Round-Up program. Nearly 90,000 EnergyUnited members choose to participate in the program by 'rounding up' their electric bills each month. The maximum monthly contribution for an individual member with one account is 99 cents. Each of these small contributions are pooled together in a single fund managed by the EnergyUnited Foundation to support needy individuals, families, and essential nonprofit organizations that complete an application explaining the reason and purpose for their requested grant.
About EnergyUnited EnergyUnited
Electric Membership Corporation (EMC) is the largest electric cooperative in North Carolina serving nearly 135,000 metering points. Headquartered in Statesville, EnergyUnited provides electric service in portions of nineteen counties in west central North Carolina which include Alexander, Cabarrus, Caldwell, Catawba, Davidson, Davie, Forsyth, Gaston, Guilford, Iredell, Lincoln, Mecklenburg, Montgomery, Randolph, Rockingham, Rowan, Stokes, Wilkes and Yadkin. To learn more about the EnergyUnited Foundation, please visit www.energyunited.com/givingback.