BY KARISSA MILLER
EnergyUnited has awarded 12 local teachers with Bright Ideas grant checks, ranging from $500 to $2,000, to be used for a variety of classroom and reading purposes.
The grant recipients were recognized on Friday during the 2022 Bright Ideas Recognition Luncheon.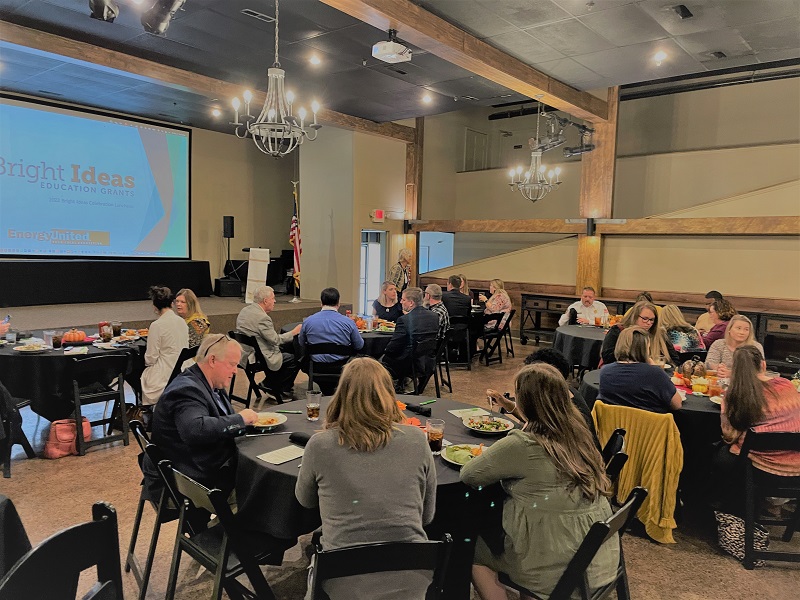 The winners recognized at the November 4 luncheon, which is first of three recognition luncheons, included: Samantha Strathy, Ashley Miller, Ashley Huss, McKenzie Dotson, Taylor Gallyon, Tracy Skeens, Christy Trapp, Michelle Robinson, Paula Farmer, Justin Deal, Danny Lough and Adrian Bustle.
Maureen Moore, communications Mmanager at EnergyUnited, welcomed and thanked the teachers for going above and beyond for their students at Twisted Oak restaurant in Statesville.
"I know the work you do. When you are in those classrooms every day with those students — no matter what their age — the challenges you have. Not just to educate them in whatever field it is, but you do so many other things for them. You wear so many hats," said Moore, a former educator.
The electric cooperative received dozens of applications for grants, which were judged on their creativity and ability to enhance the educational experience. Winners and their guests were treated to lunch, cake and gift bags.
Iredell-Statesville Schools Bright Ideas Recipient Tracy Skeens, a teacher at Crossroads Arts and Science Early College, wants students to have access to high-quality digital media equipment so they can acquire 21st century skills desired by employers and colleges alike.
She plans to use her $638 Bright Ideas grant to purchase microphones, green screens, cameras and more that will enable students to enhance their digital storytelling abilities.
"We are a 1:1 district. All of our students have Dell laptops and our school is a very small school. Eighty percent of our (student) population is 'at-risk.' At-risk of not going to college, at-risk of not graduating and at-risk for low income. Some of them, believe it or not, don't have a lot of technology skills," she explained.
School staff, she continued, works with technology to create innovative lessons, which include digital storytelling through podcasts and videos.
Skeens said that her co-worker Gretchyn Bedard helped read over the grant and included some cross curricular items with it. Skeens is a business education teacher and Bedard is a history teacher who teaches economics.
"We came up with a plan for the whole school to use this — not just us," she said.
Skeens said that a dedicated learning and creative space will be used for students to record podcasts and create public services announcements for things like applying for financial aid for college.
"We have rooms set aside that will be used to record podcasts and create public service announcements for FAFSA," she said.
Iredell-Statesville Schools Superintendent Jeff James recently promised to match I-SS Bright Ideas grants.
Skeens said that she will use the additional money to purchase video cameras.
According to Skeens, digital storytelling is a form of Project-Based Learning that uses audio, video and text to help educators foster a deeper understanding of instructional content.
Other EnergyUnited winners in Iredell County include:
• Adrian Bustle, North Iredell High School, $820
• Beth Garver, Woodland Heights Middle School, $1,600
• Molly Maginnis, Langtree Charter Academy, $1,160
• Alicia Driver, Brawley Middle, $795.94
• Thomas Hill, Lakeshore Middle, $500
• CariAnn Kingston, Liberty Preparatory Christian Academy, $1,000
• Margaret Bond, Lake Norman Charter-Middle School, $1,000
Thomas Golden, chief executive officer of EnergyUnited, said that everyone has benefited from a teacher, and he knows that the community really appreciates the efforts educators put forward every day.
"We really appreciate the passion you bring to it. It also occurred to me that you are the teachers that people talk about … when they go on to do great things in their lives," Golden said. "I just want to say thank you."
This year, the electric cooperative will award more than $46,000 in Bright Ideas education grants to 43 teachers in 11 counties.
EnergyUnited will recognize this year's winners during three separate events this month, including Friday's event in Statesville, and a November 8 luncheon in Mooresville and November 18 event in Lexington.
For more than 25 years, the Bright Ideas grant program, sponsored by North Carolina's Electric Cooperatives, has helped improve education by awarding grants to K-12 teachers for innovative, classroom-based projects that would not otherwise be funded. Since 1994, the program has awarded more than $14.3 million in grants for more than 13,500 projects, touching the lives of more than 2.8 million students statewide.
Photos