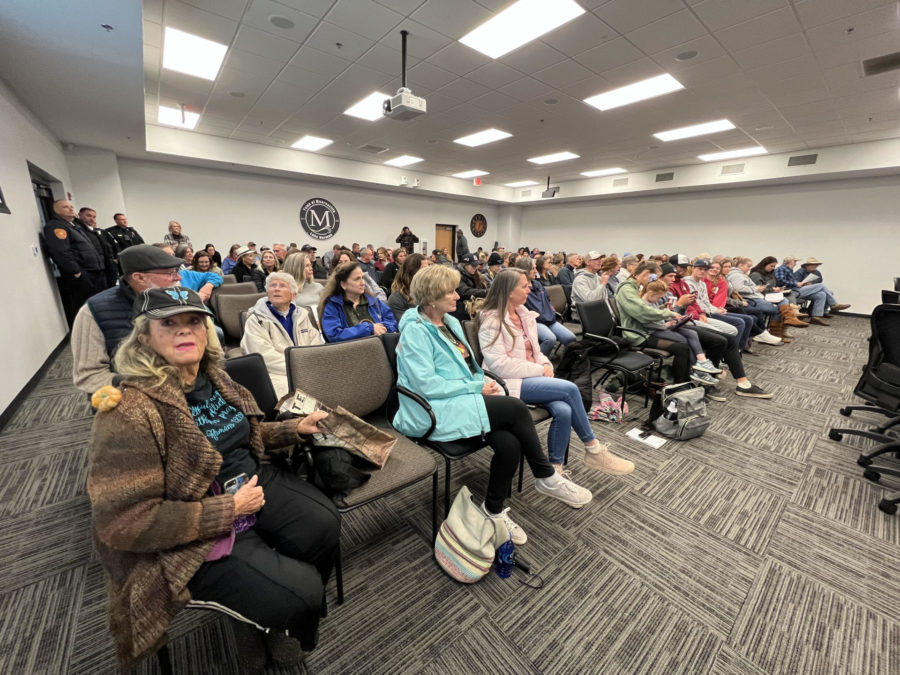 BY DEBBIE PAGE
After 3.5 hours on Tuesday afternoon, a hearing on the owner of Josh's Farmer's Market's appeal to operate as a seasonal farmer's market and on the Town of Mooresville's imposition of fines on landowner YMCA of Greater Charlotte for the market's operation was continued to December by the Mooresville Board of Adjustment.
After an initial motion to continue the hearing by lawyers for Josh Graham was denied by Board of Adjustment Chairman James Rupp Jr., the Town of Mooresville's lawyers presented their opening statement and began making their case to the board, stating the sole issue was whether Josh's Farmer's Market was in violation of the town's new Unified Code of Ordinance (UDO), approved in February, and whether the town staff had applied the UDO properly.
Town Attorney Sharon Crawford said the business never had a farmer's market permit but was designated as an outdoor seasonal sales entity under the new UDO. In the town's view, Josh's Farmer's Market committed 15 UDO violations after its permit expired, Crawford said, noting that any questioning of the UDO definition of farmer's market was a distraction.
Crawford said the law must apply equitably and fairly to all Mooresville businesses, large and small, and cannot be bent for favorable treatment or as part of a popularity contest.
Crawford acknowledged Josh's Farmer's Market was "beloved" in the community for three decades and had a great deal of community sentiment and emotion on its side, but she added that the town had worked for two years on the process of helping Graham as he searched for a permanent location after being forced from the market's longtime Williamson Road site.
The town issued a one-year permit, as it had for years, for the market's temporary YMCA location in 2021 and another 120-day permit for outdoor seasonal sales on March 31, which expired on July 31.
Town officials told Graham he could not get another operating permit, and the market was forced to close on October 31.
Graham has purchased land for a new market location at the corner of Williamson and Sundown roads, but that effort has been delayed due to COVID restrictions, a seven-month traffic impact analysis, and slow NCDOT easement and entrance approvals over the past two years.
Town Planner Danny Wilson testified that he interpreted the new UDO to classify Josh's as a retail business that resold purchased products and not as a farmer's market, which he said was defined as individual vendors selling their wares at stalls.
This change to retail classification would require Josh's Farmer's Market to operate in a building instead of as a seasonal open market as it has operated for decades.
Graham's attorney, Rick Yeoman, while cross-examining Wilson, disagreed with the town's farmer's market definition, noting that Josh's Farmer's Market consigned many local vendors' goods, products, and produce at the market, freeing their time to make or grow more product. Weekend vendors were onsite as well.
Wilson stated that he had not inquired about the market's business model and that he had not deeply studied other farmer's market models other than as defined in the UDO. He said he was not familiar with Josh's particular business model.
Wilson did not feel Josh's Farmer's Market was a farmer's market "as I would define it" because it involves the retail process of purchasing and reselling of agricultural products and other items such as chairs and sheds, but Yeoman pointed out markets similar to Josh's model operate in the area.
Wilson also could not recall whether he had told Graham he needed to request a determination on whether Graham's business model qualifies as a farmer's market or if he offered the submission form for a determination to Graham.
Yeoman also questioned Wilson if "retail businesses" typically close for three months of the year as Josh's Farmer's Market does for the winter, to which Wilson said he was unaware.
Wilson said the YMCA property was zoned in 1998 as conditional mixed use, which does not define seasonal sales or farmers markets. The market's accessory buildings were also in violation under the UDO since they did not serve the principal building's (YMCA) use.
Wilson interprets the outdoor seasonal sales permit as allowing 120 days maximum per year on a lot, but Yeoman disagreed, quoting the ordinance: "Outdoor seasonal sales shall be limited in duration to a maximum of 120 days and there shall not be more than 3 seasonal sales on a lot per calendar year."
Yeoman said this allows three seasonal sales of 120 days each.
Graham's attorney also questioned whether, undo the town's UDO, Graham could be only be charged two fines, one per citation letter, rather than fined per violation because of the way the UDO language ties fines to "citation" letters rather than violations.
Wilson then testified that the UDO does not explicitly say a "violation" has a penalty.
Yeoman also pointed out that the UDO did not define either "violation" or citation."
Yeoman also questioned why the first citation letter in September had a signage and permit violation only but was followed up a few weeks later with 14 additional violations that were present but not cited on the previous visit.
He also questioned why the market was not vested, or grandfathered in, by the town as a long-standing, non-conforming business under the new UDO as long as it does not expand, but Wilson said it became illegal on August 1 when its permit expired.
Code Enforcement Officer Rebecca Saunders next testified under questioning by Assistant Town Attorney Carey Austin. Saunders explained the investigation process, courtesy letter of violation, followed by a notice of violation, an enforcement letter and fines imposed, with each step each separated by 15 days to allow for compliance opportunities and remedies.
Saunders said that after the initial two-violation letter was sent on September 14, she noticed 14 additional violations in the pictures after considering that the market was out of its permitting period. Violations included the presence and use of various accessory structures, screening violations, unsafe parking and traffic flow, and loading area violations.
Rupp interrupted the hearing because of time constraints after 3.5 hours of testimony, asking Graham's lawyers to defer cross-examination of Saunders while retaining the right to recall Wilson if necessary.
Rupp then asked Graham's lawyers to give their opening statement before closing the hearing to more fully understand Graham's position before ending the hearing.
In the statement, attorney Mark Hamblin detailed the growth of Josh's small, family owned business from his selling watermelons from a wagon beside the road to the consignment market that supports many local farmers, producers, and artists today.
He noted the model is not uncommon, with similar markets operating throughout the state, including in nearby Cornelius and Kannapolis, without issue. Such markets allow consumers to buy local products and fresh goods and allow local producers selling space and more time for production of their agriculture or goods.
If the town forces Josh's into the retail establishment category with a large, unnecessary building, the unique, open-air market environment the community loves would irrevocably change, added Hamblin.
Graham wants to continue his operation to serve the community and local farmers and producers, but because no reasonable compromise was reached, Graham was forced to shut down, to the detriment of the community, farmers, artists, and bakers.
Graham asks to be categorized as a farmers market and that violations and fines be removed.
The board voted to continue the hearing until Tuesday, December 20, at 2 p.m. at the Town of Mooresville Government Center at 413 North Main Street.