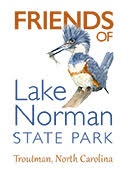 Special to Iredell Free News
Join a retired park ranger for a two-mile hike through the autumn woods of Lake Norman State Park on Sunday, October 30.
The hike begins at 4 p.m. Meet at the Family Campground bathhouse. Parking is available at Campsites 31 and 33 and at the overflow parking near the bathhouse
The destination will be the gravesite of Julia E. Clark, who died on July 7, 1849. During this two-hour stroll through the forest, hikers will talk about the plants and animals found in the fall woodlands of Piedmont North Carolina and discuss the history of the land that is now Lake Norman State Park. The hike will include discussion of Native American occupation of the area prior to European settlement and slave ownership prior to the American Civil War.
Wear sturdy shoes for this off-trail ramble through the brambles.
For more information, feel free to call or text Greg at (919) 215-7170.
This free interpretive walk is sponsored by the Friends of Lake Norman State Park, a non-profit organization dedicated to supporting the educational outreach, natural resources conservation, and recreational operations of Lake Norman State Park. To join, or obtain more information about FLANO, visit friendsoflakenormanstatepark.org