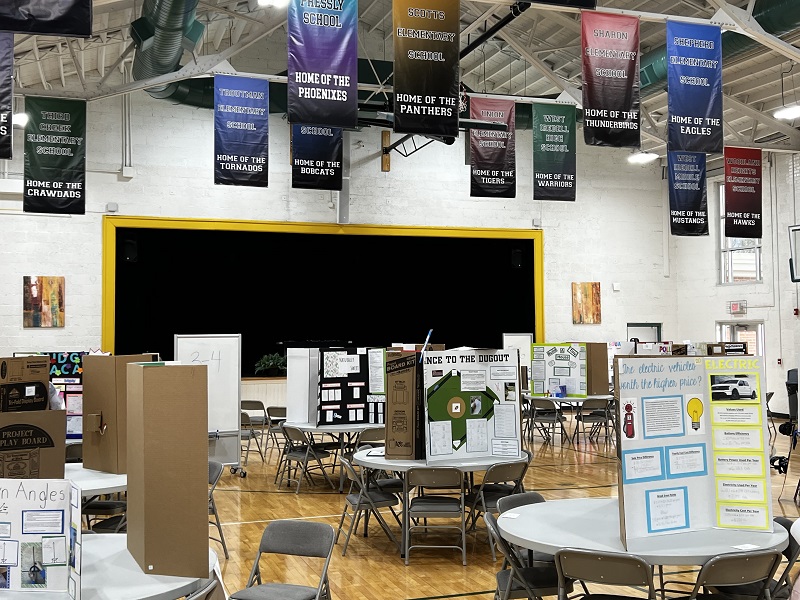 BY KARISSA MILLER
The Iredell-Statesville Schools Board of Education recently recognized students who placed first, second and third at the district's 2022 Math Expo.
I-SS hosted the competition on March 29 at the Unity Center in Statesville. In order to participate, students had to receive an invitation after winning against students at their respective schools.
Math expos are a way for students to apply what they have learned in the classroom and turn those concepts into real-world applications. The exhibits show mathematical concepts and theories in new and creative ways.
A total of 79 projects were judged. Students competed in three categories: Grades K-2, Grades 3-4, and Grades 5-6.
Student winners at the district competition were awarded a gold, silver or bronze in their grade category.
The winners and their project are as follows:
Grades K-2
♦ Gold: Rakshit Arora from Coddle Creek Elementary with "Geometric Fret: Rule of 18"
♦ Silver: Emma Perez from East Iredell Elementary with "Where Do I Find Shapes Around Me?"
♦ Bronze: Jordan Gentry and Brooks Tutterow from East Iredell Elementary with "Let it Rip"
Grades 3-4
♦ Gold: Maris Caudill from Cloverleaf Elementary with "Downtown Angles"
♦ Silver: Grayson Flowers from Lakeshore Elementary with "The Birthday Paradox"
♦ Bronze: Eliza Dumbrigue and Carolina VanLoo from Woodland Heights Elementary with "How to Make $2,000 Selling Lemonade"
Grades 5-6
♦ Gold: Aarav Patel from Woodland Heights Elementary with "Investing My Way to College"
♦Silver: Ananya Bhogavalli from The Brawley School with "The Fibonacci Sequence"
♦ Bronze: Ethan Briede from Woodland Heights Elementary with "Rain vs. Gutter"