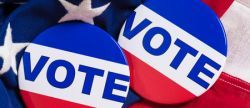 Republican candidates decide not to participate in forum sponsored by Statesville Chamber and Our Schools First
BY KARISSA MILLER
Candidates vying for three open Iredell-Statesville Schools Board of Education seats answered four questions that touched on policies for bullying, library book selection decisions, the responsibilities of a school board member and more during a candidates forum on Wednesday evening.
The I-SS candidates forum was hosted by the Greater Chamber of Commerce and Our Schools First and held at the Iredell County Government Center.
Our Schools First President Beth Packman said the event provided an opportunity to get to know the candidates and learn more about where they stand on issues. The event was live streamed on Facebook.
The candidates in attendance were:
• District 3: Sarah Pittman (Democrat);
• District 1: Max James (Write-In); and
• District 5: Billie Spevak (Unaffiliated)
"I am disappointed to report that after three requests some of our candidates chose not to join us this evening. I made two requests and then made a personal phone call to each candidate," Packman said.
The following candidates did not participate:
• District 1: Brian Sloan (Republican);
• District 3: Abby Trent (Republican);
• District 5: Mike Kubinec (Republican); and
• District 7: Anita Kurn (Republican)
During local campaigns in Iredell County, it has become customary for the candidates to engage in a nonpartisan forum. The main goal is to inform and empower undecided voters.
"School board is an exceptionally important position. It serves 20,500 students and all of their parents and grandparents," Packman said.
"Public education is the No. 1 workforce development program we have in this country. It's why the United States is as advanced as it is. It's important that our board of education and public education all reflect that," she said.
Each candidate was given the three minutes for an opening statement and three minutes for closing remarks. Each candidate did a blind draw of four questions out of a container that contained 11 different questions. Additionally, each candidate provided their responses independently, while the other candidates waited in a separate room.
MAX JAMES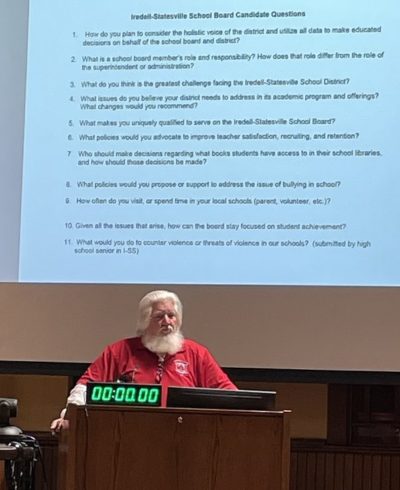 James, a former school board member, was born and raised in North Iredell. He has worked for the N.C. Department of Agriculture for the last 29 years. He graduated from North Iredell High School, N.C. State-University, Mitchell College and UNC Charlotte. His wife is a retired I-SS principal and his mom retired from teaching at Harmony.
He works with Future Farmers of America students and is the president of the North Iredell capital improvement team, which has raised more than $500,000 for all students.
"I'm looking to be on the school board only to help the kids and do things for North Iredell," James said. "When you get elected to the school board, you get to vote for all of the kids in the county. All of the kids are important. Not just the ones in the north end."
James said he would address the problem of bullying by "building relationships." The best teachers and school resource officers build relationships — and can see those bullying behaviors and stop it before it happens, he said.
James also emphasized building relationships as a tool to counter threats of violence in schools. "The answers are there. We need to find out from the students, the teachers what they need. We need to have open dialogue," he said.
SARAH PITTMAN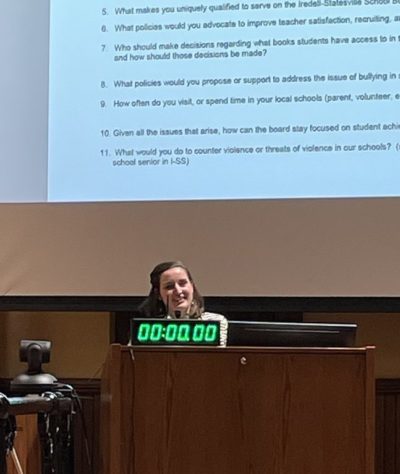 Pittman worked as a public school teacher for seven years before recently stepping away from the profession in 2022 following the birth of her son. She is a Statesville native and grew up in District 3.
Pittman graduated from N.C. State University and earned a bachelor's degree in middle grades education, specifically Language Arts and Social Studies. She also earned a certificate in Global Perspectives. Later she completed a certificate program in gifted education at East Carolina University. Most recently, she completed her Master's degree in Curriculum and Instruction with a concentration in Reading Education.
"I see myself as a problem solver because I take time to listen to folks…. I want to know different perspectives, I especially want to know perspectives that are different from my own," Pittman said. "I think we are stronger whenever we surround ourselves with people that are smarter than us. Smarter means many things — different experiences."
When asked about the greatest challenge facing I-SS, she answered, "Our teacher shortage is an immediate challenge that we have to deal with."
She said that there's a teacher shortage in the workforce pipeline and because qualified teachers have left because of salary. Teacher salaries are largely set by the state, but Pittman believes a financial incentive or supplement is a way for I-SS to be competitive with other districts of similar size and recruit teachers.
BILLIE SPEVAK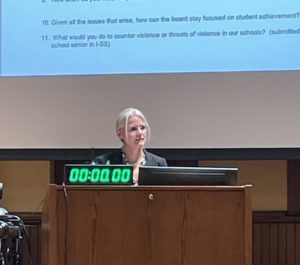 "I'm your unaffiliated independent candidate. I took the road less traveled … It wasn't an easy process, but I think it's really important that politics has no place in our education," Spevak said.
"I'm running for the I-SS School Board because we need people with the passion and expertise to help our increasingly polarized community that we live in and find common ground solutions," she added.
She is a proud mom of an I-SS middle school student. She volunteers in the schools and is a Parent Teacher Student Organization chair.
Spevak has experience working strategic branding strategist, which she said requires being curious, open-minded and the ability to learn quickly.
When asked what policies she would propose or support to address bullying in schools, she explained that we need to support actions to help counter bullying.
"We have to continue to enact policies that protect our kids from cyberbullying. Educate them as well what's appropriate and respectful use of social media and helping our teachers and our parents (know) the signs of being bullied. There are signs to look for," Spevak said.
"We need to equip our kids with the tools to respond to these situations and be safe. We need to look within and be accountable for our own actions and model the appropriate behavior that we expect from our children. Our children are watching us," she added.