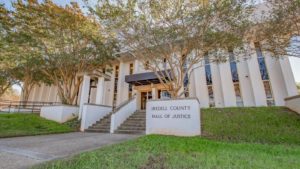 FROM STAFF REPORTS
A lawsuit filed on behalf of a group of parents challenging Iredell-Statesville Schools' mask mandates, contact-tracing efforts and its policy to exclude students who were possibly exposed to COVID-19 has been dropped by the plaintiffs' attorneys.
Charlotte attorneys David G. Redding and Ryan B. Simpson filed a notice to voluntary dismiss all claims against I-SS in Iredell County Superior Court on March 16.
The 48-page lawsuit, which was filed in early February, claimed that the I-SS Board of Education "improperly exercised its authority" by requiring face masks in school facilities and by quarantining students who were exposed to COVID-19 while in school. The lawsuit also claimed that the board's mask mandate violated state law because the parent-plaintiffs did not consent to medical treatment for their children.
The lawsuit sought a court order prohibiting the school board from implementing its masking and quarantine policies. The parents sought compensatory damages in excess of $25,000 and punitive damages, claiming the board's actions caused their children to suffer from "shortness of breath, acne outbreaks in the area where the masks are worn, anxiety, inability to focus, and irritability from being forced to wear masks all day," among other things.
In February, after transmission rates, hospitalizations and deaths attributed to COVID-19 dropped dramatically, the school board voted to make face masks optional, cease contact-tracing efforts and stop excluding students who were deemed to be close contacts.
I-SS Superintendent Jeff James welcomed the lawsuit's dismissal. The district, he said, has worked hard throughout the pandemic to comply with state laws designed to keep staff and students safe — and in the classroom.
As a result of the lawsuit, I-SS incurred $10,000 in legal fees, half of which will be covered by the district's insurance carrier. The other half will be paid for with local funds.
"The burden falls on the local taxpayers anytime we are sued," James explained. "Legally, we cannot use state or federal money to pay for any lawsuits."
The school district's attorney is investigating whether the district can file a claim against the parents to recoup its legal expenses.
"There has not been a decision made by the legal counsel or the board if they are going to move forward on that," James said.
RELATED ARTICLE: Parents file lawsuit against I-SS Board claiming mask and quarantine policies are driven by 'political leanings, emotions, irrational fears, and psychological anxieties' | Iredell Free News