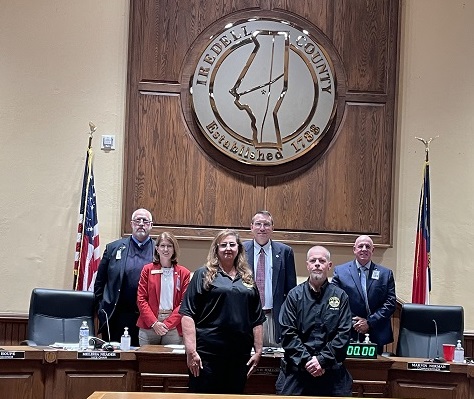 BY KARISSA MILLER
Iredell County Emergency Communications training coordinator Jody Sherrill was recognized recently by the Board of County Commissioners for being named the N.C. Association of Public Safety Communication Officials Trainer of the Year for 2022.
"We are very lucky to have Jody with us. He has a classroom style training for our new employees that he sets up … he worked his way up from supervision to the training coordinator position. He has overseen the training for over 60 employees," said Emergency Communications Director Candy Miller.
There are 127 communication centers in North Carolina and each of them has different training programs.
Sherrill began his career in 2002 that has gone through the ranks. He's worked the consoles like everyone else, but was also recognized as supervisor of the year in 2019.
In his current position, Sherrill oversees training for nine administrative positions, four shift supervisors, four assistant shift supervisors and 39 telecommunicators in a center that serves more than 190,000 people.
A lifelong resident of Iredell County, Sherrill also served on the Iredell Rescue Squad as assistant chief for many years.
"We salute you for your full-time work to the citizens of the county and your volunteer work to the citizens of the county," said Chairman James Mallory. "To be recognized out of 100 different counties is quite an accomplishment."
Iredell commissioners approved funding for additional telecommunicator positions in the 2022-2023 budget.
Sherill thanked the commissioners and County Manager Beth Mull for supporting the staff at Emergency Communications and allowing them to provide the best service to the citizens of Iredell County.