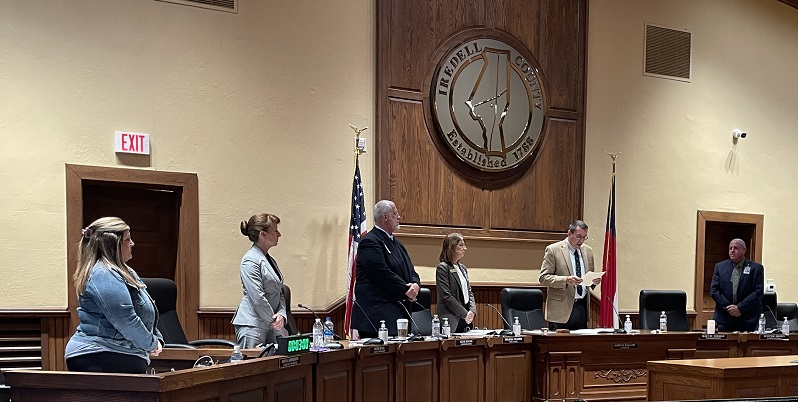 BY KARISSA MILLER
A single candle glowed softly in the Iredell County Board of Commissioners meeting room Tuesday night in memory of longtime Commissioner Marvin Norman, who died on September 14.
The board, a small group of county staff and members of the public who attended the meeting stood as Chairman James Mallory read a resolution in honor of Norman's dedication and service to the board and the community.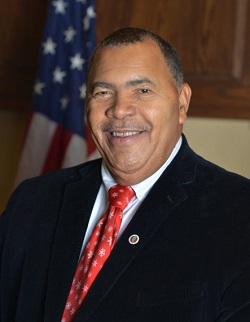 "Now, therefore, be it resolved that, the Iredell County Board of Commissioners hereby memorializes Marvin Norman for his distinguished and impressive career in local government and for his life and memory that will be sorely missed but highly cherished and revered," the resolution reads.
Norman's widow, Juanita Norman, was in attendance. Mallory noted that the resolution would be included in the permanent minutes and said a copy would be presented to his family.
In 2002 Norman became the first African-American commissioner elected to serve Iredell County. He was a former drill sergeant in the United States Army Reserve and a retired director of community relations at EnergyUnited.
He "exemplified the true meaning of a dedicated public servant," according to the resolution.
Norman strongly advocated for the interests of numerous board and committee at the local and state level, including N.C. Association of County Commissioners, Mitchell Community College Board of Trustees, Iredell County Planning Board, Iredell Memorial Hospital Board and many more.
"Whereas, Marvin most importantly, Marvin was a Christian gentleman who conveyed love and strength for his family, friends, and community," the resolution reads.
During Tuesday's commissioners meeting, board members and county staff paid tribute to Norman by sharing memories and reflecting on his life of service to Iredell County.
"It's very real when we lose someone so close to us," said Vice Chair Melissa Neader. "He would always ask how you were first, and he truly cared. It is something I would love to be carried on in his memory … the respect and concern for one another."
Commissioner Scottie Brown said, "We didn't always agree, but we agreed to disagree."
Brown said that Norman was a good friend, and that he knew where he was going after he died. He was a man of faith, and he valued his fellow commissioners' time when he called to speak about county business.
Commissioner Gene Houpe considered him a big brother and a mentor.
"As long as we do what is right for the citizens, we will never be wrong. I valued working with Marvin and treasured his friendship and advice," Houpe said.
Mallory said he counted on Norman and valued his counsel.
"When I first came on this board and was elected as chairman, I did so on the condition that Marvin stayed on with me for two years as vice chairman," Mallory said.
"He has a long view of service and was there when decisions were made a decade earlier when we were trying to understand why we have that policy and why it was important," he added.
Mallory said Norman was "pithy" and although he was a man of few words, people listen when he spoke up.
County Manager Beth Mull said that the day after Norman passed, his grandson came to the county building to personally thank her and other staff for what they have done and give them a hug.
"I've never met anybody who cared about people the way Mr. Norman did," Mull said. "His heart was so full of love for other people."
Clerk Amy Anderson and former Clerk Retha Gaither both worked closely with Norman. Anderson said he put the needs of others first, adding, "I want to raise my son to be like Mr. Norman."