FROM STAFF REPORTS
Iredell County Board of Commissioners Chairman James Mallory on Thursday afternoon signed a proclamation "terminating the Iredell County State of Emergency" related to COVID-19 that has been in effect since March 17, 2020.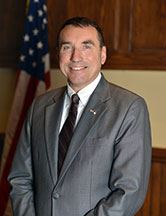 The state of emergency officially ends at 12:01 a.m. on Friday, July 22, according to the resolution.
According to the proclamation, the U.S. has transitioned from a pandemic to "a potentially endemic COVID-19 presence" and the state of emergency is no longer necessary because there are now preventative measures available to prevent the spread of COVID-19.
As of Wednesday, there have been a total of 52,727 laboratory confirmed cases of COVID-19 in Iredell County and 484 deaths attributed to the illness. Sixteen individuals who have tested positive for COVID-19 were hospitalized in Iredell County on Wednesday, according to county health officials.
A total of 437 new cases were reported during the previous week.