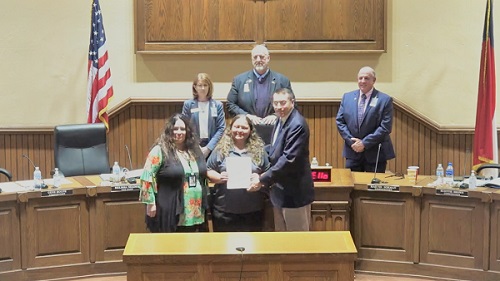 BY KARISSA MILLER
The Iredell County Board of Commissioners has declared April as 911 Education Month. The board approved a proclamation recognizing the importance of 911 during Tuesday's meeting.
Iredell Emergency Communications is the primary Public Safety Answering Point (PSAP) for Iredell County dispatching.
According to the proclamation read by Chairman James Mallory, 9-1-1 is the nationally recognized number to call in an emergency to receive immediate help from police, fire, EMS or other appropriate response entities.
In the United States, 911 call centers answer more than 200 million 9-1-1 calls each year, and a growing number of 9-1-1 calls are made using wireless and IP-based communications services.
A National 9-1-1 Education Month could include public awareness events, including conferences and media outreach, training activities for parents, teachers, school administrators, other care givers and businesses.
During the COVID-19 pandemic, Iredell ECOM educated more than 3,000 people in person about 9-1-1. Staff participated in Troutman's Night Out, Statesville Pumpkin Festival and spoke to students in Youth Leadership.
More than 400 fourth-grade students are touring the ECOM center in Statesville this week and next.
BY THE NUMBERS
♦ Iredell County Emergency Communications dispatched 269,512 calls for service in 2021, which is up from 154,184 calls in 2016. That equals 1.44 calls for every citizen in Iredell County according the 2020 U.S. Census.
♦ ECOM also handled over 8 million radio transmissions.