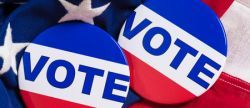 FROM STAFF REPORTS
The Iredell County Board of Elections conducted its canvass of the July 26 municipal elections on Friday morning.
The board reported the following official results:
Town of Mooresville
Board of Commissioners – Ward 3
√ Tommy DeWeese: 116
Kevin Kasel: 74
Write In: 56
Board of Commissioners – Ward 4
√ Lisa Qualls: 31
Write In: 9
City of Statesville
Mayor
√ Costi Kutteh: 1,678
Brian Summers: 1,190
Council At-Large (2 seats)
√ Kim Wasson: 1,541
√ Steve Johnson: 1,517
James Pressly: 1,512
Recount
In the Statesville Council race, third-place finisher James Pressly can for a recount since he trails second-place finisher Steve Johnson by less than 1 percent. Pressly has until 12 noon on Monday, August 8, to request the recount.