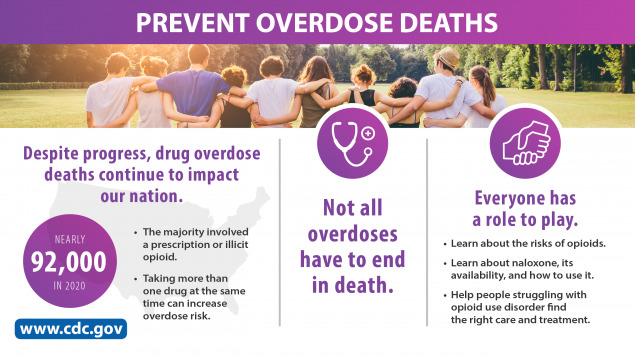 BY DEBBIE PAGE
debbiepage.iredellfreene3ws@gmail.com
There has been an increase in overdoses and overdose deaths in Iredell County over the past few weeks.
Terri Blankenship, a member of the Iredell County EMS Community Response Support Team, said many of the recent overdoses have involved fentanyl-laced counterfeit drugs. Fentanyl is a synthetic opioid that is 100 times stronger than morphine.
"People don't know how grave this is and how one time can mean the person is gone," Blankenship said during the August meeting of the Iredell Homeless Coalition.
"This is one mistake that you don't come back from. Our purpose is to reduce overdose deaths and give the families hope as we try to connect them to treatment and in the meantime try to get them alive."
In one recent case, Blankenship said a woman thought she was using methamphetamine but overdosed on what was later determined to be fentanyl. Fortunately, she was resuscitated and survived.
"It's one thing when an opioid user who has already built up a tolerance to opioids — at least they are aware of what's happening, but whenever somebody thinks they are taking a Xanax or taking meth, they are really susceptible to overdose and overdose deaths because they don't have available Narcan," said Blankenship.
"It's really scary right now."
At Southern Family Medicine, providers have recently seen patients who had not relapsed for months or years test positive for fentanyl after only smoking marijuana (not considered a relapse), according to representative Jesse Stroud.
Multiple law enforcement and EMS professionals at a recent medically assisted treatment (MAT) presentation in Yadkin County reported similar situations with unknown fentanyl exposure through marijuana use, Stroud added.
FAKE PRESCRIPTION PILLS
Blankenship said experimentation with drugs today is much more dangerous than in past decades with pot or prescription pills because of the presence of fentanyl-laced counterfeits that look like prescription medication.
"Now people could literally die the first time they experiment with something," Blankenship explained. "I think that's a message that needs to be in every school, that every teacher needs to be aware of."
Blankenship said the Drug Enforcement Agency (DEA) reported in a December bulletin that four out of every 10 seized fake prescription pills they tested contained enough fentanyl to kill the user.
The DEA bulletin stated that drug traffickers are using fake pills to exploit the opioid crisis and prescription drug misuse. The Centers for Disease Control and Prevention reports more than 100,000 drug overdose deaths in the United States in the most recent 12-month reporting period, the most ever recorded, Blankenship added.
Overdose death rates have increased in every major demographic group in recent years, but no group has seen a bigger increase than Black men, according to a January report from the Pew Research Center.
Criminal drug networks mass-produce fake pills and falsely market them to fool the American public. These pills are easy to purchase, widely available, often contain fentanyl or methamphetamine, and can be deadly.
The pills are often sold on social media and e-commerce platforms, making them available to anyone with a smartphone, including minors. Many counterfeit pills look like prescription opioids such as Oxycontin, Percocet, Vicodin, Xanax or Adderall.
In 2021, the DEA seized over 20 million fake prescription pills, many laced with fentanyl. That's more than the previous two years combined.
Fentanyl is also increasingly present in the North Carolina illicit drug trade, according to authorities.
One kilogram of fentanyl can kill 500,000 people, according to the DEA. In 2021, 25 kilograms of fentanyl were seized, enough to kill 11.5 million people in an investigation into a drug ring operating in Mecklenburg and Buncombe counties.
In other recent cases, three people in possession of enough fentanyl to kill almost 20,000 people were arrested in Rockingham County in April. Last week, a person was arrested with 91 grams of methamphetamine and 24 grams of fentanyl in Caldwell County.
XYLAZINE DANGERS
Another concern is a veterinary drug Xylazine, called "Tranq" on the street, being found in illicit drugs in the state. The N.C. Department of Health and Human Services issued a warning about the presence of the street drug in samples tested in Cumberland County.
Blankenship said drug traffickers are now using Xylazine to lace other illicit drugs, mixing it in to increase or change the effects. People who use heroin, fentanyl, or cocaine containing Xylazine increase their risk for a fatal overdose, often without knowing they're taking the animal tranquilizer.
Even a tiny amount of Xylazine can lead to harmful side effects and a fatal overdose, and Narcan does not reverse it.
Emergency room staffs should be aware of a telltale sign of Xylazine ingestion as opposed to opioid overdose: severe skin ulcerations. These gaping open wounds can also lead to the development of severe infections.
TESTING
Blankenship soon hopes to have more fentanyl testing strips readily available for distribution for people to test for the presence of the deadly fentanyl before ingesting it and overdosing.
Funding rules and supply chain issues have delayed getting the strips.
"We're definitely try to get them out there."
Narcan and fentanyl strips are also essential for overdose patients who agree to go to treatment but must wait days for an appointment. The strips help keep them alive until they start treatment.
"We know they are going to continue using, and we just want to make sure they are going to be alive. There's no hope if they are gone — if they overdose and die" before their treatment begins.
Blankenship has also been talking to the medial examiner about testing overdose deaths for all drugs in the victims' systems to help health professionals know more about they are dealing with as overdose cases present in emergency rooms and on EMS calls.
"We want to be more proactive and get ahead of it instead of just waiting for the crisis to happen."
RESOURCES
Blankenship urged people with substance use disorder or those concerned about someone in addiction to take advantage of the many resources in Iredell County. "So many times people we meet on the streets say there's no help in Iredell County. We tell them there is."
"There's so many people who are ready to help and want to be a part of your story if you are willing to put the work in," she added.
Blankenship and her team can connect people in need with those treatment resources through a family or self referral. "We cannot force anyone, but we will do whatever it takes to find them a treatment center, whether they have health insurance or not."
A new MAT bridge project will also be operational in the next few weeks. After an overdose, EMS paramedics can administer low doses of suboxone each day until the person can get to scheduled treatment services.
For treatment referrals, Blankenship can be reached at terri.blankenship@co.iredell.nc.us or at 704-832-2194.
FEMALE SOBER LIVING HOME OPENING
Christy Hammill of Integrated Care of Greater Hickory – Statesville office announced the opening of a sober living home for adult females in Statesville in the next few weeks. The facility will have eight beds.
ICGH is looking for referrals for the home. Contact her at chammill@integratedcarehickory.com for more information.
NEEDS
Wendy Martin of Goodwill said there is a huge need for bicycles to help people with transportation.
Bikes can be taken to the Goodwill offices 124 4th Crescent Place in Statesville.
Rob Harris of Foundation of Hope Ministries said the organization has tents, sleeping bags, and bug repellent if needed by any of the coalition agencies for their clients.
UPCOMING EVENTS
The Back to School Bash will be at Statesville High School on August 13 from 9 a.m. to 12 noon. Required preregistration is closed for the event, which will supply school supplies, shoes, sports physical vouchers, backpacks, and food. Students must attend the day of the event with the parent or guardian; adults attending the event alone will not be given school supplies.
Foundation of Hope Ministries is holding a back-to-school event for 40 kids at a local motel on August 19. They have gathered 50 backpacks and supplies to give away and will have a bouncy house, music, and cookout for the kids and their families.
The group is also partnering with the Children's Hope Alliance for a family fun event at CHA on August 19.
The annual Stop the Violence Cookout, organized by the Clean Hearts of Statesville committee, would like to invite everyone to be a part of this event on August 27 at Alex Cooper Park from 11 a.m. to 6 p.m.
This year there will also be a Stop the Violence Walk from the intersection of Wilson Lee Blvd and Gardner Bagnal to Alex Cooper Park before the cookout.
Any organizations who would like to set up a table with information is welcome.
The committee needs 10 adult volunteers to help set up for the event starting at 9 a.m. Anyone who wishes to speak at the event or who can volunteer can email Turkessia Brown Evans at tbrownevans@statesvillenc.net or call or text message her at (704) 437-3388.
NEXT MEETING
The next meeting of the Iredell Homeless Coalition is Wednesday, September 7, at 10 a.m. Contact chair Pam Navey at pnavey@statesvillenc.net to be included in the Zoom meeting.