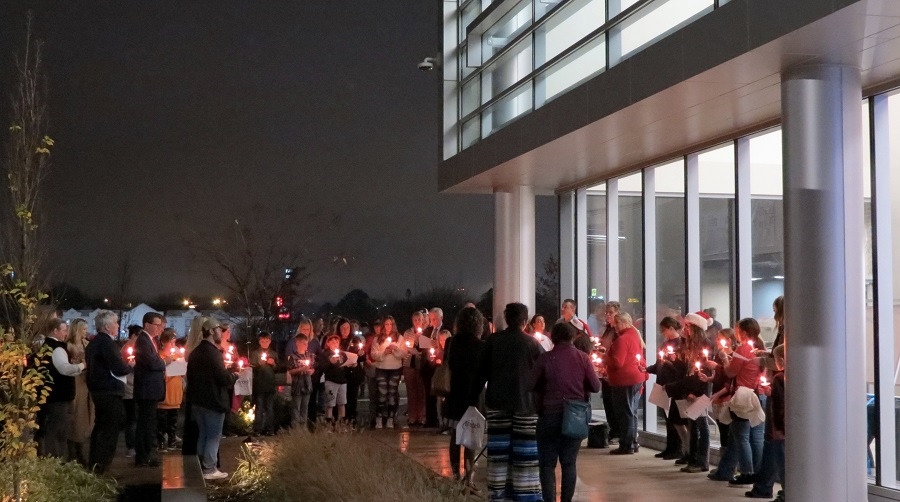 Special to Iredell Free News
Iredell Health Foundation, the philanthropic arm of Iredell Health System, raised more than $11,000 for cancer support during its inaugural Lights of Love celebrations on Wednesday, December 7, at Iredell Mooresville, and Thursday, December 8, at Iredell Memorial Hospital.
The Lights of Love celebrations were free community gatherings to honor caregivers and remember loved ones. Over 200 attendees at the celebrations were treated to music, refreshments, and observed the Tree of Love lighting. Children at the Mooresville event enjoyed pictures with Santa, crafts, magic, and games. Among the musical performances were Lake Norman High School band, Troutman Elementary School fourth and fifth grade choir, and North Iredell High School choir and saxophone ensemble.
The Mooresville event also featured an inspirational and impactful speech from breast cancer survivor, Kae Treadway.
Each event had an honorary family who illuminated the trees on the Statesville and Mooresville campuses that will remain lit through December. The honorees at Lights of Love in Mooresville were Crystal and Michael Hobbs, who were recognized for their inspirational community work after the loss of their son, Tristen Hobbs, in 2018. The Hobbs family dedicates their time to teen suicide prevention and awareness and educating the community about mental illness. The honorary family at Lights of Love in Statesville was the family of the late Virginia Ann McLelland, who dedicated 57 years of service to Iredell Memorial Hospital.
After the tree lightings, attendees gathered outside with candles and joined together in singing Silent Night. This beautiful, candlelit moment served as a time of remembrance and honor.
Proceeds from Lights of Love benefited the Foundation's Cancer Patient Support Fund for Iredell Health System. Cancer has been the leading cause of death in Iredell County for over a decade, and the fund assists anyone undergoing cancer treatment and needing help with transportation, lodging, support group activities, and discretionary support.
"It was an evening to share in the joys of the season and to remember those who have made an impact on our lives. The Iredell Health Foundation was honored to help organize this event with Iredell Health System. Our hope is that this annual event kicks-off the holiday season for our community," said Jen Balog, executive director of Iredell Health Foundation.
LEARN MORE
To learn more about the Iredell Health Foundation, or to make a donation, go to IredellHealthFoundation.org or call 704-878-7669.
About Iredell Health Foundation
The Iredell Health Foundation is a 501(C)3 nonprofit organization responsible for philanthropy for Iredell Health System. It supports the system's programs and services through donor-centered fundraising. The Foundation focuses on raising community awareness of specific programs that need funding and provides individuals and organizations hoping to make a difference and leave a legacy the opportunity to support local healthcare needs of their choice. To learn more, or to make a donation, visit www.iredellhealthfoundation.org or call 704-878-4547.
Photos