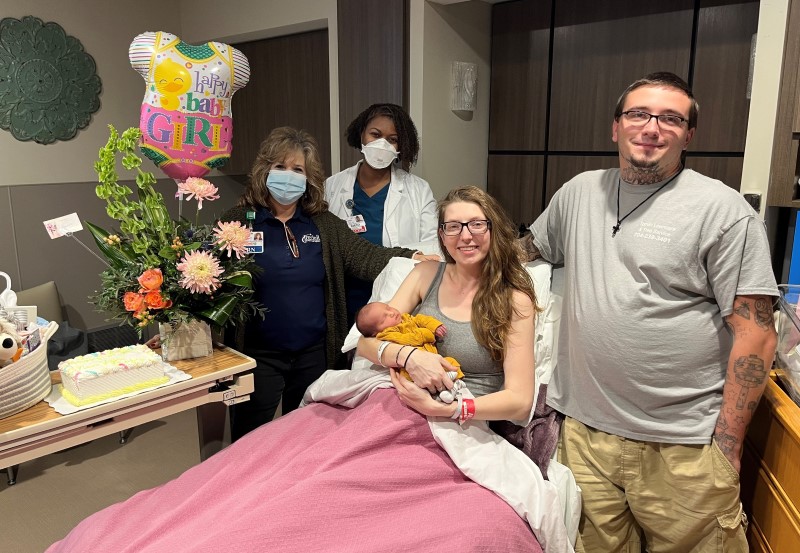 Special to Iredell Free News
Iredell Memorial Hospital delivered its first baby of the New Year on January 2.
Mother Estella Martin and father Donald Sifford arrived at Iredell Memorial late Saturday night on January 1. The Statesville couple welcomed their daughter, Dania Serenity, into the world at 6:34 a.m. Sunday. Both Estella and her beautiful baby girl are healthy and doing well.
Dania was born 19.75 inches long, weighing 7 pounds, 8.8 ounces.
"It's always a joy to welcome the first baby of the New Year. It's a tradition here at Iredell Memorial's The Birth Place, and we look forward to it every year," said Pam Speight, The Birth Place program nurse.
Staff and family welcomed the first baby of the year at The Birth Place with a celebratory cake and balloons. The mother also received a basket filled with gifts donated by Iredell Health System and local businesses.
Donations included:
• A cake from Ingles of Sullivan Road in Statesville
• A floral arrangement from Brookdale Florist
• A stuffed animal, picture frame, and balloons from the IMH Pink Tea Room
• A $50 gift card from Iredell Health System
• Mary Kay Hydrating Lotion (Rhea Lamb)
• A baby blanket
• A book
• Baby outfits, clothing, and socks
• Breastfeeding supplies
"All of the doctors and nurses at Iredell treated me great and were very friendly and informative," said Estella.
The Birth Place at Iredell Memorial is a state-of-the-art maternity facility offering one-on-one nursing and private, welcoming suites. Every mother receives perks through the Pampered Pregnancy program, including discounts at local businesses and a personal pregnancy coach. In addition, The Birth Places seeks to create a comforting atmosphere for patients with its home décor, comfortable furniture for visitors, and large, private bath.
Estella says she would definitely come to Iredell again if she were to have another child.
"I had a great experience here at Iredell. I always do," she said.
About Iredell Health System
Iredell Health System includes Iredell Memorial Hospital; Iredell Home Health; Iredell Wound Care & Hyperbaric Center; Community and Corporate Wellness; Occupational Medicine; and the Iredell Physician Network. Iredell Memorial Hospital is the largest and only non-profit hospital in Iredell County. The comprehensive healthcare facility has 247-beds; more than 1,500 employees; and has 260 physicians representing various specialties. Centers of excellence include Women's and Children's; Cardiovascular; Cancer; Surgical Services and Wellness & Prevention. Iredell Memorial was also recently named as a Blue Distinction Center+ for Hips and Knees, as well as Maternity Care, by Blue Cross Blue Shield. The mission of Iredell Health System is to inspire wellbeing. For a comprehensive list of services and programs, visit www.iredellhealth.org.