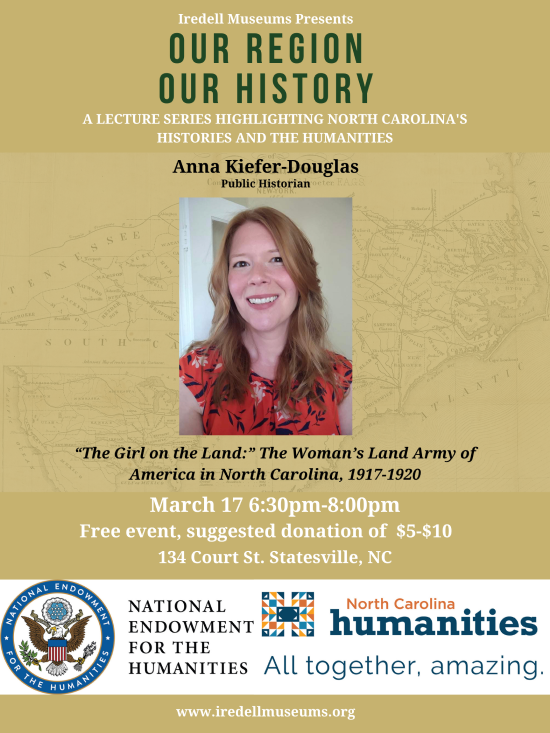 Special to Iredell Free News
Iredell Museums will present the third installment of its lecture series, Our Region Our History, on Thursday, March 17.
Anna Kiefer-Douglas will discuss "The Girl on the Land: The Women's Land Army of America in North Carolina (1917-1920)" at Iredell Museums, located at 134 Court Street in Statesville, at 6:30 p.m.
This event is free to the public with a suggested $5 to $10 donation. It is made possible thanks to the support of the National Endowment for the Humanities and North Carolina Humanities.
Kiefer-Douglas teaches Humane Letters III (English and history) and Civics and Government at Millennium Charter Academy, a K-12 classical charter school in Mt. Airy. She is an adjunct professor at Lord Fairfax Community College in Virginia's Shenandoah Valley. She earned a B.A. in History from Washington College in Chestertown, Md., and an M.A. in Early American History from the University of New Hampshire.
Her research areas run the gamut from logistics in the Seven Years' War to the Woman's Land Army of America in Virginia and North Carolina during World War I. She is a founding member of the Civilian Contingent, a progressive public history organization dedicated to interpreting the civilians attached to and affected by the British Army in North America in the 18th century.
LEARN MORE
For a schedule of events, please see our events calendar on iredellmuseums.org. For more information, please email info@iredellmuseums.org or call (704)873-7347.