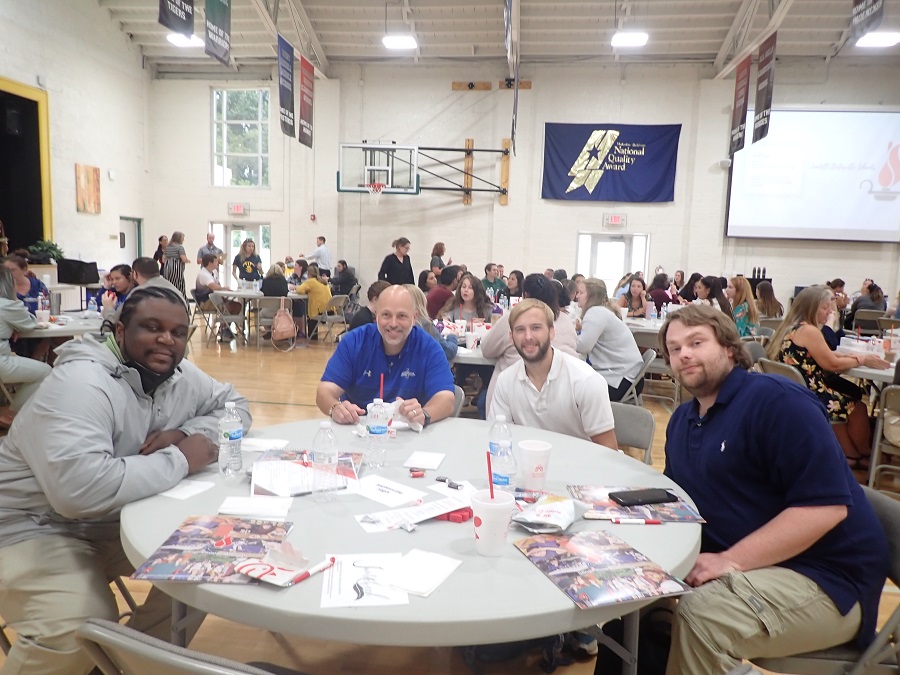 BY KARISSA MILLER
Approximately 172 new Iredell-Statesville Schools teachers attended orientation at the Unity Center in Statesville on Wednesday.
The annual event brings all of the new teachers from across the system under one roof to fill out forms, learn about district policies and to get motivated for the upcoming school year.
"It's exciting to see so many new employees with the district, new to the area and eager to begin their career," Associate Superintendent for Human Resources Billie Berry said. "This year we've put people into smaller breakout groups and I think it's gone smoothly."
LeVar Mizelle, I-SS executive director of Human Resources, said that some school systems hold an online orientation, but I-SS prefers a face-to-face event.
"You get more out of meeting in person that you can't get from sitting behind a computer screen. There are no distractions, and you're able to meet new people and retain information better," Mizelle said.
I-SS has approximately 60 beginning teachers, each of whom will be paired with a teacher mentor.
With about three weeks until the start of the school year, the district still has about 90 open teaching positions.
"You have to have a heart for children, a passion for education to be successful in this profession. We want all of our teachers to be successful in this profession," he said.
Various businesses and community sponsors donated gifts, breakfast and lunch for the event. There were also community resource groups, churches and elected officials on hand to welcome the new teachers.
Among the orientation topics were student support services, bullying, ethics, and an introduction to I-SS core values.
James McGoogan, a Student Assistance Program coordinator at Third Creek Elementary, one of the new employees. He moved to the area from Kennesaw, Ga.
"I felt like there are kids who struggle with behavior issues or substance abuse issues who don't see role models in upper management that look like them," he explained.
McGoogan grew up in Fayetteville in a single-parent home, a situation some of the students at Third Creek are familiar with. He hopes to provide a sense of security for the students.
Kellie Caudill will start her first year as a classroom teacher in the second grade at Cloverleaf Elementary. She discovered that advertising and market were not her passions and went back to school to obtain her teaching credentials.
Jonathan Parrish, a new teacher at Statesville High School, is moving to the area from Greensboro.
Parrish will teach American History I and II and is excited about the new school year.
Teachers will return to school on August 22; students return on August 29.
Photos