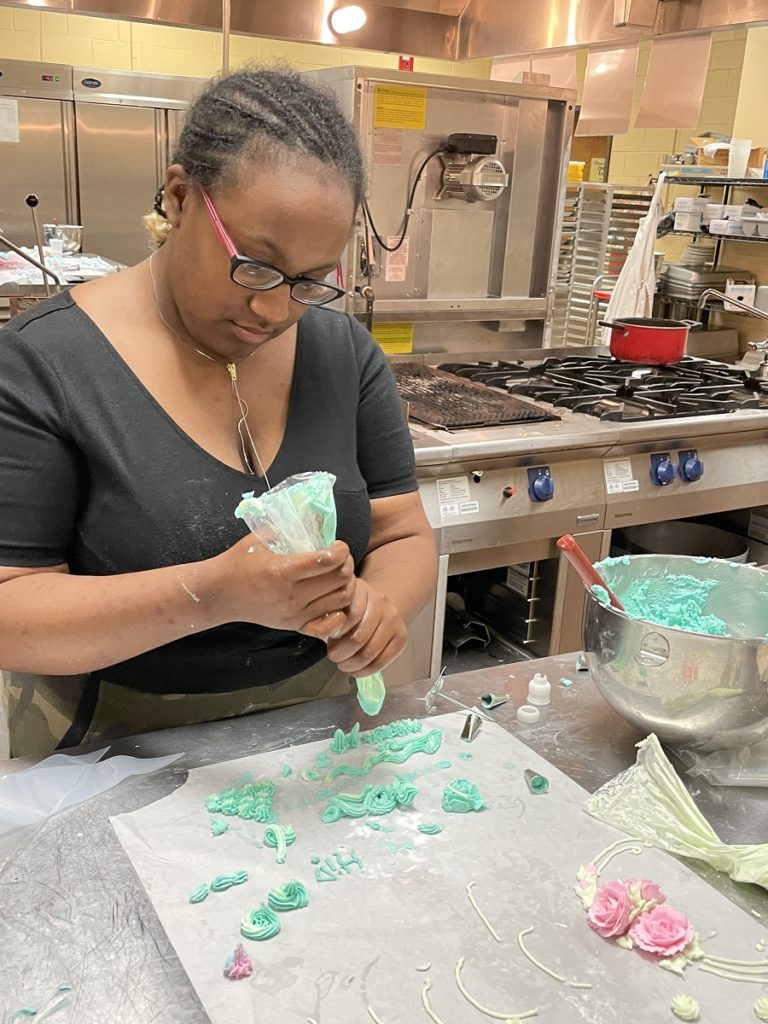 BY KARISSA MILLER
Students in Chef Gwen Valcourt's culinary pastries and baked goods sampler class at Mitchell Community College have been having fun learning about cake decorating while being covered in flour and icing.
The class, which started on June 13, is part of Mitchell Community College's JumpStart program, a series of short courses to give students the opportunity to try something new and see if that particular skill or field is for them.
The purpose of the class is to introduce them to baking and Valcourt's classes. She hopes that maybe they will be interested in baking as a career option and enroll in Mitchell's program.
"We've had two classes a week for two weeks. Last week we did pies. This week we worked on cake decorating skills and next week we're doing some French pastries," Valcourt said.
Valcourt is hoping to grow Mitchell's culinary program. She has been teaching at the college since last fall, and has more than 20 years of experience in the food service industry.
Another option that students are exploring is Solidworks with instructor Parks Davidson. Solidworks is a computer-aided design (CAD) software that is primarily used in engineering and manufacturing.
Students were given hands-on experience with 2-dimensional and 3-dimension tools and introduced to the 3-D printer.
According to Hedy Hedrick, occupational extension coordinator, the JumpStart sampler classes are a new offering at MCC, and run approximately three weeks.
"We feel it's important to offer these short-term classes so that students can get hands-on experience to see if these are programs that they would want to enroll in this fall or in the near future," Hedrick said.
Often times, she said, students near high school graduation without a career direction or a set plan as to what they will do after graduation.
"We came up with the JumpStart idea as a way to help these students try out skills and experience courses that they might not otherwise have a chance to do," Hedrick said.
There response from students has been positive.
"Several of the students in welding instructor Wayne James' class are thinking about enrolling in our welding evening program this fall. They are enjoying this JumpStart experience so much and they see welding as a career field that they would like to enter," Hedrick explained.
Photos