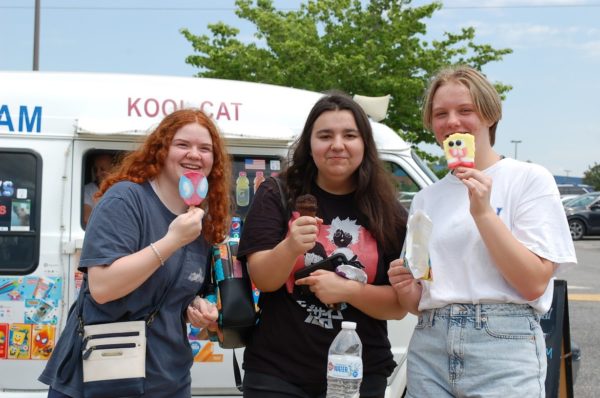 BY DEBBIE PAGE
debbiepage.iredellfreenews@gmail.com
Lake Norman High School is celebrating its 20th anniversary this year, so the PTSA marked the milestone with a spring festival for students and the community to enjoy on Saturday afternoon.
Students enjoyed a dunking booth, rock wall, and mechanical bull as well as carnival games to win prizes, shopping opportunities, music, raffle drawings for themed baskets, and a variety of food trucks.
Coming full circle, Principal Bill Shapcott, in his first year leading Lake Norman high, was part of the first administration at the new school in 2002, serving as an assistant principal under the tutelage of veteran principal Penny Howard.
"She helped build a phenomenal staff and administrative team, and it was a pleasure and an honor to be a part of all of what Penny had done. She knew exactly what she was looking for to fill every role in this building, and she did a great job setting the foundation here.
"I think we continue to make excellence the tradition at Lake Norman High School."
Shapcott said the number one change he's encountered since his return this year was the size of the student body. "We opened the doors to 1,200 students, and now we're sitting at 1,945 kids."
"The community continues to grow and prosper because Mooresville is an outstanding community to live in. It offers everything for a family, from recreation to the booming restaurants, hotels, and industry options," he added. "Those who move here also get great elementary, middle, and high schools from Iredell-Statesville Schools as well."
Darlene Whittington, treasurer for the PTSA, helped organize the anniversary event.
"We were told about it a couple of months ago. We didn't realize it was the 20th anniversary, but after Covid, we just wanted to get the kids out, get them active, and get the community involved."
"I don't think we've ever had a festival. We're trying to reach out to the community and get everybody back together."
The LNHS PTSA raises money for various clubs and teacher requests, including a new audio system and spot lights in the auditorium for the theatre department.
A variety of clubs set up booths with activities and games, and each will receive a portion of the proceeds from the event for club needs.
Shapcott expressed gratitude to Whittington and the PTSA members for all their efforts.
"I'm very, very proud of the work that they do here in supporting the students and staff of Lake Norman High School."
Photos