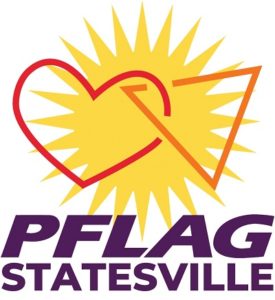 Special to Iredell Free News
For nearly a year, a group of Statesville area residents has worked determinedly to establish an organization to support local lesbian, gay, bisexual, transgender and queer (LGBTQ+) people, their parents and families, and allies.
After successfully receiving its charter, Statesville PFLAG will hold its first support meeting on July 14 at 6 p.m. These meetings are open to persons 18 years old and over. The group is also holding its inaugural Pride Event on September 24.
"We didn't receive our charter in time to schedule an event for June," explained PFLAG Chapter chairman Maggie Hurst, "but we are excited about our plans for a September Pride event this fall in Statesville. In the meantime, we hope folks will come out and meet us during the Juneteenth Celebration on June 18 in downtown Statesville."
PFLAG Statesville is part of PFLAG's national network of nearly 400 chapters and more than 250,000 members and supporters working to create a caring, just, and affirming world for LGBTQ+ people and those who love them.
"We will focus on advocacy, education and support, and provide a safe space for our community," continued Hurst. "Our gatherings are private and our conversations are confidential, but PFLAG plans on being visible and vocal when it comes to providing support, education and advocacy."
Founded in 1973, PFLAG is the first and largest national organization for LGBTQ+ people and families.
Jeanne Manford is considered PFLAG's founder after publicly supporting her gay son at a "liberation march," the precursor to today's Pride parade in 1972.
According to Hurst, Statesville PFLAG will work to create a bridge of education, understanding and acceptance.
"We will be able to show parents they aren't alone …that there are others experiencing the same things," Hurst said.
The local meetings will include guest speakers, group discussions and, "opportunities to share."
LEARN MORE
Persons interested in more information about PFLAG or its meetings can reach out through Facebook (@PFLAGStatesville) or by email at pflagstatesville@gmail.com. PFLAG offers a variety of booklets on various topics for free download at www.pflag.org/publications.