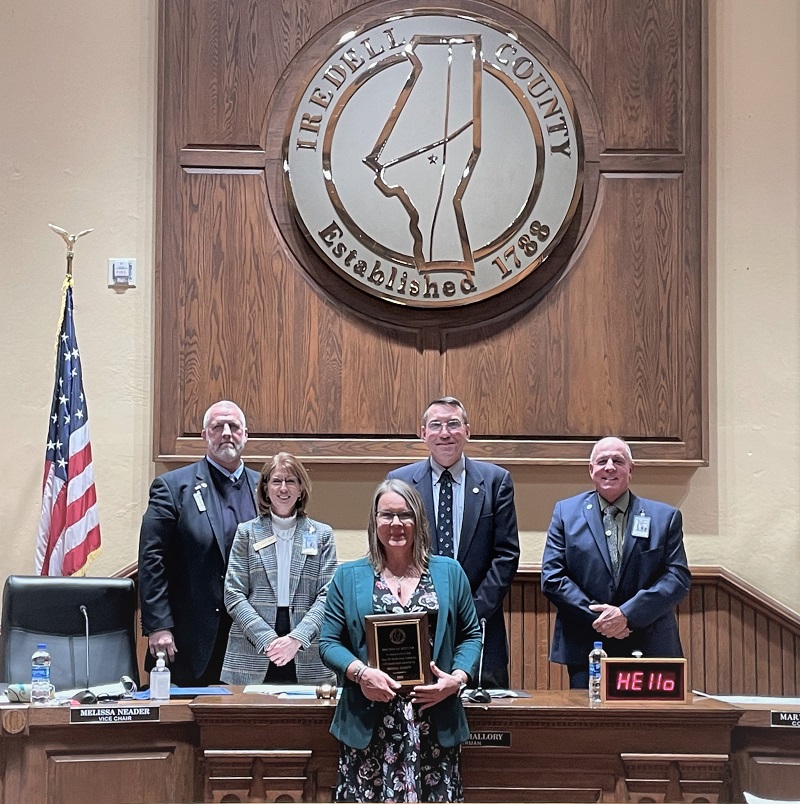 BY KARISSA MILLER
Michelle Hepler will retire at the end of this month after 25 years of service at the Iredell County Parks and Recreation Department.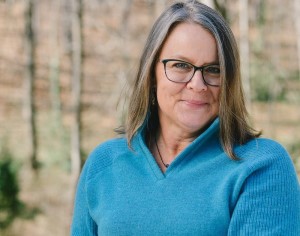 A constant presence throughout the implementation of new program offerings and securing land opportunities for county parks, Hepler will take plenty of fond memories with her when this chapter in her career journey comes to a close.
"I've been so fortunate to do the things I am most passionate about in life. I work with a great team of co-workers, exceptional administrative leadership and make a positive impact in the community where I was born, raised and continue to live," Hepler said.
"Ultimately, it's been the relationships that I have built over the years that will stick with me forever," she added.
On Tuesday night, Iredell County Board of Commissioners Chairman James Mallory and the other commissioners gave Hepler a heartfelt sendoff and a plaque commemorating her years of service to the county.
A large group of family, friends, staff and recreational advisory board members stood and applauded her contributions.
Commissioner Marvin Norman, who serves on the recreation board and has worked with Hepler the longest, said he watched Hepler grow up and work hard to improve the county.
"Two years ago, I was able to go down to Raleigh and accepted a half million-dollar grant that she wrote," Norman said. "It made me so proud because everybody down there that wanted her to work for them. I recognized then what we had and I want to thank you so much, Michelle."
Hepler took her first job with Iredell County when she was a 19-year-old high school graduate on the verge of enrolling at Western Carolina University in the summer of 1991.
"I worked as a camp counselor and ropes challenge course facilitator," she recalled.
Hepler, whose energy and enthusiasm for the outdoors is infectious, was determined to win the respect of local youth and deliver the best experience possible. So, that's what she did.
Parks and Rec Director
Fast forward 31 years, Hepler continues put people first and deliver the best experience possible as parks and rec director since 2016.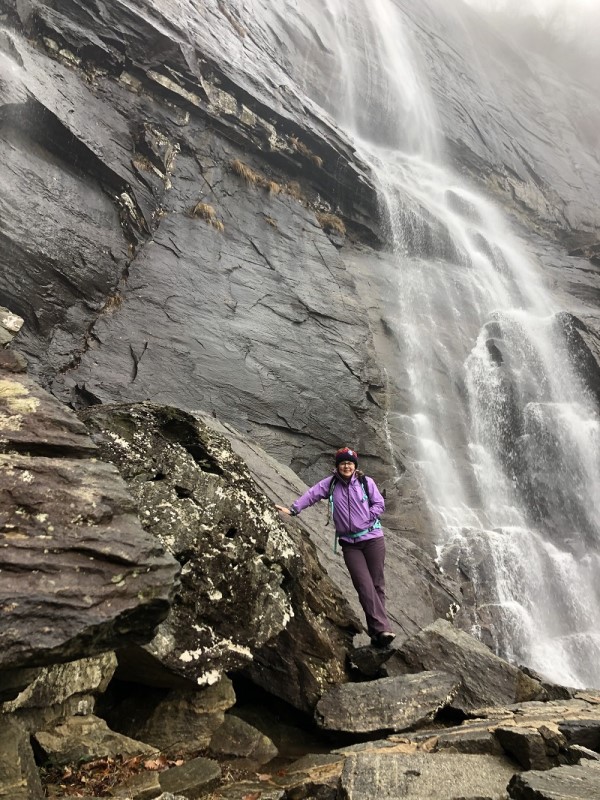 She does that by thinking of her employees as family and her guests as best friends, and that's how she treats them.
"Helping them see and recognize their strengths, talents and resiliency is something I have tried to make a priority," she said about her staff.
Her staff describe her as inspirational, visionary and energetic.
At the end of the day, she wants people in the community to know that the Parks and Rec team strives to bring recreational opportunities and premier facilities to enhance the quality of life in Iredell County.
"Finding the balance between securing funding sources, meeting the needs and demands of explosive growth, as well as the expectations of residents and visitors has probably been the biggest challenge," she said.
Hepler has written grants, facilitated community input meetings and done a myriad of other things to secure resources and plan for the county's future.
In 2019, she was recognized internationally by the Association for Challenge Course Technology as the Critical Link Award winner.
That same year, Hepler worked tirelessly as Parks and Rec expanded its offerings after the county purchased the Barium YMCA property and converted it into the Iredell Recreational Center. The facility offers everything from yoga classes to an outdoor pool.
Finding Her Way
Hepler is a graduate of Western Carolina University, where she earned her Bachelor of Science Degree in Parks and Recreation Management, with a core concentration in Outdoor Recreation.
Hepler's college advisor may have played a key role in her deciding to start a career in Parks and Recreation.
"I went to school thinking I was going to be an accountant. I was going to go and make all this money and work with numbers," she recalled. "I realized really quick I didn't like numbers. My advisor said, 'You might want to think about a different path. What do you like to do?' "
Hepler's response: "I like to go camping. I like being outside. I like to go kayaking and rock climb."
Looking back on her career, Hepler said she is humbled by what came from her decision to follow her passions.
"It never crossed my mind when I was a summer camp counselor that I would be standing here today," she said.
A New Path
Hepler gives a lot of credit to her parents, family, fiancé and her "awesome" team of 15 full-time staff and 40 part-time members for their unwavering support.
She is especially grateful to four people, the late Kim Gallyon, former parks and recreation director; Ron Smith, former county manager, Beth Mull, current county manager; and Susan Robertson, deputy county manager.
Hepler said she's looking forward to transitioning into the private sector, utilizing her Outdoor Recreation and Education background.
She is excited about working part-time as a consultant with Aerial Adventure and Ropes Challenge course industry for Vertical Solutions Consulting. In April, she will begin her role as the executive director for Rescue Ranch.
"Rescue Ranch is beyond excited to have Michelle lead our team as our new executive director. Michelle's expertise in the great outdoors is a perfect alignment for Rescue Ranch's mission in providing a safe educational space for children to learn about animals, agriculture and our environment," said Founder and President of Rescue Ranch Krissie Newman.
Hepler plans to remain an active and engaged member of the community through her work on the Statesville CVB and through Rotary. She lives in Harmony with her fiancé David and her two dogs, Dude and Darla.
Photos